I received complimentary tickets for this performance. All opinions are strictly my own.
It's no secret that I love Cirque du Soleil
I was trying to figure out how many times I've seen them perform. 
Saltimbaco
Zumanity
The Beatles Love
Viva Elvis
Zarkana
Michael Jackson: ONE
and last night I finally saw Corteo
I wasn't lying when I said that I loved them, and there are plenty more that I have on my "must see list." But, it's been a long time since I saw one of the touring companies (most of those are Las Vegas staples).
Funerals never felt like this much fun before
When the show begins we are taken to the funeral of a clown. On his deathbed, with angels above, we are brought into a world of the imagination of a clown's funeral. With glimpses into his past (a beach scene) to the funeral processional of an unlikely cast of characters, the viewer is swept into a world of wonder and mystery that has a special place between heaven and earth. This is a loving story of strength and fragility told through the eyes of a funny little man.
With 52 acrobats, musicians, singers (including a whistler) and actors, we are magically brought to the Corteo, which means cortege in Italian, the joyous funeral procession and festive parade imagined by a clown.
Upcoming shows at the BB&T Center in Sunrise
Thursday,

 

July

 

25, 2019 – 7:30 pm
Friday,

 

July

 

26, 2019 – 3:30 pm & 7:30 pm
Saturday,

 

July

 

27, 2019 – 3:30 pm & 7:30 pm
Sunday,

 

July

 

28, 2019 – 1:00 pm & 5:00 pm
Tuesday,

 

July

 

30, 2019 – 7:30 pm
Wednesday,

 

July

 

31, 2019 – 7:30 pm
Thursday, August 1, 2019 – 7:30 pm
Friday, August 2, 2019 – 7:30 pm
Saturday, August 3, 2019 – 3:30 pm & 7:30 pm
Sunday, August 4, 2019 – 1:00 pm & 5:00 pm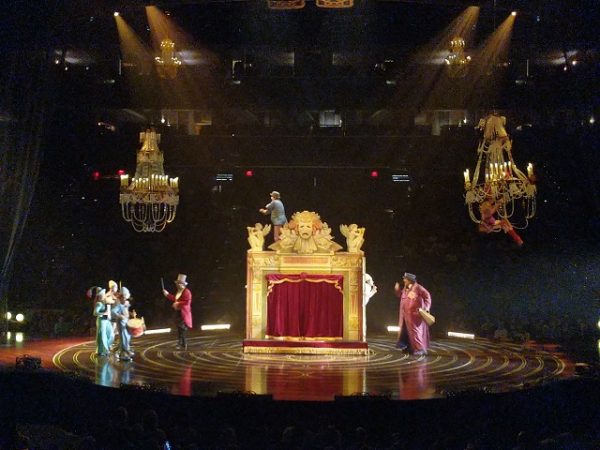 This is a DO NOT MISS show that you can bring your entire family to (yes, even Mr. S came).
Tickets are available at cirquedusoleil.com/corteo. Cirque Club membership is free and benefits includes access to advance tickets, special offers and exclusive behind the scenes information. To join, go to www.cirqueclub.com.