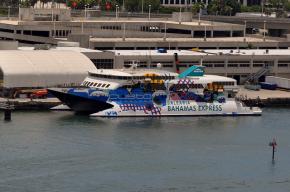 I've got to say that I'm VERY excited about the new ferry service running from Fort Lauderdale to the Bahamas that launched last week. Mr. S hates to fly, but he loves to travel. As a result I find myself sitting on the balcony of cruise ships or sitting in a car to get to our destinations (he doesn't accompany me to Europe, the islands, etc.).
Now we can easily hop on board the Bahamas Express' high speed Pinar del Río and be on Grand Bahama Island in a mere 2 and a half hours. It leaves daily (except for Wednesday – just like my doctor) from the port of Ft. Lauderdale at 10:00 am and returns at 7:30 – making for a full day on the island.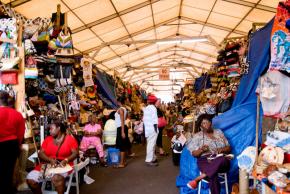 Also new – an upgraded straw market with over 500 vendors. With a 12 MILLION dollar renovation, it's open and ready to take my money (love shopping for handmade jewelry and more).
Since it's snowbird season down here in South Florida and there are lots of vacationers arriving – this gives us (and you) even more options for enjoying your vacation! Don't forget your passport (or an enhanced license if your state has them).