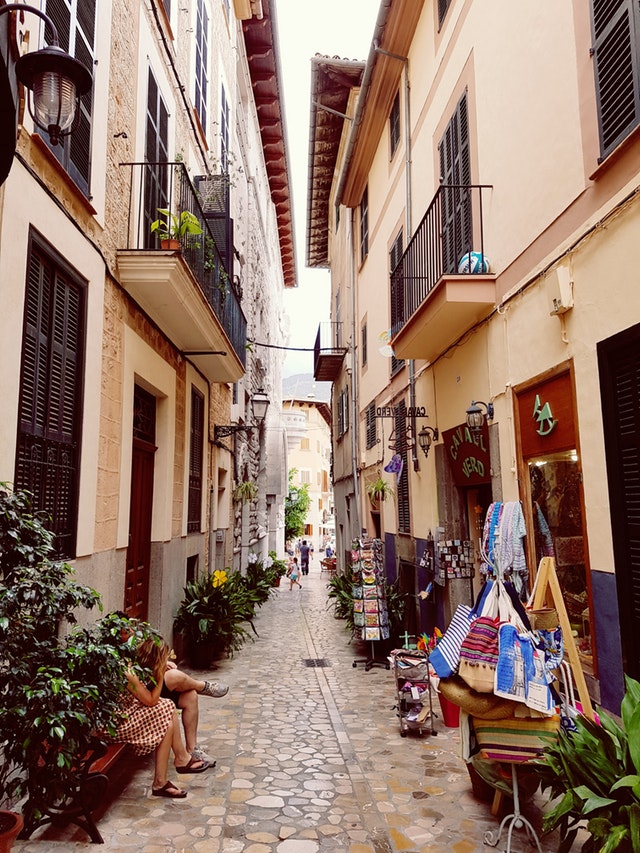 From the time of the Visigoths to that of the Moors, the swath of land between the Pyrenees and the Straight of Gibraltar—today Spain and Portugal—has been a coveted destination, these days attracting millions of visitors annually. International Living's new report points to five interesting cities on this Iberian Peninsula worth exploring for their rich cultural offerings, architecture, gardens, and food.
Source: Internationalliving.com
For millennia, the Iberian Peninsula has been a coveted destination, attracting everyone from the Phoenicians and the Romans to the Visigoths and the Moors. The most southwesterly area of Europe, it's protected by the Pyrenees to the north and the Strait of Gibraltar to the south.
Today this area offers visitors evidence of all the peoples who staked their claim to this region in centuries past, which makes it an incredibly rewarding and interesting destination to visit.
It's culturally rich and full of art, architecture, crafts, and foods that reflect the rich history of the region. From dramatic fortresses and tranquil university towns to cities renowned for their culinary offerings, here are a few of the Spanish and Portuguese highlights International Living's editors recommend in their new report:
Granada
Overlooked by the snow-capped peaks of the majestic Sierra Nevada, Granada is home to a lively student population, eateries dishing out free tapas, and glorious remnants of its Moorish past.
Granada's most famous attraction is the Alhambra, an awe-inspiring palace and fortress that was constructed by the Moors over the course of a few centuries. Given the Alhambra's tremendous popularity, it is advisable to secure tickets online far in advance—especially if visiting during the peak tourist season.
After the Alhambra, stroll through Albayzín—Granada's hilly neighborhood filled with centuries-old whitewashed buildings. This district is dotted with Arabian-style teahouses (teterías), flamenco establishments tucked into caves, and homes decorated with eye-catching blue pottery.
For superb sunset views of the Alhambra, head to the Mirador San Nicolás viewpoint. In this small square, tourists mingle with locals playing the Spanish guitar, all while watching the Alhambra blush in the last light of the day.
Another of Granada's star attractions is the 16th-century Royal Chapel of Granada (Capilla Real). Queen Isabella and King Ferdinand (the so-called "Catholic monarchs" who were instrumental in taking Granada from the Moors in 1492) are buried in this chapel's crypt.
Córdoba
For centuries, Córdoba was the Moors' capital and one of Europe's most sophisticated cities, boasting esteemed universities, libraries, and public bathhouses. It is said that Córdoba's Muslims, Jews, and Christians lived harmoniously here, creating a dynamic community where knowledge and talents were shared.
Córdoba's most famous attraction is its magnificent Mosque-Cathedral (Mezquita), which marries monumental Islamic—and Christian—architecture. During the late 8th century, the Moors started the construction of the mosque on the site of what was previously a Visigoth church. Over the course of a few hundred years, they continued to enlarge the mosque, eventually creating a breathtaking building that has nearly 900 columns and incorporates golden mosaics into some of its most sacred sections.
Long before the Moors ruled Córdoba, the Romans also left their mark throughout the city, including the ruins of a Roman temple, as well as an attractive Roman bridge (Puente Romano). Since the bridge is pedestrianized, it is a delightful place to stroll and take in views of Córdoba's Old Town skyline.
Córdoba's Old Town is known for its charming patios, which are studded with a colorful array of potted plants and other greenery. In May, local residents competing in the Patios Festival (Fiesta de los Patios) open these private courtyards to flower enthusiasts and tourists alike.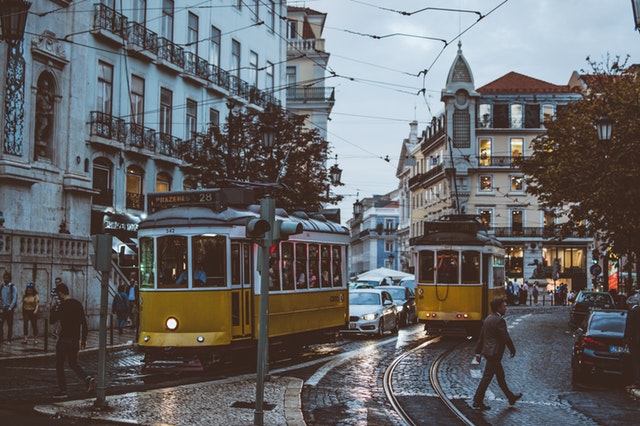 Sintra
Located on the Portuguese Riviera, the refined city of Sintra boasts dreamy palaces and castles, magnificent gardens, and a dramatic hilly setting. Long a refuge for Portugal's royalty and elite, much of Sintra is included on UNESCO's World Heritage List.
The Moorish Castle (Castelo dos Mouros) offers magnificent views of the Atlantic, especially if Sintra isn't veiled in fog. The 10th-century castle's grey-stone ramparts crown a hilltop roughly 1,350 feet above sea level. As its name implies, the castle was constructed by the Moors. However, successive rulers, as well as the great earthquake of 1755, altered the look of the fortifications.
While the Moorish Castle was built with defense and function in mind, the Pena Palace (Palácio da Pena) is decidedly romantic and flamboyant. Featuring lemon and tomato-colored wings, the Pena Palace was built for King Ferdinand II in the mid-19th century. Its extravagant exterior makes it a favorite with photographers, and since it is perched on one of the area's highest peaks, it provides stunning vistas, too.
Situated in the heart of Sintra's Old Town, the Sintra National Palace (Palácio Nacional de Sintra) stands out, thanks to its whitewashed exterior and a pair of overturned, funnel-like chimneys. While the Moors originally constructed parts of the structure, Portuguese monarchs later increased its size. The palace's interior is a delight to explore, thanks to its eclectic Manueline and Moorish styles.
Sintra's lines can be long, so consider purchasing tickets online and in advance. Also, Sintra is only 20 miles from Lisbon, Portugal's capital, making it a wonderful day-trip. The two cities are conveniently linked by train.
Coimbra
Home to Portugal's most esteemed university, the city of Coimbra has a rich history and a youthful vibe. Long before it became known as Coimbra, the city was settled by the Romans and called Aeminium. For a time, Coimbra also served as Portugal's capital.
Coimbra's star sight is the Joanina Library (Biblioteca Joanina), which along with several other university buildings, is a UNESCO World Heritage site. This magnificent baroque library was constructed during the 18th century. Its interior features handsome book stacks adorned with golden flourishes and furnished with tables made out of exotic wood. The treasured collection of approximately 60,000 books is slowly being digitized. However, to keep the originals safe, a resident colony of bats lives inside these elegant surroundings—kept there so as to devour any insects that might otherwise destroy the books.
While in Coimbra, it's a joy simply strolling up the steep streets along the mosaic-tiled sidewalks (called calçadas), trying a shot of ginja (a traditional Portuguese liqueur made with a sour cherry-like fruit), or popping into a club to listen to Portugal's traditional fado music.
Coimbra has several lovely green spaces, which are a superb place to admire Mediterranean flora, read a book, or simply relax. The Botanical Gardens of the University of Coimbra are the city's most well-known park. They were established in the 18th century, and feature attractive fountains and archways, a greenhouse, and an impressive array of flora, including camellias, calla lilies, bamboo, and trees from around the world. In addition to having aesthetic appeal, the garden enhances the university's medicinal studies, and researchers also maintain a seed bank.
Afternoons in Coimbra are made for walking along the Mondego River, popping into a pastelaria to enjoy Portuguese pastries and coffee, or admiring the details of the Igreja de Santa Cruz church, whose architecture mostly dates back to the 16th century. Portugal's first kings are buried there.
Toledo
Known as the "City of Three Cultures" since it was once home to a thriving Christian, Muslim, and Jewish population, Toledo, Spain plays host to a cathedral of epic proportions, a 10th-century mosque, and two impressive synagogues.
The Toledo Cathedral (Catedral de Toledo) is often described as one of Spain's finest. Its architecture is overwhelmingly Gothic, but it also has elements of Renaissance and Mudéjar design. Inside the cathedral, you can find paintings by Spanish masters such as Velázquez and Goya, as well as El Greco, the Greek artist who lived in Toledo for much of his life.
Toledo's two remaining synagogues are also well worth a visit. The 14th-century Sinagoga del Tránsito showcases beautiful Mudéjar architecture, with refined stucco work that depicts natural motifs, as well as lace-like horseshoe arches. This former place of worship also houses the Sephardic Museum, whose artifacts help shed light on the Iberian Peninsula's once-thriving Jewish population. Just up the street is the 12th-century Sinagoga de Santa María La Blanca.
Thanks to its commanding position and impressive size, the Alcázar is one of Toledo's most recognizable buildings. A Moorish fortress, royal residence, and a military academy once stood at this site. At the start of the Spanish Civil War in 1936, the Alcázar was badly damaged. Franco, Spain's long-ruling military dictator later had it rebuilt. Today, the mighty structure houses an extensive military museum.
Toledo has also long been a famous sword-making center, thanks to its strong steel and talented blacksmiths. Toledo's shops are brimming with steel souvenirs. And it's not just fine cooking accessories that make Toledo a culinary paradise, because the city is also known for its saffron, its fine marzipan, and Manchego—cheese made from sheep's milk.
Toledo is a popular day-trip for tourists visiting Madrid, as it is only 45 miles away. Frequent bus connections link the two cities.
Thank you to Internationalliving.com for providing this article.