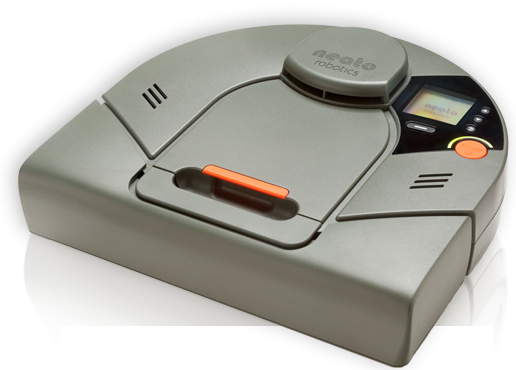 That's what she was always called. "My girl," as in…"my girl comes every other Wednesday. OR I'm sorry, I can't give you "my girl's" phone number, she's booked solid". Growing up, everyone I  knew had a girl. To this day, a lot of my friends and family STILL have a girl. ME? I fired her, because I have a live-in now. Her name is Neato. Strange name for a "girl?" I thought so too, until she came to live at the mansion.
I confess, my "girl" is really a vacuum cleaner, but she does such a great job, and WITHOUT MY HELP, that it's JUST like having someone come in to clean. The Neato XV-12 automated robot vacuum makes my job so much easier. It works on tile, wood and carpet, and it moves seamlessly  from one to the other, allowing cleaning of throw rugs as well as wall to wall carpeting.
My experience has been that it's
Easy to use – simply place it in the center of the room and push the "ON" button
Low maintenance – The most that I have to do is empty the full dust bin and change the filter now & then
Charges automatically – the Neato XV-12 finds it's own way to the charging base when it's low on batteries and then continues cleaning once it's charged
Works by itself – I can set it before leaving and come home to clean floors
Avoids obstacles – for the most part it goes around things it can't get under and goes around furniture and along the walls
Schedule ahead – you can set the Neato XV-12 to clean at designated times by setting its timer
Path planning – this vacuum first assesses the room before vacuuming in a methodical pattern
REAL VACUUM – with a full beater brush and strong suction, it works as hard as your upright or canister
The moment you turn on the Neato XV-11, you know it is a real vacuum cleaner, not a sweeper-vac. It uses the most powerful vacuum system with efficient air flow and suction to clean up dirt, dust, and pet hair. Press the big orange Start button and the Neato starts cleaning for you. Set the schedule, and the Neato automatically starts up and cleans for you while you are doing other things. It can automatically clean every day if you desire. When done cleaning, the Neato vacuum finds its charging base. Between uses, it will store itself on its charging base so that it will be ready for the next cleaning run.
The best part – you can pick up Neato Robotic vacuum's at TARGET, Macy's, Best Buy, Amazon.com and MORE.
I received product to facilitate this review. All opinions are strictly my own.