The items in this post were sent to us by the brand. We do not charge them for consideration or placement as we prefer to retain the right to not place an item that we don't truly love. We may receive a commission when you purchase via our links.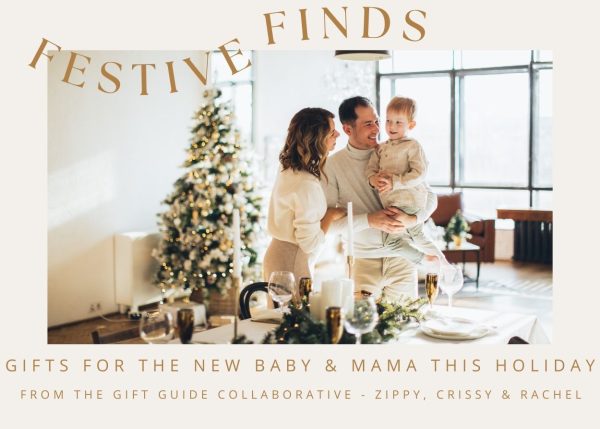 As the holiday season approaches, the joy of welcoming a new addition to the family or celebrating a baby's first festive season fills the air. For new moms navigating the beautiful chaos of motherhood, finding thoughtful and practical gifts that enhance the journey can be a game-changer.
In this holiday gift guide tailored to babies and new moms, we've curated a selection of products designed to make their lives a little easier, bringing comfort, convenience, and joy to the whirlwind of early parenthood. From innovative baby gear to pampering treats for moms, these carefully chosen gifts are sure to add an extra touch of warmth and ease to the holiday season for both the little ones and their dedicated caregivers.
Time to Get Some Sleep
For the newborn, the Arm's Reach® Co-Sleeper® Bassinet revolutionized infant sleep when they introduced the first bedside sleeper over 25 years ago. Today a second generation of parents are using the brand on their own babies.
Once your baby graduates to a crib you want to ensure that you have selected a safe crib mattress that incorporates a dual surface. The Colgate Eco Classica III features eco-friendly foam in dual firmness engineered for infant support and toddler comfort.
ECO-FRIENDLIER FOAM in this infant and toddler bed mattress is made using sustainable plant oils
WRAPPED IN ORGANIC COTTON COVER with food-grade waterproof backing, featuring a durable topside waterproofing that ensures quick and easy cleanups for those middle-of-the-night diaper accidents
HYPOALLERGENIC & PHTHALATE FREE
MADE IN AMERICA – Your EcoClassica is proudly handcrafted by Colgate Mattress, the Crib Mattress Specialist, a family-owned and operated business dedicated to baby safety since 1955
Allow one-year-olds to freely explore their feelings and creativity, find their individuality and self-confidence, and have great character-building experiences with Pixsee Play. Pixsee Play and its Pixsee friends will introduce your baby to their first AI interaction in a very gentle and natural way. Pixsee Play is the next generation of AI smart baby cameras — with a twist. While they safeguard your baby and record their precious growth, Pixsee Play and Pixsee Friends also work together in a magic way to create a stimulating and fun environment for your baby. While playing, sleeping, daydreaming, and even exploring together, a Pixsee Friend will soon be your baby's most treasured first cuddly toy. Love and trust will nurture and inspire true happiness in your baby, a wonderful gift that lasts a lifetime.
Introducing the Sleepovation Crib Mattress, the epitome of crib bedding innovation. This exceptional mattress redefines the standards of infant sleep comfort with its groundbreaking design. Boasting unparalleled breathability, it features strategically placed air channels that ensure optimal airflow, effectively preventing overheating – setting it apart as the most breathable crib mattress on the market. As a parent, enjoy peace of mind knowing your baby slumbers soundly and safely on this mattress, thoughtfully crafted for both supreme comfort and airflow while meeting the highest safety standards.
Beyond just comfort, it also aids in alleviating harmful pressure on your baby's head, reducing the risk of bruises, sores, and physical deformities. Its innovative two-stage design grows with your child, promoting proper spine alignment for both infants and toddlers, all complemented by a water-resistant, breathable infant side and a waterproof toddler side, ensuring unmatched cleanliness and convenience. Simply put, the Sleepovation Crib Mattress offers a new level of comfort, safety, and adaptability for your growing child's peaceful sleep.
Adaptive Sound Technologies introduces a serene sleeping environment for your one-year-old with the LectroFan Alpha. Crafted to provide a calming oasis, this non-looping sound machine ensures uninterrupted sleep by masking background noise and creating a soothing ambiance. From the airport to the hotel room, and beyond, Lectrofan Alpha is the small wonder that will help your little one sleep soundly, day or night. It plays your choice of seven gentle, calming sounds, including a heartbeat, two different fans, two white noise variations (pink noise and brown noise), and two variations of ocean waves. It recharges with the included USB cable, so there's never a need to bring batteries, and it plays for up to 40 hours per charge at normal volume. Plus the included clip makes it easy to attach to car seats, cribs, strollers, or just about anything.
Rockit Rocker USB Rechargeable 2.0. Rock-it Baby Rocker Rocks Any Stroller, Carriage, Pushchair or Buggy. Comes with a Rotating Stroller Bracket
Does your little one wake up as soon as the buggy stops moving? The Rockit will keep rocking so you don't have to! Created to help parents on the go, this handy must-have accessory keeps babies moving and snoozing. Simply attach to your pram or stroller, push the button, and adjust the speed to gently rock your baby, just like you would. What's more, it's now rechargeable!
When Dr. Nick Webb (Ph.D. in Sound and Vibration Engineering) noticed his three-month-old daughter Abby would wake as soon as her buggy stopped, he decided to invent a solution. He came up with a clever mechanism, that creates a side-to-side motion when it's attached to a pram. Scientific tests show that the vibration level closely mimics the normal hand rocking of a stroller and the subtle, yet soothing movement is gentler than a pushchair moving over paving stones. It was perfect for keeping babies moving and snoozing! During product development, an adjustable speed dial was added, which lets you find the most effective rocking motion for your pushchair model and for your baby.
Let's GO GO GO
The new Boxy Backpack Deluxe is the perfect diaper bag/backpack if you have multiple children.  Even if you have just one newborn, you are also bringing along snacks and supplies for your older children.
If you are traveling with children (or just exploring your neighborhood) having a versatile baby carrier is a must.  The LÍLLÉbaby 6-in-1 Elevate Carrier offers six ergonomic positions for your baby, comfort for you, and easy transitions as your child grows.  For children 7-45 pounds.
CHANGE(S) MADE EASY – ANYWHERE, ANYTIME. Wherever diaper changes happen, this portable caddy is right beside you, keeping everything required neatly organized. Ten outside pockets and removable interior dividers make it easy to organize diapers, wipes, creams, and more. Great on the changing table or conveniently grab and go wherever the kid goes – especially up and down stairs.
From MOBY Wrap, the Easy-Wrap Carrier combines the closeness and bonding of a wrap with the ease of a carrier.  For babies from 8-33 pounds, the Easy-Wrap offers you inward and outward facing for your baby.
Open wide for the yummy tide!
Photo credit: Once upon a Farm
New parents have enough on their plate already, give them the gift of TIME back in their day to enjoy that new little bundle, take away all their prep, mess, and clean up, and give them the quick and easy solution to knowing they are feeding their littles the absolute best when it comes to nutrition, immunity, gut and brain health support too. Trusted by parents, craved by kids.
Clean Label Project Certified, Once Upon A Farm is proud to be the first baby and kids food brand to receive the Clean Label Project Purity Award. Farm to fridge making moms and minis happy.
A completely customizable subscription plan lets moms choose their delivery and the variety to ensure she is only getting what they know her baby and kids like! Organic snacks and meals for every occasion. From Overnight Oats, Dairy Free Smoothies, Immunity Blends, new oat bars, and more!
Once Upon A Farm Build Your Box Subscription – starting at $70 for a 24 box, also offered with 16 count
Globowl uses fresh, real ingredients, is shelf stable, helps mitigate food allergies, and encourages adventurous eating! By offering four unique, internationally-inspired meals, Globowl helps parents take advantage of the coveted "Flavor Window" – a period of time between 4 and 18 months of age when children are most open to trying new foods and flavors, and parents can more easily influence the way their child eats forever.
Globowl is the only internationally-influenced, organic, preservative-free, shelf-stable baby food on the market that is sustainably packaged in reusable glass jars. Each meal is meant to be spoon-fed, so children learn how to chew their food, not drink it. Globowl meals include allergens like peanut butter, egg, soy, coconut, sesame, dairy, and fish so parents can safely introduce allergens through whole, real meals.
Get ready for a lunchtime adventure with the melii Puzzle Container  Perfect for preschoolers and elementary students, this innovative container adds a fun twist to mealtime. With 3 compartments for packing food, it's a breeze to keep everything organized. Plus, the airtight and leakproof design ensures mess-free lunches, and it's microwave, dishwasher, and freezer safe for ultimate convenience. Let the lunch table excitement begin with this BPA-free, kid-approved gem!

Over 2.5 million sold since melii opened their doors in 2020 of melii hot seller Snap & Go Pods! Simply place portions or leftovers in the colorful containers, snap on the lids, and place them in the freezer – the pods snap together horizontally and stack vertically for a minimal footprint. Grab one and defrost on the go or pop it in the microwave for a pre-portioned, read-to-eat meal in seconds. Available in 2-, 4-, and 6-ounce sizes. $11.99 for a 2-ounce 6-pack. 
Introducing the melii Snackle Box – a lunchtime sensation that brings the fun of charcuterie to the lunch table! Packed with delicious options, it's the ultimate hit for kids and parents alike. With its removable dividers, you can customize the three compartments to suit any appetite. Plus, its airtight, leakproof design ensures messes are a thing of the past. Microwave, dishwasher, and freezer safe for effortless convenience, this BPA-free, kid-approved must-have will make you the envy of all your friends!  This could also be used for adults
Ignite your child's culinary flair with Melii's 5-Piece Mini Baking Tool Set!  Perfectly sized for little hands, this vibrant set includes a mini rolling pin, whisk, turner, spatula, and basting brush – all crafted with a soft food-grade silicone exterior and sturdy stainless-steel core. Whether crafting real treats or playing make-believe in their toy kitchen, your budding chef is set for delightful kitchen escapades!
An essential layering piece to help moms stay warm and comfortable throughout fall and winter. Moms can layer on jackets and scarfs, and still maintain quick access to breastfeed on demand while staying warm and comfortable. The Original Suckle Classic Long Sleeve pairs perfectly with everything from leggings to jeans, work attire, and everything in between. Designed for all-day comfort, moms will enjoy the soft and breathable fabric wherever life takes them!
Upseat has taken the traditional booster seat and given it a design makeover that has turned it into a 3-in-1 ergonomic solution; it can be used as a floor seat for sitting up, a booster seat using the handy conversion straps or a feeding seat with an attachable tray. Developed with the help of leading physical therapists, the Upseat engages the muscles responsible for proper upright posture and safely splays your baby's hips in a development-friendly position. According to the International Hip Dysplasia Institute, "The healthiest position for hips is for them to spread apart to the side. Free movement of the hips promotes natural hip development."  It provides large leg grooves to accommodate healthy thigh sizes, too! This all began with the birth of a young boy, Jack, with cerebral palsy.
Searching for a solution to support his son (and the nearly 10,000 babies born each year that develop cerebral palsy) with proper upright posture as well as promote natural hip development, Jack's dad worked with renowned physical therapists in North America and developed the answer they had been searching for in a baby seat: Upseat.
This innovative snack cup is designed to be soft and collapsible, with an interchangeable snack cup or straw sip lid. It's the perfect cup for toddlers to use on their own. The secure snack cup lid allows for mess-free snacking on the go, keeping snacks fresh and contained. The soft silicone straw promotes healthy oral development and proper tongue positioning habits.
Healthy & Happy
With its cutting-edge 4-Stage Filtration system, the H13 Ture air purifier for bedrooms contains an H13 HEPA filter and 30% more carbon. Decompose odor and filter particles such as PM 2.5 more efficiently. The washable pre-filter reduces clogging and extends filter life by 6-8 months.
The color-coded light system provides instant visual feedback on the current air quality.
PERFECT FOR LARGE ROOM: The Jowset Smart WiFi Air Purifier with H13 True HEPA Air Purifier can purify large rooms, such as bedrooms, living rooms, kitchens, and basements. Purify a 365ft² room 5x per hour and a 1830 ft² room 1x per hour
Keep the Jowset Air Cleaner running throughout the night, as Sleep Mode uses the lowest fan speed (24dB) to create a sleep-friendly space that's as quiet as falling leave
Use Alexa to activate your smart air purifier, or turn it off remotely via the Smart Home Life App while away from home, making your life smarter and more efficient. Compatible with Alexa, Google Assistant, and IFTTT.
Purify your air quickly. With a 360° air inlet, airborne pet fur and hair can easily be trapped without causing clogs
Ultra-soft and highly absorbent bath goods made of clean, eco-friendly viscose from bamboo
Adorable patterns and designs combine with softness and artistry to make our baby bamboo hooded towel the comfiest thing you'd want against your baby's skin. It features strong yet soft interlock fabric on the front and a soft terry finish on the back, so baby's all warm and cozy after a fresh bath. Made from a heavenly soft, highly absorbent bamboo viscose, each hooded baby towel not only feels soft to the touch but also repels odors and allergies naturally to help keep baby fresh and clean.
If you are looking to give a new parent some practical gifts (or ones you will want to buy yourself) the Evenflo Precise Read Touchless Thermometer is a must-have in your home and traveling medicine kit.
You already have your favorite stroller but how to protect it when you park it outside of a store, school, or amusement park?  The BuggyGuard Retractable Stroller Lock has a programmable three-digit lock code and an extra-long metal cable so you can secure your stroller to itself or to a stationary object.
As we exchange presents during this festive time, may these thoughtful offerings bring smiles to the faces of both little ones and their dedicated caregivers, fostering moments of joy, connection, and ease during this special season of family and love.