I care about having a healthy dog
He cares about how much food he can get me to give him in any given day
Sometimes he wins, sometimes I do. A dog's life is short and precious, I want to keep him as healthy as I can for as long as I can, but I also want him to be happy.  Along with getting lots of attention, and going outside to play and walk, what I feed him is so important.  While he'd love to dive right into that pizza that we had last night, I'm quite sure that it wouldn't be good for him.
We've come to terms
Petcurean allows  me to feed him the most quality food and he LOVES it like it's a treat. I'd say that's a win-win situation. Their new formula means more healthy eating, PLUS he seems to go head first into his bowl of Petcurean NOW FRESH like it was the BEST FOOD ON EARTH. I always felt good about feeding Clem Petcurean, but now there are four NEW formula's to choose from.
GO! SENSITIVITY + SHINE Venison Recipe
NOW FRESH Fish Recipes
NOW FRESH Small Breed
NOW FRESH Red Meat Recipe
Now I can give Clem a VARIETY of flavors, and trust that he's getting the best and healthiest nutrition possible.
Does he LIKE IT? You be the judge
If you haven't seen it yet, check out Petcurean's new Nourish the ones we love for life campaign. It includes some beautiful photos by Russian photographer Elena Shumilova, who's known best for her work with children sharing a bond with the pets that they love. I'll have more for you on that campaign (including more photos) soon. As well as the opportunity to win a signed one! In the meantime, there's one at the TOP of this post and right here…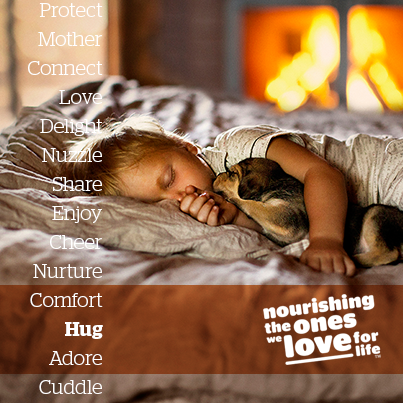 Note: I am a paid ambassador for Petcurean Pet Foods. I took on that responsibility because I really believe in their product. All opinions are strictly my own.
For more information about  which Petcurean Pet Food is best for your dog or cat visit: