Giving the gift of helping is the  most valuable gift that you and I can give this holiday season. For me it's about taking care of those in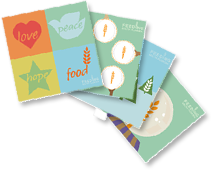 my own back yard – FLORIDA. Feeding South Florida™ (formerly Daily Bread Food Bank) is helping people celebrate the true spirit of giving during the holidays by offering special holiday cards that will help to feed the many South Floridians who may not have enough to feed their families.

 What a great gift for family, friends, clients, co-workers, vendors, etc., to be able to make a donation and share the joy with them. I love the fact that  100% of proceeds from the cards will benefit Feeding South Florida. Contributions from each card purchased will provide 35 pounds of food to hungry children and families living throughout South Florida.
Feeding South Florida is offering three designs to choose from – two designed by the Coral Gables, Fla. marketing firm VSBrooks Advertising (a plate design and holiday squares design), and an annual card created by artist Sue Hansen (all cards come with an envelope for mailing).

By sending Feeding South Florida's holiday cards, one can not only bring joy to a loved one, friend, or business contact, but also to many people in our own community who don't have enough food," said Judith Gatti, executive director of Feeding South Florida. Those who give or receive a card that has also helped to feed the hungry will have the gift of knowing that they made someone else's holiday so much brighter.

 You can purchase these cards at www.feedingsouthflorida.org. Cards are $5.00 each (with a $25 minimum order). That $25 donation that you make will provide 175 lbs. of food to someone in need.