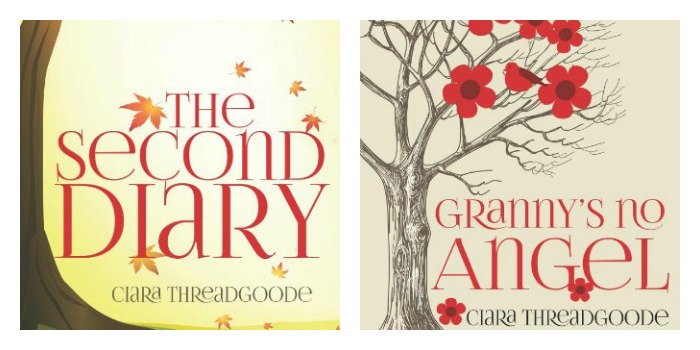 As Broad A on The Review Broads I review a lot of books: Broad Z (also the editor of Champagne Living as you well know) is my partner in crime and she reviews lifestyle and products.  We both agreed that when I come across a book or two that is simply outstanding that I could post to you readers who love the good life – on a budget much higher than mine!  So I have to introduce you to an amazing woman and author, Ciara Threadgoode.  Ciara is not only an up and coming author who writes along the lines of Fannie Flagg, but she is highly involved in dachshund charities and has saved many a dog with her generosity and involvement.  And she is simply charming, like her characters and their diabolical family secrets.
The Second Diary and Granny's No Angel are the first and second novels in her series introducing Dottie, or Granny as she is know to her granddaughter Cherry, Cherry's husband Gene, and Granny's daughter Peggy, Cherry's mother.  In the small town of Truckee, California, this family re-writes the book on dysfunction.  Seriously hilarious, What Carl Hiassen'd writing does for Florida, Ciara's writing does for small town California. Zany, yet heartfelt, characters, superb plot and a writing style that kicks up like a tornado, The Second Diary and Granny's No Angel takes the proverbial cake.  And I am not the only reviewer who thinks so:  The Second Diary is the number two novel on Amazon for the genre of humorous novel.
So join me in applauding Ms. Threadgoode and check out these two small town, down home novels that will make your head spin and your heart grow as you discover the unique town of Truckee and its highly unusual and home spun characters.  I have a feeling Ms. Threadgoode will be winning a few awards this year!  And I am already on my second reading of her thoroughly charming series.
If you need a good read head over to Amazon.com for