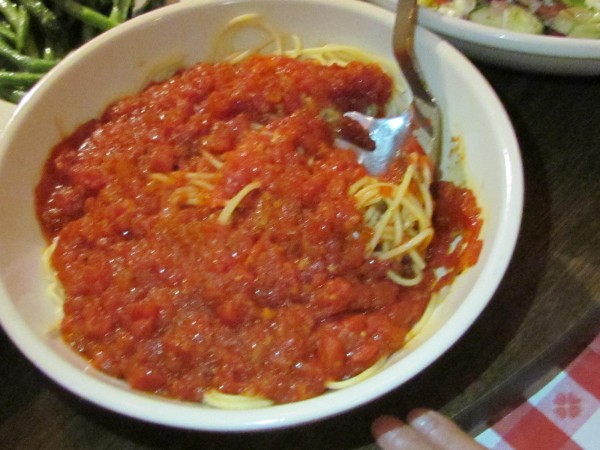 I spent this weekend on another one of my island getaways – in MANHATTAN. That's right one of my favorite quick city getaways, on the island of Manhattan, enjoying Central Park, Century 21, Le Parker Meridien, etc. When I travel, even if it's one of my "regular" spots, I love trying out the local scene.
So…why did I end up dining at a CHAIN restaurant on Saturday night?
For a few reasons
1. I got to hang out with my FAVORITE family – The Ferruccis
2. Rachel invited me to try it out and write about Buca di Beppo. They were comping our dinner.
In any other situation I might have said no. Why?
1. I don't want to have to write about a chain restaurant. It's not what I do.
2. I hate chain food – even when I'm home I fight with Mr. S about going.
3. I'm in NYC, I'd much rather be eating at Momofuku or The Spotted Pig.
4.  I was in NY to interview One Direction and Morgan Spurlock. Not only was the time all mine, but I had a very generous per diem at that included meals at some of my fave spots.
BUT I went
Friends always prevail over food.
Only something happened
The food kept coming. I think the massive menu of FAVORITE Italian dinners had a LITTLE something to do with it. We ooohed and ahhhed as if there were a firework display as our server kept placing dishes on the Lazy Susan in the center of our table in the Pope Room. That's right, this Jewish girl is covering her bases, by dining in the private POPE room.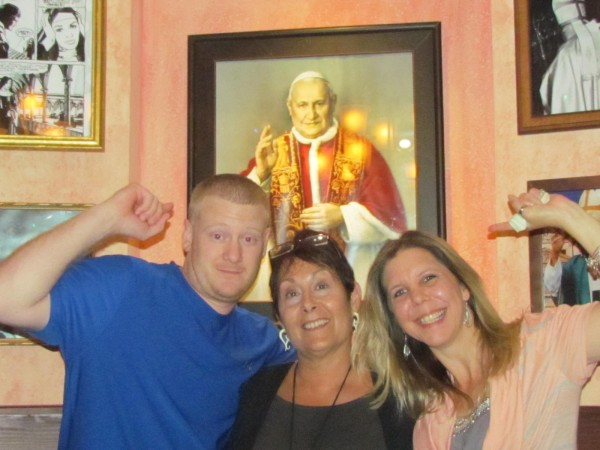 Just like in the Ferrucci's home, this food is served FAMILY STYLE, meaning we could (and did) order a little of this and a LOT of that to share. No having to decide between the Shrimp fra Diavolo and the Chicken Parmesan – we could have BOTH!
THIS IS A CHAIN?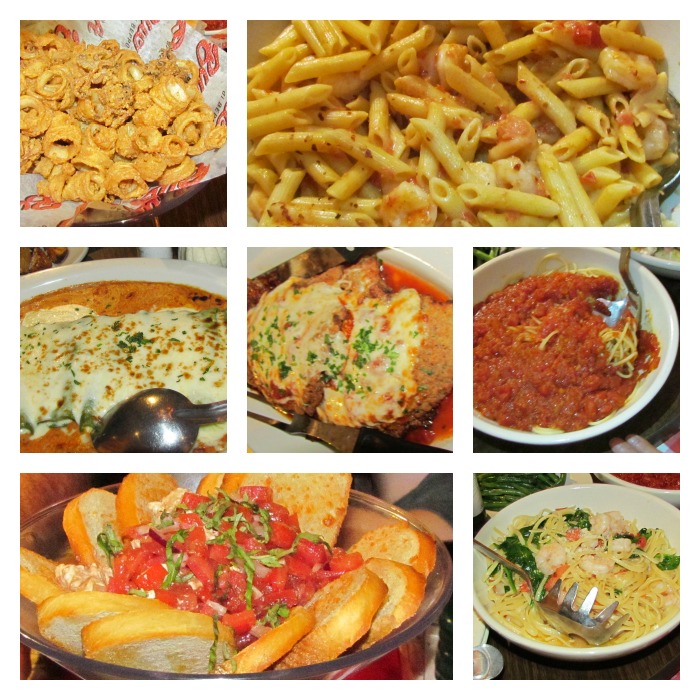 Seriously
I ate, and ate, and ate, knowing full well that the next morning I wouldn't fit into a SINGLE thing that I'd brought with me. I didn't care. From the bruschetta served in a huge martini glass to the chicken cannelloni,  I was HOOKED (and stuffed)!
All food is served family style in either a small size that serves 2 or more (closer to 3), and large sizes perfect for your HUGE family (with plenty left over for the next day).
Not only was the food like your Nonna would make for Sunday dinner, but it has to be one of the biggest bargains in the city.
In case you didn't get enough
Yes, there is also dessert….

Buca di Beppo – Times Square

New York
1540 Broadway
Entrance on 45th between Broadway & 6th
New York, NY 10036
Phone: (212) 764-6527
I was a dinner guest of Buca di Beppo via The Blogger Connection. All opinions are strictly my own.