We are so excited that our travel writer Kathy Chin Leong headed to Hawaii recently. We hope that you enjoy her post.
The Zillow ad simply read: "Waterfall property on Hilo for sale." That item hooked the attention of Christophe Busiglia, and the tech entrepreneur couldn't shake it off. The year was 2015, and ready to say goodbye to Silicon Valley, he was prepared to purchase land and move anywhere in the world to channel his creative and entrepreneurial energy.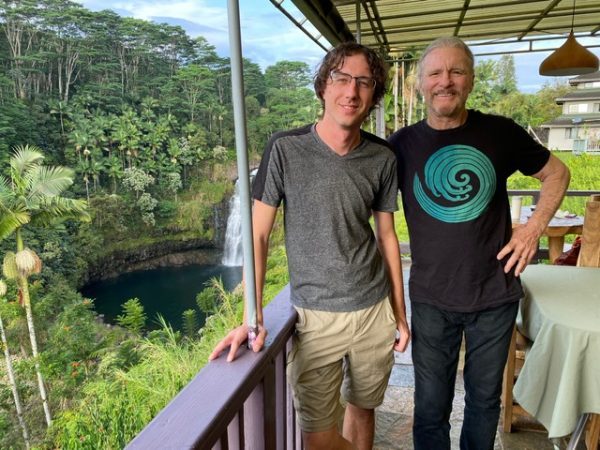 He found it. Today, the 30-plus-year-old millennial is the owner and manager of the Inn at Kulapiania Falls, a 43-acre,100-percent off the grid, lodge in Hilo, Hawaii, the wettest city in the United States.
To be frank, operating a bed and breakfast was not on Christophe's bucket-list. Yet, after seeing what original owner Lenny Sutton built with his own hands more than 20 years earlier, he caught the sustainability vision. And being an innkeeper? Well, he could learn, right?  Prior to purchasing, Christophe booked and paid for a room for over a month's stay. He wanted to prove to Lenny he was a serious buyer and understand the kind of upkeep required for tending 43 acres, 16 guestrooms and cottages, and one waterfall.
In his previous life, Lenny worked as a charter boat captain in the Caribbean. Along the course of his career path, he taught himself design and construction.  Lenny realized that Christophe was intent on the purchase and would steward the inn well. Hence, they shook hands and inked the deal – no turning back.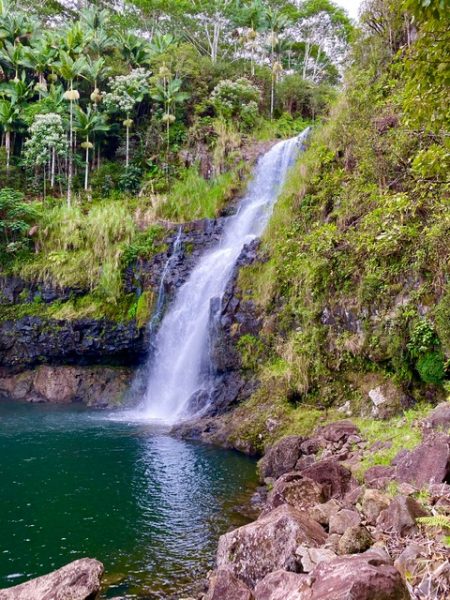 To reside at the inn is to cradle yourself in nature, serenaded (or irked) by loud, whistling coqui frogs at night, tropical bird calls in the day, and roaring falls 24 x 7.
A quintessential hidden gem, it is no surprise the remote destination is sequestered up and around and then down a private road. You must enter the secret code to open the private gate for access. Loop past macadamia nut farms, lychee trees, sweet potato plantings, and lush grassland. The further you get, the lights of downtown Hilo dim into specks. You are away from Hilo's big box stores, away from everything, really.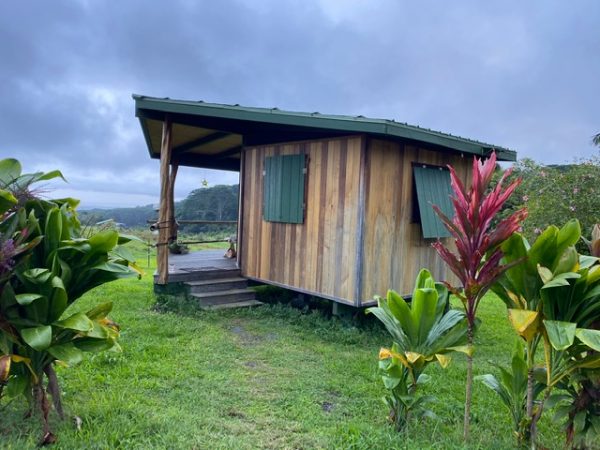 Guests choose from 16 guest rooms and cottages. One bungalow is designed with pagoda-style architecture and an interior spiral staircase. The Harmony House, another pagoda structure, comes with multiple dwellings, pretty convenient for a group retreat.
Ours, the King Kamehameha Room, was situated above the main house with antique Chinese black lacquer furnishings with a secretary desk.
The main house (where Christophe also lives) features a common area with a corner kitchenette where a help-yourself breakfast is available- granola, yogurt, and packets of oatmeal and energy bars, along with coffee and tea. It is still Covid-19 season, and so no hot breakfast is available, at least for now.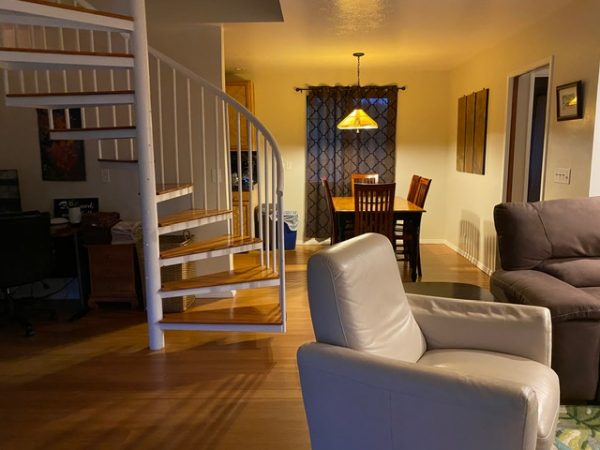 Lenny put in the sweat equity throughout the property, and you can see his handiwork and design taste in the hardwood floors, private bathrooms and showers, Indonesian teak furnishings, and ceiling fans. Most rooms do not have TVs or phones. These are not lavish, but each has its own character.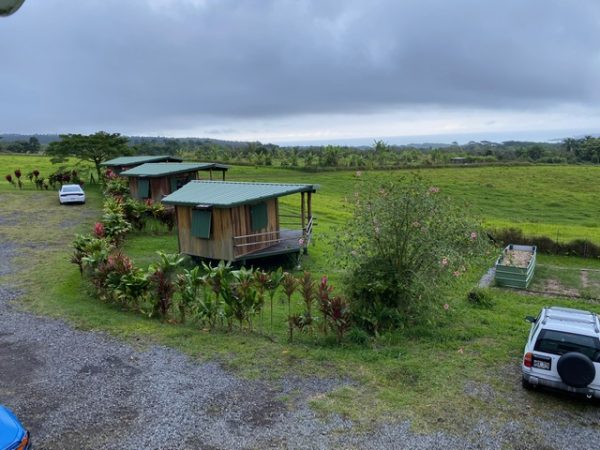 Up the hill at The Farm is a more rustic experience with Christophe's signature style all over it. Two years ago Christophe built three hexagonal, wood bungalows large enough to fit a queen bed and a nightstand.  There are no electrical outlets. These eco-chic, huts with porches tout a valley and ocean view and are located within hiking distance of the falls.  Guests can get a tour of the farm with crops, chickens, and pigs and even book a cooking class.
A shared restroom and shower facilities 150 feet away gives off more a youth hostel feel than a Ritz-Carlton vibe. Guests share a gathering space in the refurbished barn boasting cathedral ceilings, polished wood floors, a large open kitchen, a tall counter with barstools, and sitting areas for reading or making new friends. You can store groceries in the common refrigerator and cook your own meals with the provided utensils.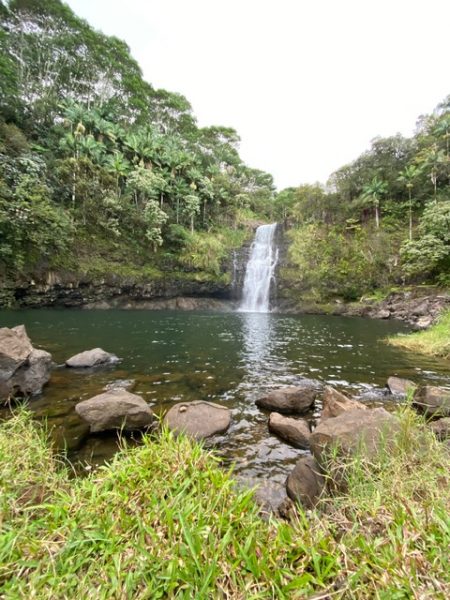 Obviously, the dramatic Kulaniapia Falls, at 120 feet high, lures curious globetrotters. The pond at the base is a fantasy swimming hole for the adventurous spirit. Nearby, kayaks and a standup paddleboard are always ready for action.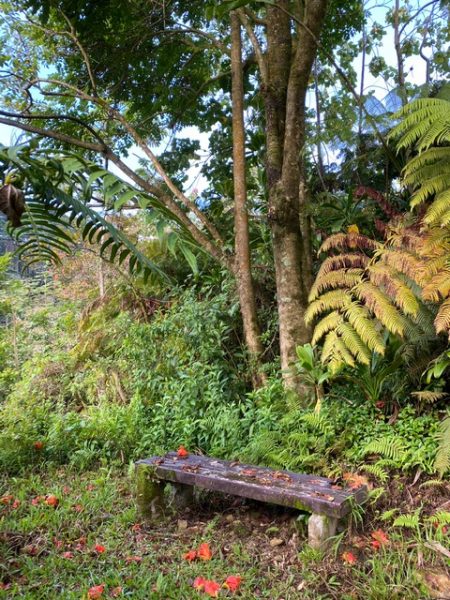 The steep falls' trail is just as dynamic as the falls themselves. Picture exotic species of swaying bamboos, giant ferns, and scented blooms of varied hues. Garden benches beckon you to sit and contemplate life. The covered pavilion complete with small side tables and comfortable chairs was built none other by Lenny himself. It is set strategically along the boulder-filled Waiau River with an I-can't-believe-it-pinch-me-now view of the waterfall.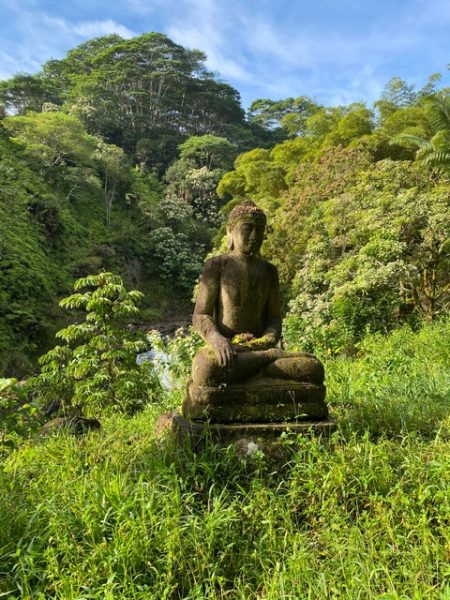 You can borrow one of the bikes and explore the hilly property, but make sure you stay on the premises.
From Monday to Friday, a gourmet treat awaits. Christophe has commissioned a local chef to whip up dinner cooking with fruits and vegetables from the property farm. At $100 per person, it is a splendid feast, I am told. According to Christophe, this dinner has proved to be a hit among the guests since they don't have to drive into town. They can indulge in a farm-to-table meal on the outdoor veranda in the heart of a tropical garden.
"The property sells itself. People obviously come for the falls," says Christophe." Guests return often. One fellow who stayed a month was so caught up in the splendor he was trimming trees and helping with the grounds on his third day.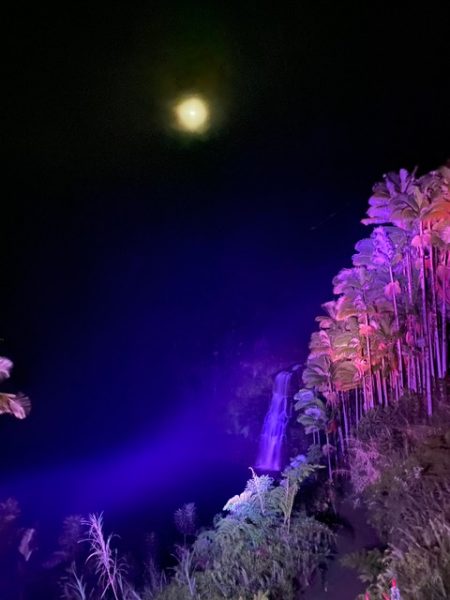 The falls and the gardens and the backstory of the Inn at Kulaniapia (meaning heavenly strength in Hawaiian) is captivating, and for some, deeply moving. Even though Lenny sold the place to Christophe years ago, he still flies out from his home in Carmel, California twice a year to assist with repairs and maintenance. They have become good friends.
On this particular day, he is outside sawing wood and expanding the hydro-electric system, not exactly a common handyman's duty. He will return home on Wednesday, but he's content, as always, to leave the inn's future up to Christophe.  Explained Lenny, "After 25 years, it was time to sell it and leave it up to Christophe to take it to the next level."
I, for one, can't wait to see what's next.