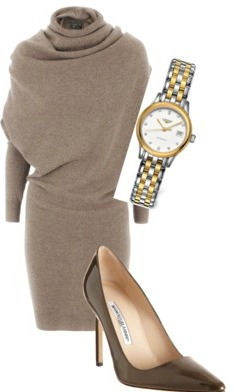 Finally summer is over and we ladies can try our new clothes for the fall: with many different styles, colors, jewelry and accessories for every occasion. There is a perfect outfit for every occasion, the difficulty lies only in finding it. This is a little guide to help all the ladies out there. If you are a businesswoman, a simple girl or someone walking the red carpet every now and then, here are some good ideas for everyone.
Business Outfit
Working in the business world as a woman doesn't mean that you can't be sexy. But it's important to find the balance between smart and sexy. Outfits that are perfect for a business environment are for example :
Wearing a dark colored suit jacket / blazer on top of a bright colored (or white) blouse and a tight cut, long skirt or a dark brown leather jacket with similar colored trousers and a beige turtleneck pullover or a scarf.
Adding jewelry or accessories like Longines swiss watches, earrings and bracelets are the perfect way to complete the outfit.
Casual
In a casual environment you can wear almost everything. Depending on your style you can wear long, woolen dresses, sexy skirts and jeans or leather jackets. You can even wear a Rolex Milgauss, a trucker head or any other accessories usually worn by men, there are no limits to your personal style.
Walking the Red Carpet
When going to a more classy event like a Gala that's the perfect time to get out all your sexy gowns and dresses you so rarely have the chance to wear. Especially gowns are very popular this season. Many celebrities wear long gowns on the red carpet. Adding the necessary sparkle to your outfit can be achieved by using all kinds of jewelry, necklaces, earrings, watches or even a purse.