This post was written by our roving travel reporter, Kathy Leong who stayed at the Fairmont Orchid as their guest. We are so thankful to have a writer to cover travel during this time.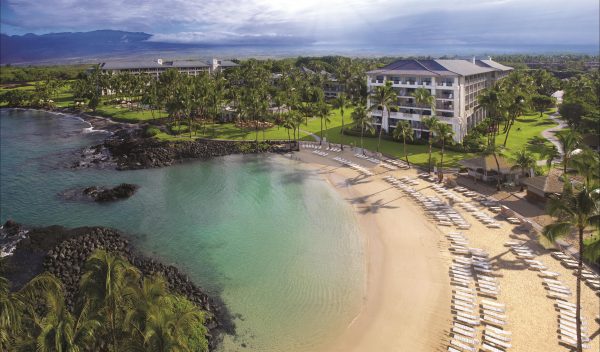 It's fun to imagine what early Hawaiian royalty did to amuse themselves on the lava-rich Kohala coast where the Fairmont Orchid reigns today. Here on this northwestern sliver of Hawaii, the state's largest island, did the elite set up teams for volleyball?  Swing golf clubs with sugar barons?  As the story goes, King Kamehameha I, the first ruler of the Kingdom of Hawaii in the 1700s, saved the 32 acres of prized shoreline just for himself and his family. The last king owning the property was King Kamehameha III who perished before his 30th birthday in 1854. Ironically, the Fairmont Orchid has just celebrated its 30th birthday. Three decades later, it is girding itself for the future and honors its ancestral roots by sharing art, history, and culture with guests while practicing hospitality with the aloha spirit. Reopened on November 13, 2020, after a "temporary suspension" that started last April due to Covid-19, the property is alluring guests with irresistible promotions.  A new "Third Night Free" offer is an excellent deal when you nail down your booking by March 31 and travel before the end of the year. The "Take Your Time" package provides 30 percent off when guests reserve a room for four nights or more in July through December.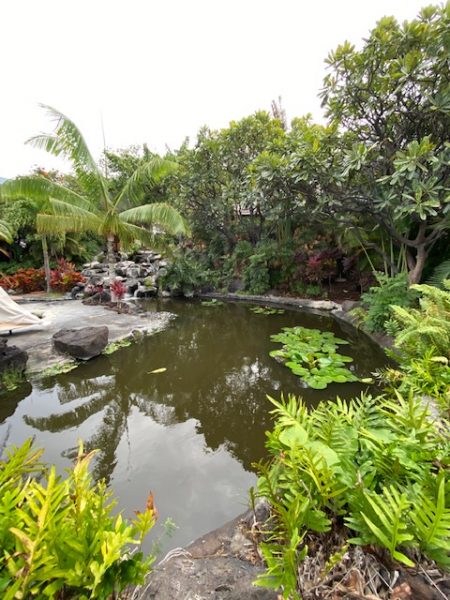 To picture a tropical heaven on earth, just visit the resort. The acreage cradles fish ponds, a bay, tidepools, plant life, waterfalls, posh gardens.  A morning stroll along winding, paved pathways takes you among the flora and fauna, removing the last traces of Mainland stress with every step you take.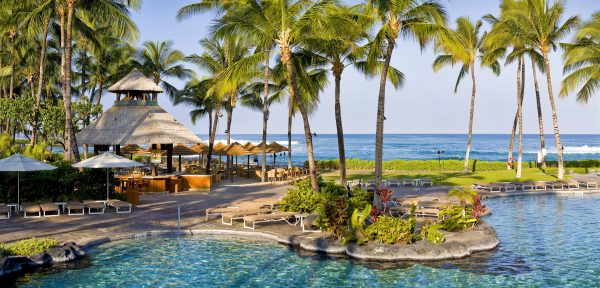 For the active traveler and for the food maven, there are tennis courts, a 45-hole golf course, a 10,000 square-foot swimming pool, and five eateries and restaurants.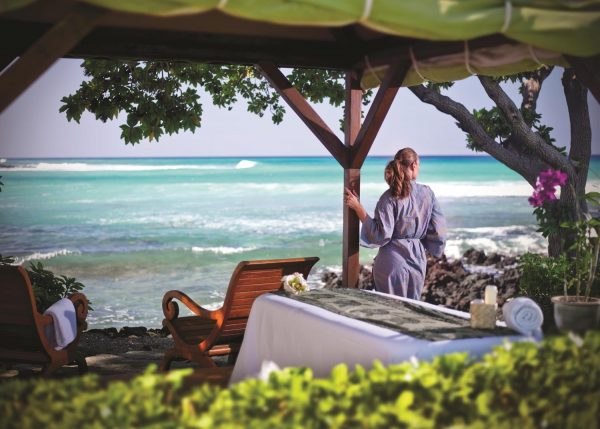 And for the massage aficionado?  Unique here is the Spa Without Walls, consisting of eight outdoor hales or huts.  These are built with wood and natural fibers, nestled among lily pads and rock waterfalls, a harkening to ancient days.  Oceanfront cabanas allow massage enthusiasts to hear the waves and feel the gentle breezes during their lomilomi.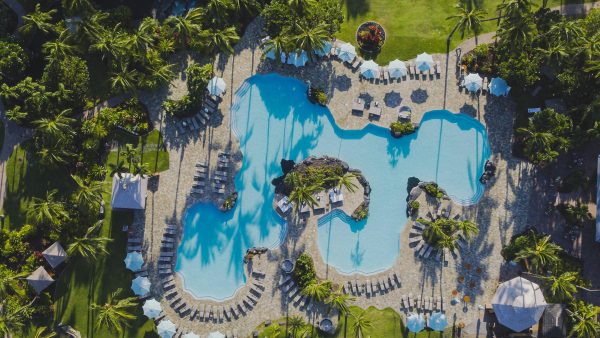 The minute you pull the car to the entrance, you are embraced by nature. The lobby is designed as an open-air pavilion presenting vistas to the pool, the gardens, and out to the waves.  Hawaiian paintings, sculptures, and orchid floral arrangements remind you that you're in paradise.
 A HISTORY LESSON
When the 540-room hotel opened in 1990, it was christened as the Ritz-Carlton Mauna Lani, and George H.W. Bush was president.  The economy was strong and so was the outlook for Hawaii, the youngest island in the chain.  By 1995, the hotel was sold to the Sheraton and called The Orchid at Mauna Lani.  By 2003, Fairmont Hotels and Resorts Inc. purchased The Orchid for $140 million.    And in 2015, South Korean company, Mirae Asset, snapped up the resort for $200.3 million and kept the name Fairmont Orchid.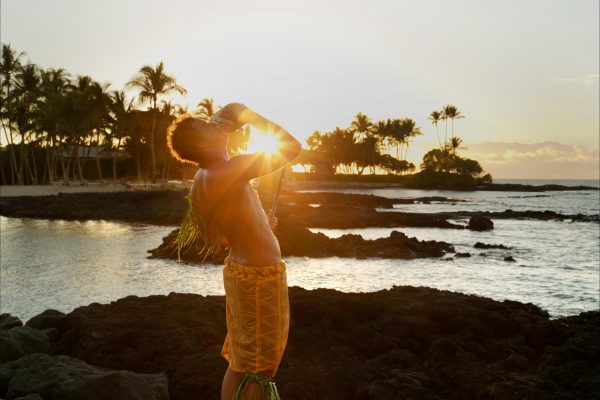 Shawn Souza, landscape manager, has worked here since the start. "All of us on the hotel's opening team knew it was gonna be special. You can see all five mountains from this area. Our landscaping crew was tight from the beginning. It had a sense of 'ohana (family) and four of us from the core group are still here." Few hotels can match such a priceless backdrop often characterized by cavorting dolphins and spouting whales. Couples pick the torch-lit property to exchange vows.  Even TV producers come here for shoots. In 2009, the finale for the show, the Bachelorette, was filmed on the premises.
Fast forward to May of 2018. The eruption of the Kilauea volcano and its smoke traveled far and wide.  The volcano is a two-hour drive away from the hotel and while the air was affected by vog (volcano smog) for about five days, the air quality was never harmful to health, stresses director of Hawaiian culture, Kaiulani Blankenfeld who has worked there since 1999.  "We've never had a bad vog day as far as I can remember." Meanwhile, some media outlets declared such erroneous and alarming information that outsiders thought the entire Hawaiian chain was being evacuated or consumed by lava. Some fearful guests backed out of their reservations, other zealous adventurers (who called at the last minute) booked rooms and took their places as they were anxious to see whatever they could of the active volcano in person.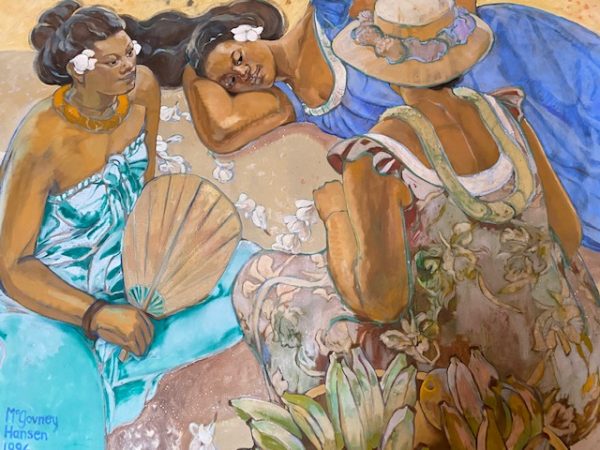 CULTURE, CULTURE, CULTURE And given the property's location atop hardened lava flow, visitors are always curious.  The hotel has expanded cultural offerings to explain more about its history and early inhabitants. Weekly complimentary classes include tide pool education, turtle talks, coconut frond weaving, Haku lei making, botanical and bee tours, Hawaiian language basics, history walks, and more. Two years ago, the hotel moved Blankenfeld (who was born and raised in Hawaii) into her present role to take charge of Hawaiian culture. Today, she passionately develops educational programs utilizing in-house experts as well as partnering with local practitioners.  "I always ask our visitors, 'What is your intention in joining the class?' she says.  "My intention is to teach them something they can use again such as making a haku lei.  When they understand how precious it is to fashion a lei for someone dear to them, they are moved to tears." These days, visitors are savvier than ever, showing deeper interest in all things Hawaiian, dovetailing on the fact that Hawaiians are deepening in their own ancestral understanding. "In recent years the number of hula practitioners grew, and they have great pride in knowing that hula is not just entertainment," she explains. "The hula is part of Hawaiian history that was once banned and illegal."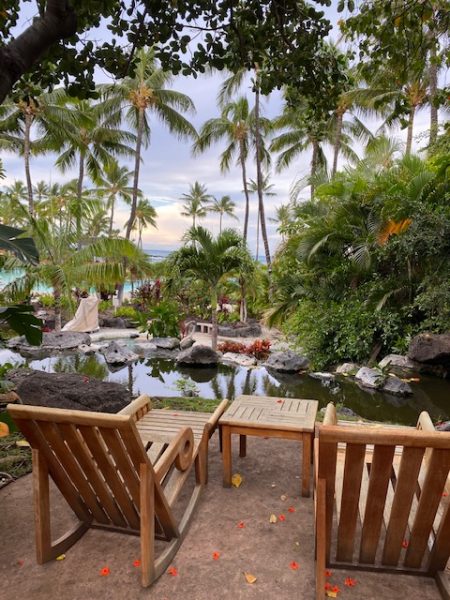 COVID-19 TIMES AT THE ORCHID
She is thankful to resume group classes after a difficult 2020.  When the edict came to halt operations in April, life at the resort was, well, somber. With more than 600 staff at the outset, the Fairmont faced challenges. It was decided that a skeletal crew would stay on site to keep the premises safe, the foliage trimmed, the plumbing working, surfaces cleaned. Part of the team had to call and email guests who had bookings for events and vacations in 2020.  "You cannot let the dust settle," recalls Blankenfeld. "We had to keep things disinfected and always be ready for reopening.   And all this time we were writing new procedures and protocols.  We used a combination of state guidelines and CDC guidelines." According to general manager Charles Head, the Orchid was the first hotel in Hawaii to present a comprehensive COVID-19 health and safety plan to the Hawaiian Tourism Authority which set the standard for other properties. The hotel stayed in touch with personnel, offering free bi-monthly food baskets and meals. As members of the Fairmont family arrived to pick up boxes of sustenance, the team connected with their old friends. November 13 was a welcome day, a reopening day so special that the Fairmont Orchid performed and filmed a blessing ceremony for all to see. (You can watch it at https://www.youtube.com/watch?v=c756U4CWP-E)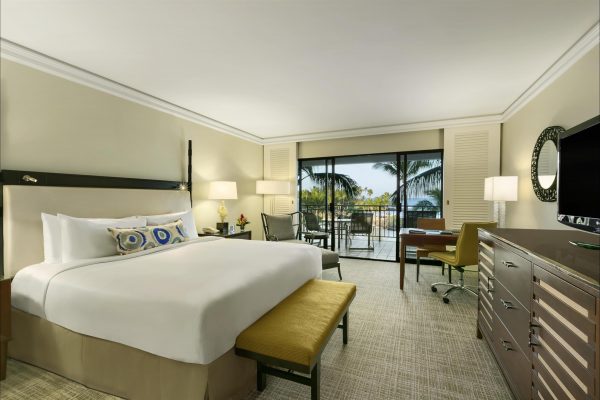 TODAY'S ORCHID GUEST EXPERIENCE Thanks to the lifting of the two-week quarantine for those testing negative for COVID-19, business is returning. Once passengers land, all are subject to another COVID-19 nasal swab test at the airport. (If it proves positive, travelers are notified and must quarantine for two weeks). Upon entering the hotel, guests are escorted by masked staff to the ALLSafe Ambassador, an employee behind a plastic shield who checks temperature, reviews COVID status and Hawaii-approved QR codes.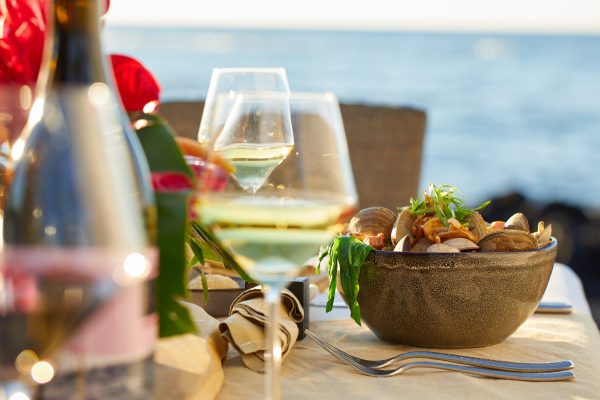 And like all places these days, the quintessential mask protocol remains in effect.  Guests are required to wear masks throughout the resort except for the pool area where pool furnishings are also segregated at least six feet apart.  People can remove masks in restaurants when eating. Outdoor dining spots feature tables distributed far apart. Its ground-level gym with large windows is back in operation. Up to six gym guests are allowed to enter.  Every other piece of equipment is taped off to maintain social distancing. Every 50 minutes, the guests must clear the space so staff can sanitize equipment. "It used to be that the cleaning staff would be doing their jobs behind the scenes," reflects Head. "Now people are happy to see the staff spraying down tables and wiping the seats. They see we have implemented heightened cleaning protocols that are medical-grade level, and that will continue to be a part of our new practices. There is a lot more cleaning going on with increased personnel."
Rooms come with a COVID-19 packet with hand sanitizer, gloves, and masks for two people. Visitors can expect a room of 522 square feet at the minimum.  Suites run from 1,050 to as spacious as 3,736 square feet.  The white linens, white duvet covers, and white marble bathrooms exude the essence of peace, a departure from the fears and anxieties of the previous year.  Rounding out the stress-free vibe is a neutral palette of cream and sand for the walls and carpets.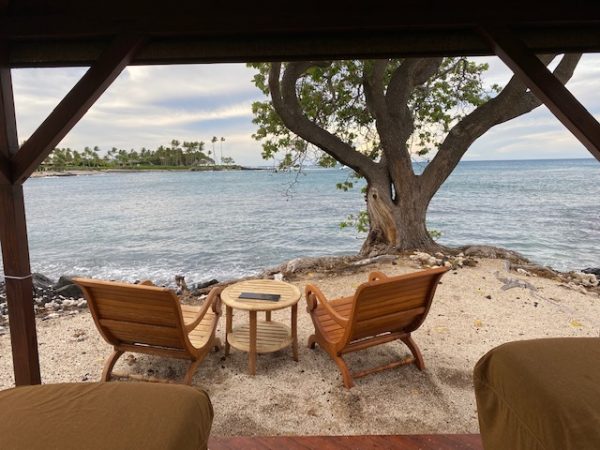 In February, during a recent stay, I noticed that occupancy was sparse, but guests were happy to have the whole place to themselves.  Snagging a resort chair facing the ocean was easy.  I spoke to one Mid-west tourist sunning herself by the swimming pool.  She flew in the day before with seven other couples, choosing Hawaii over Mexico because it was easier than traveling internationally.
Fairmont devotee, Sergio Pineda of Bellevue, Washington, reports fond memories of his Orchid stays in an oceanfront suite three years in a row.  "There are three things I really like," he explains. "The physical space – there was a lot of room to find a place to hang out if we wanted to be by ourselves.  The food was good, especially the breakfast buffet. " Third, he also praises the staff for its flexibility and service. Housekeeping was more than willing to clean the suite in the afternoon and provide extra towels.  Since his daughter is allergic to kiwi, kitchen workers prepared her a personal fruit platter so she did not have to worry about cross-contamination at the buffet.  "They were very accommodating and very friendly," emphasizes Pineda. "They understand that families have different needs compared to adult couples."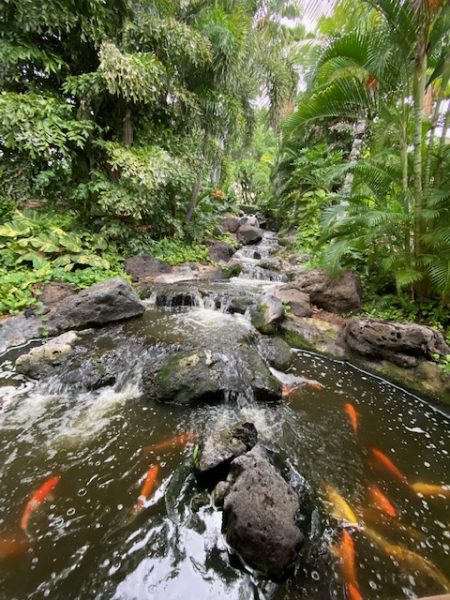 WHAT'S NEXT?
Moving forward, the resort is veering towards a more sustainable and healthy future.  It plans to complete thirty acts of sustainability in honor of the 30th anniversary. According to general manager Charles Head, "We've mobilized our team to maximize local purchasing, minimize waste, and reduce our carbon footprint." That said, the Orchid has stopped distributing plastic water bottles and eliminated plastic straws. Guests ordering to-go meals get biodegradable cups and cutlery. Purchases from local farmers is on the rise. At the resort, 80,000 bees are maintained by a beekeeper who cares for the hives and harvests honey for Orchid restaurants.  The resort has also planted 30 wiliwili trees on a local forest reserve. The hotel can also assist groups wanting to join the environmental effort with volunteer opportunities at the Waikoloa Dry Forest Reserve. "As the vaccine continues to be deployed and people are getting their confidence back in traveling, we are optimistic," reports Head. Reasons to come? Flights to Hawaii have never been so affordable, and the number of COVID-19 cases on the big island are low, low, low.  You ought to take advantage of fewer crowds before droves descend on the island.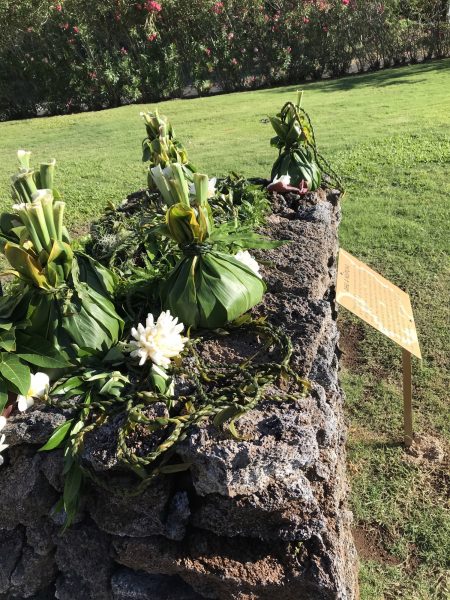 The quiet months of 2020 provided a chance for onsite employees to slow down and experience the sacred grounds.  For years, Blankenfeld has led a weekly Treasures of Milokukahi tour, concluding at the hotel's prized milo tree and rock altar known as the Ahuakupuna. "Each time we go to Ahuakupuna, we honor those who walked this land hundreds of years back until now," she says.  The practice of offering a lei and a song continued throughout the pandemic, giving Blankenfeld perspective even as she went alone. "It was a lovely time for meditation and to give gratitude," she recalls.  "What a great time to connect to the place and to be loving the land you are on and loving the land that feeds you."  With a chant and a prayer, she and the staff are hoping guests will return to Hawaii and love Fairmont Orchid the same way.
For more information or to visit the Fairmont Orchid go to www.fairmont.com 800.257.7544