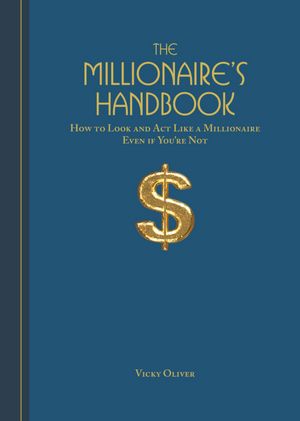 I may not be a millionaire, but I play one on the internet. At least that's what I've heard. The funny thing is that I do live like one, only without having a vault full of money. My favorite misconception about me, was the time that I got a pitch from a television show who wanted to speak with a millionaire who used coupons. As flattered as I was, I really didn't fit the bill.
But it's true that I do live like one. Later this week I'm heading to the Sundance Film Festival for five days of films and VIP events, and I'll be there as a guest of my favorite hotel chain. That's just one example of how I get to live the Champagne Living lifestyle!
I've been living this way for so long, that I sometimes forget that there are others who want to know how, and while I know that I should write a manual, I don't have to…because Vicky Oliver already has. The Millionaire's Handbook
 is a guide to looking and ACTING like you've got the mansion, even if you don't.
From reminding us that class opens doors (and remember – class can't be bought), to amassing a million dollar vocabulary, Ms. Oliver will help you dress the part, speak the part, and if you play your cards right – BE the part. There's no need to go the route of Kathy Griffith when you can be an A-lister by following the instructions she's packed into this 264 page guide to a Champagne Living life like I have.
Fortunately, I have my own methods that are NOT found in the pages of this book, that I can still share with you, but I will say that The Millionaire's Handbook is one that you'll want to keep on your bookshelf to refer to again and again, as its got good solid information. Some of my favorite suggestions are:
Skimp on the items no one will notice – although, frankly I still love pretty underwear 😉
The TEN laws of material success – dressing the part doesn't have to send you to the poor house
What your mail says about you! Time to scan the catalogs
The BIGGEST take away I got from this book was an true AHA! moment, when I realized that just like in business and blogging…BRANDING is the key. We need to BRAND OURSELVES to get what we want out of life. Once you start working on Brand You – everything seems to fall into place.
The Millionaire's Handbook
is available at Amazon.com for under $12.00. Personally, I think that's a steal for the information within the pages.
We received a copy of this book to facilitate this review, opinions are strictly my own.