Waking up in the mountains of the Canyon Resort at the beautiful Waldorf Astoria to a fireplace roaring in your bedroom should be a wonderful thing. When it's your phone ringing at 5:30 am, it just interrupts the fairy tale a bit. Remind me next time I change time zones to leave a message with EVERYONE I know (and REALLY, who calls at 7:30 am with a dinner invitation).
Screenings
Beasts of the Southern Wild takes us to "the bathtub" a poor island surrounded by water, where newcomers Quvenzhané Wallis and Dwight Henry give performances that are AMAZING. This is director Benh Zeitlin's first film, and it's a winner.  With moving performances by NON actors and a visual feast, you'll get an allegorical sense of what life must have been like after Katrina hit NOLA.
Your Sister's Sister – Where do I begin. With a cast that includes Mark Duplass (The League) , Emily Blunt (The Devil Wears Prada) and Rosemarie DeWitt (United States of Tara) directed by Lynn Shelton it was on our "must see" list and didn't disappoint.  This romantic comedy should be on your list to see the  moment it comes out.
Sightings
It was a crazy day for star-watching at Sundance. Between the celebs that come to their screenings for Q&A's to the people you bump into on the street, there's someone at every turn. We learned quickly that press are also invited to those fabulous gifting suites, and they were great places to see and be seen, just ask Ben who sat down and had a beer only to realize that he was sitting with the cast of Wish You Were Here.
While Ben was excited to be sitting near Joel Edgerten, I took to the streets (after filling a couple of bags with FABULOUS SWAG) and found Andie MacDowell once again.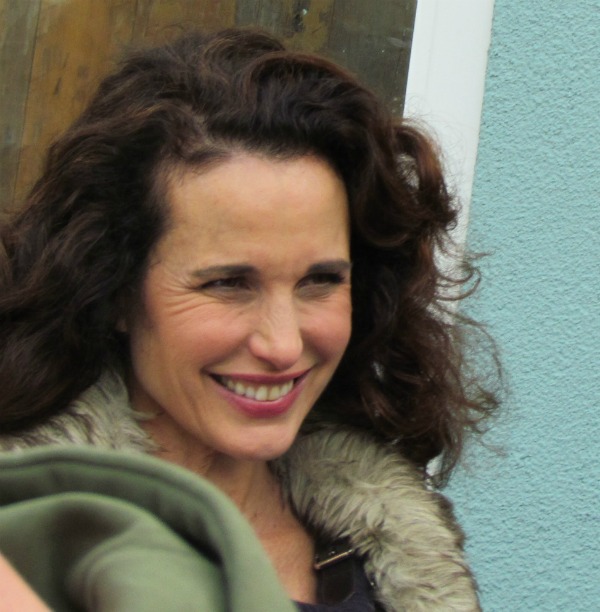 After bumping directly in to Chris Kattan (I need to remember to watch where I'm going), I snuck onto one of the side streets to see Hercules himself Kevin Sorbo.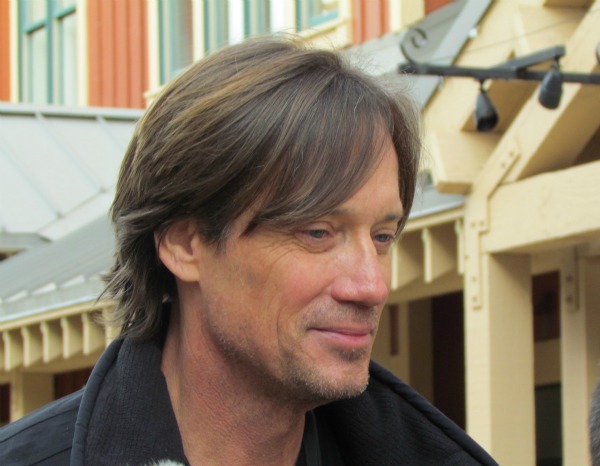 Some of the gifting suites and lounges seemed to be opening at different times, and when I went to check out when the EW Lounge was opening, I found myself directly in line behind Ardin Myrin (one of my fave commediennes seen on Chelsea Lately). I understand that Ross Matthews is hosting from the Bing Lounge and may stop by to see him later this weekend.
It seems that one of the BEST place for sightings is at the Waldorf Astoria Park City where we're staying. Mario Lopez flashed his smile as we waited in the lobby for our rides, and I hear that we've got the suite next to Paris Hilton (although I haven't seen her yet).
Of course, there was plenty of time to talk with the actors who have films here…and as you can see Ben got his fan boy moment with one of his faves – Mark Duplass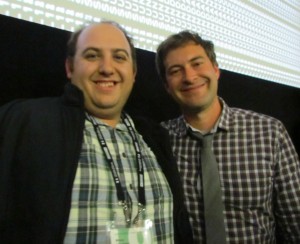 Lounges & Gifting Suites
We skipped the party scene and spent our free time checking out the suites and lounges sponsored by companies. From the high-tech yet peaceful HP suite to the miniature version of the Waldorf Astoria, there was so much swag, prizes and food & drink to be had for the celebs (and press like us).
Well, it's time for me to bundle up and hit the screenings and streets again today. I'll have more for you soon from Sundance 2012 thanks to the wonderful people at HiltonHHonors and the Waldorf Astoria Park City.
Thank you to the Hilton HHonors program and the Waldorf Astoria who made it possible for us to be here. All opinions are our own.