A RUT! That's what I'm in. I've been wearing the same old makeup colors FOR-EVER. It's just comfortable, like that old pair of jeans with the holes in the knee, or that t-shirt your hubby has been begging you to toss out (but it's finally SOFT). It's DEFINITELY time to step out of the box and experiment.
Today I'm trying something TOTALLY out of the box for me. I tend to be traditional when it comes to makeup colors and I'm throwing caution to the wind and taking the  Revlon Expression Experiment – using colors that are a little retro, a little wild and…well, COLORFUL.
From a retro orange nail polish to FIRE red lipstick by Revlon (that I used to wear a years ago), I took the leap and had a little fun with color. It was FUN.  I suppose that I was in even MORE of a rut that I initially thought. The shades of iris & purple eye shadow brightened my face, and I actually feel more pulled together when I accesorize myself with more than just earrings and a scarf.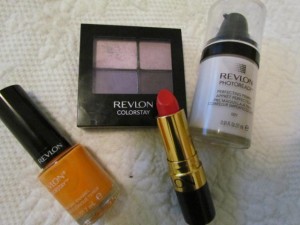 The best part is that I used Revlon cosmetics that you can pick up at the drugstore or a discount department store – so ANYONE can afford them. They used to say that "looking good is the best revenge" and Revlon offers the tools to empower women everywhere.
Check out my experiment ~
I think that the most dramatic difference is the lipstick.  What do you think?
If you want to join in to this expression revolution, head over to Revlon's facebook page and look for the Revlon Experiment Expressions tab and get inspired by the likes of Halle Berry, join the monthly challenges and share and learn new techniques!
So, it's obvious that I need to add a little color to my life more often. I'd love to know. 
Are you in a rut?
How do you express yourself?
When was the last time that you PLAYED with new colors?
This is a Sponsored post written by me on behalf of Revlon for SocialSpark. All opinions are 100% mine.