My CES 2015 trip experience was sponsored by Microsoft/Lumia! I can't thank them enough for such a FABULOUS time.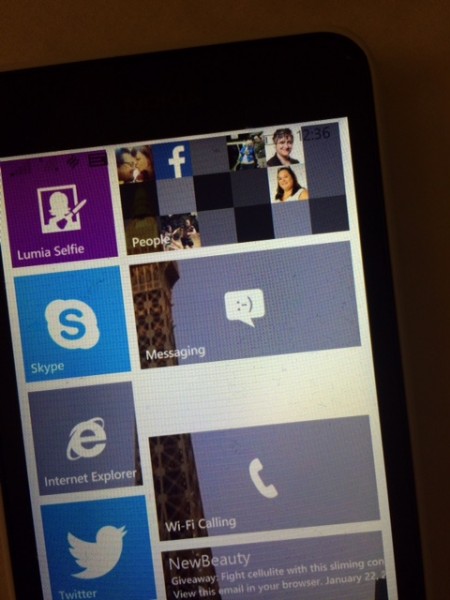 I am NOT a Las Vegas virgin….but, during CES a couple of weeks ago, I found myself learning about Las Vegas a little differently than I had in the past. I was there sponsored by the Microsoft/Lumia, and while I didn't spend much time at the conference, I did have a Champagne Living good time.
Armed with my Lumia 635, a bunch of besties, and a room at the HOTTEST hotel in Vegas – The Delano, I knew that this was going to be a SPECTACULAR week, and the combo DIDN'T disappoint. I'll fill you in on the BEST places to eat, drink, stay and play in sin city next week, but what I really wanted to share was the MOST fun that I've had in ages….
A scavenger hunt down the strip armed with ONLY my Lumia 635 and a team to figure out the clues and do the challenges? This could either be FUN or we could be spending the night out in the cold Nevada night if we didn't figure things out quickly. While most had teams of FOUR, it was just my partner Eric Chan of Mobilslate and I, so the odds were NOT in our favor. That didn't mean that we didn't have an AMAZING time trying to figure out how to use Cortana and all of the apps in order to complete each of the challenges.
Challenge #1 – Find a celebrity impersonator on the street & take a photo
Hmmm…..what constitutes a celebrity?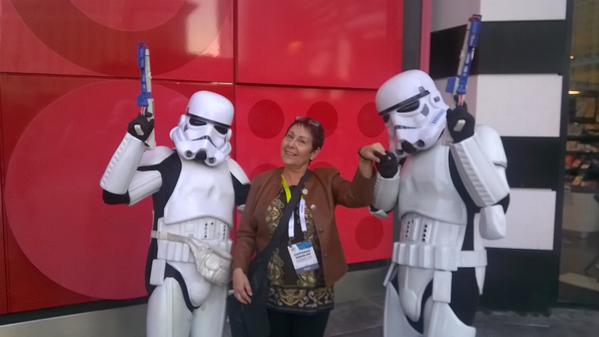 As we searched for an impersonator, I saw the storm troopers coming up an elevator. All of a sudden, I heard Marshall Weinbaum's voice in my head saying "you know what to do." The storm trooper on my right holding my hand…well, he proposed, I said yes…I wonder if this is what they mean by a "shot gun wedding?
Back on track…or at least back onto the strip
I'm not going to take you through ALL of the challenges, but you need to know that we found our way into a wedding chapel (shhh…don't tell Mr. S), a diversion from the US (ooh-la-la we're in Paris), and even a little dancing as I poured water over my head (was supposed to video "dancing water" but with a half hour before the Bellagio Fountains were to perform, I figured that it was close enough).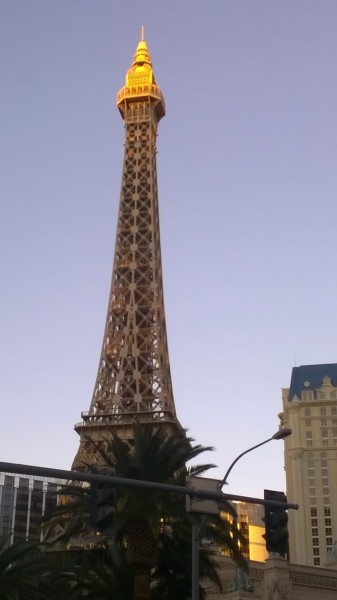 Needless to say…we came in DEAD last, but we had SO MUCH FUN that it didn't matter. Plus, I was excited to see my original #PoweredbyLumia team  mate Crissy Beam from Motherhood Your Way win an X-Box One for my virtual grandson. The BEST part? I feel like I went from Lumia amateur to pro over the course of an afternoon….PLUS, I explored areas of Las Vegas that I had never seen before!
Here's What I Learned
1. Cortana is talented – she can do impressions, remind you of things, get directions and even perform a wedding ceremony if need be (well, maybe not that)
2. Battery Life – the Lumia 635 has the LONGEST battery life of ANY phone I've ever used. It lasted DAYS without charging, and can even last over 17 days on standby.
3. Integrates with my computer – I'm a Windows 8.1 user and I was able to access everything in my One Drive right on my phone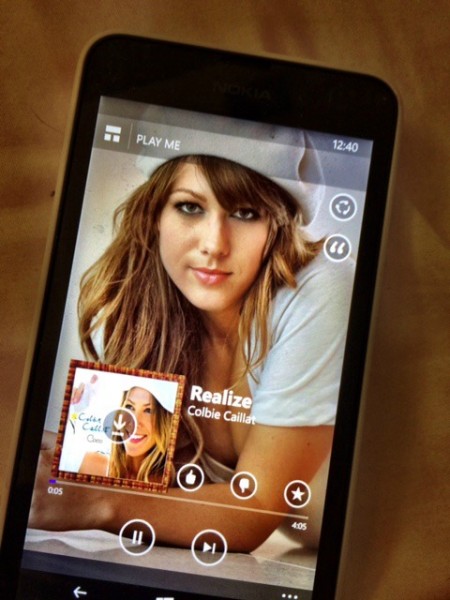 4. BEST TUNES EVER – OK, so I thought I had a good music platform until I found Mix Radio. NO OTHER RADIO PROGRAM COMES CLOSE. I made mixes from songs that I'd not been able to find on the "other" stations….WHOO HOO.
5. Cute – Is that a word to describe a phone? Well, she is (yes, my phone is a she). I love the sleek and simple look….there's something about an accessory that goes with EVERYTHING.
6. Memory – My biggest complaint with the fruit phone is that once you buy it, you're stuck with the memory that's installed. Um, 16GB is NOT enough for this gal. The Lumia 635 takes a microSD card, making it expandable up to 128GB
7. Priced Right – Yes, you can pay through the nose for a fancy phone if you want to….but I'd rather pay less for MORE VALUE with the Lumia 635. Best part? You can even get one for a pre-paid service (Boostmobile, Virgin Mobile, etc.) or with your regular T-Mobile or AT&T plan. I hear that Sprint will have it available soon as well.
DETAILS
I'll be bringing you more about my Microsoft Lumia adventures in Las Vegas! But, if you're itching to get your hands on this phone, you can check out some of the special offers they've got going at:
Thank you once again to Microsoft/Lumia for sponsoring my CES 2015 trip experience to learn all of what this phone has to offer in one of the most EXCITING cities in the US…Las Vegas.