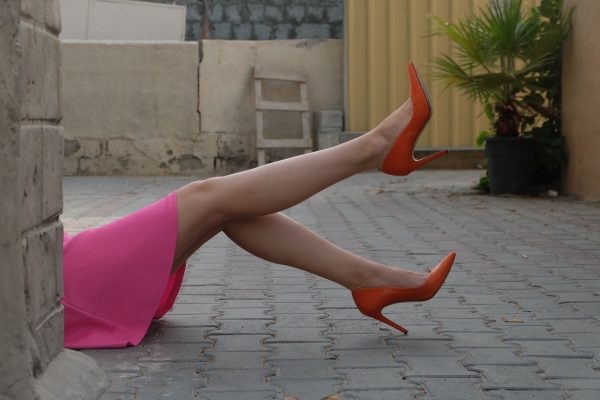 When it comes to choosing the right hosiery, it can be overwhelming trying to figure out exactly what would work best for you. Whether you're looking to buy hosiery for the first time or want to see whether you can find much better ones, we've got you covered! This guide will give you all the information you should keep in mind before shopping for hosiery.
The Size of the Hosiery Matters
Some types of hosiery come in a so-called free size, and they're often more affordable as a result. However, it's generally better to choose stockings and tights that come in your exact size to guarantee a better fit. Fortunately, most brands of stockings have the size chart displayed on the back of the packaging. So, read the size chart carefully before making any final purchases. Even if you think you already know your size, it never hurts to double-check, especially if you're buying from a different brand or trying a different style of hosiery.
Good Quality Hosiery Is Always Worth the Added Cost
You might be tempted to look at the price tag before anything else and get only the stockings that seem affordable enough. But as with most other premium clothing items, high-quality hosiery often sells for higher prices. Remember, though, that these are items you'll be using often. As such, these undergarments will be subjected to constant wear and tear. So, you'll need a sturdy pair that can last you for at least a couple of years.
That said, buying cheap hosiery can end up being more expensive than buying items of good quality in the first place. This is because cheaper hosiery is more likely to rip, tear, or lose its elasticity after only a few wears, which means you'll have to replace them more often. Meanwhile, high-quality hosiery is sure to last you a long time. So, if you invest in better-quality hosiery, you won't have to buy replacements anytime soon.
You Don't Need to Buy Hosiery in Too Many Colors
Hosiery comes in a wide variety of colors, and it can be overwhelming to choose the right ones. That being said, there's no need to purchase every color under the sun. As a rule of thumb, you're better off just getting a few pairs in the most basic colors. Tried-and-tested options include black and nude-colored hosiery that come in a shade closest to your own skin tone.
Hosiery Comes in Different Deniers, Each with Pros and Cons
Denier, simply put, refers to the thickness of the fibers used in making the hosiery. The lower the value, the thinner or more sheer the resulting hosiery will be. Thus, those opting for an almost natural, barely-there look can get stockings in denier 5 to 30 for a sheer or semi-sheer finish.
Thicker and more opaque options are also available, typically falling anywhere between denier 40 up to 100. These thicker stockings are best if you want to cover up leg imperfections, stay warm in colder weather, or if you expect to use the hosiery frequently.
The Length of Your Hosiery Will Depend on Your Desired Outfit
Most working women prefer hosiery that reaches up to the waist and can be used for short and long outfits. If you tend to wear shorter dresses or skirts, these kinds of stockings are highly recommended. That said, you can still opt for knee-high pairs should your skirt or dress go past the knees.
If you have the budget, pick up both hosiery lengths so you can switch from knee-high to waist-high hosiery as needed. Make sure to purchase a few spares of each type, too. This will give you enough duplicates to alternate between wears, ensuring that each pair will last longer.
The Brief Likewise Depends on Your Outfit
The brief refers to the section of the hosiery that starts from the waistband and ends around the crotch. Typically, hosiery briefs come in various styles such as sheer-to-waist, boxer, V-line, shaping, and maternity options.
Sheer-to-waist hosiery can be worn under short outfits because the thickness of the brief is the same as the rest of the stockings. If you feel too self-conscious to wear sheer-to-waist options, consider getting a pair with a V-line style instead. V-line briefs are usually thicker and take the shape of regular underwear, and they're best worn with short dresses. Meanwhile, shaping or control-top briefs reduce the size of the waist and give the illusion of a smooth line, making them perfect for fitted dresses. If you have a baby bump, go for stockings with maternity-style briefs. These briefs go further up to the bra line so you can comfortably wear hosiery even while expecting.
The Hosiery Toe Style Should Match Your Chosen Footwear
When shopping for hosiery, you should also carefully consider what toe style would best suit your uses. In most cases, you can get by with closed-toe hosiery. However, they can look unsightly when worn with open-toe shoes. The good news is that toeless pantyhose is available for open-toe shoe lovers. If you want to minimize the chances of your hosiery laddering, go for pairs with reinforced toe styles. These types of toe styles help reduce the friction between your closed-toe shoes and your stockings.
Your Choice of Hosiery Finish Can Make or Break Your Look
Hosiery comes in various finishes such as matte, sheer, and high sheen. If you plan to wear hosiery to an office with bright lighting, it may be best to stick to the matte or sheer variants. These will keep you presentable without attracting too much attention to your legs. By contrast, high sheen hosiery can make your legs stand out. Hence, they're great to wear with bodycon dresses for nights out at the club or on dates.
These tips are not absolute. Rather, treat them as helpful advice for picking out the most appropriate hosiery possible. Now that you know all these various considerations to keep in mind when shopping for hosiery, you shouldn't have a problem finding the right pairs for your needs.