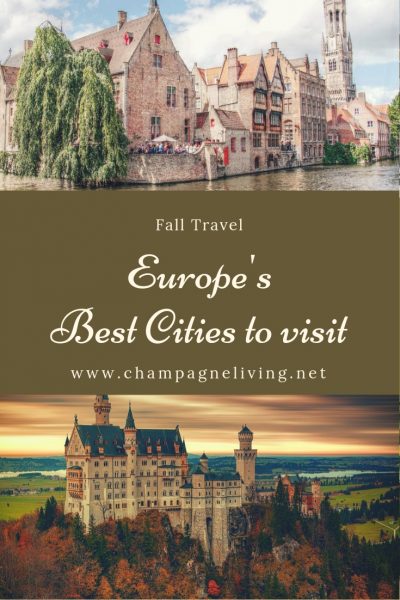 Opting to travel to Europe in the fall season means that you'll be able to experience fewer crowds, cheaper options, and shorter lines when waiting to visit an attraction. While many travelers don't think to visit Europe in the fall season, it's a beautiful area to see during this time of the year. I am going to share Europe's best cities to visit in the fall season so that you can plan the perfect Europe trip during the off-peak travel season.
 Perthshire, Scotland
This location is often referred to as Big Trees Country for its beautiful natural landscapes and amazing views all year round. During the fall season, you'll be able to experience vivid colors and breathtaking natural beauty. The best spots here for optimal scenic views are Lock Tummel and Knock Hill.
Bruges, Belgium
During the fall season, you'll see the medieval buildings here covered in crimson and golden vines that give off rich fall hues. The canals reflect these beautiful hues of fall colors and make for a picture perfect moment. You can also experience open-air markets that are open through November in this area.
Dubrovnik, Croatia
Located along the Adriatic Coast, this city is a must visit during the fall season in Europe. Offering lower prices than other cities in Europe, it's the perfect destination for budget savvy travelers. The weather is still warm, but the summer crowds disappear in the fall season so you can enjoy the beaches in peace.
Bavaria, Germany
Endless Alpine mountains with breathtaking scenery are surely something you'll want to enjoy when you visit Europe in the fall season. This city offers many festivals to include Oktoberfest. There are also 25 castles and historical locations to visit when you're vacationing here.
Wicklow, Ireland
During the fall season, this area offers you a chance to see the beautiful fall hues on the mountain treetops as well as more waterfalls. This is the perfect city in Europe to enjoy during the fall season if you're into hiking and historical sights.
Piedmont, Italy
October is the peak season for the most beautiful of colors in this city. With many festivities happening during the fall season and harvest time for the vineyards, you'll surely enjoy much of what this area has to offer when you opt to vacation here in the fall season.
There are many other cities in Europe to visit in the fall season. Not only will you have to deal with fewer tourists, but often the prices get reduced in Europe during this off-peak travel season. This means you can travel to Europe with less money than perhaps you could during the summer season.