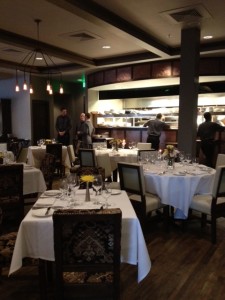 Ask me where my favorite South Florida restaurant of the moment is and I'll direct you to a fairly nondescript shopping plaza next to the Polo Club Golf Course in Boca Raton. It never ceases to amaze me when they tuck an incredible fine dining establishment into a strip mall with a grocery store and Walgreens. I suppose after you visit once, you won't even notice the other stores, since your focus will be on getting some of Chef Josef Schibanetz and his partner Mel Lechner's wonderful Euro-fusion meals.
The newly opened restaurant recently invited media for a showcase dinner that left me wanting to return. With a menu that included everything from
Grave Lox of Salmon with lemon vinaigrette & American caviar
Warm Mushroom & Quail Salad
Maine Lobster Puff Pastry
Petite Filet Mignon with shaved foie gras
Salzburger NockerIn – an Austrian soufflé with fresh berries, cream and honey
and more
I could tell you how delicious everything was, but I'll just show you
If anything could possibly trump the food at this amazing restaurant, it could very well be the wine. With a wine cellar par none, you'll be absolutely delighted by the varieties all chosen by Krista McCracken, formerly of the Peabody in Memphis. The knowledgeable staff are their to help suggest wine pairings with each course. My take…it's the perfect date night spot. The atmosphere is classically elegant and the food from this Austrian chef sublime. If you're planning a party, Josef's Table offers two private party rooms (you can see one in my slide show) which sit 32 comfortably.
**Don't leave without trying Josef's Apfel Strudel made with sauteed apples & raisins that are lovingly layered between sugar & cinnamon spiced phyllo dough and finished with freshly whipped cream.
Josef's Table is located at the
Polo Shoppes
5030 Champion Blvd.
Boca Raton, FL
For reservations call 561-353-2700
Visit JosefsTable.com for more information
Thank you to Mel Lechner, Chef Josef Schibanetz and Kim Morgan for inviting me to this amazing dinner. All opinions are strictly my own.