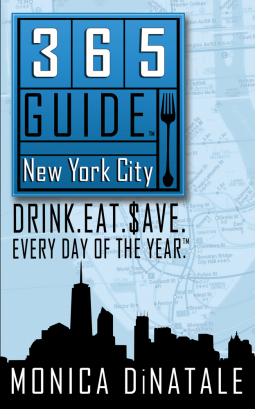 Each time I visit the city I look forward to fabulous shopping, restaurants, going out with friends, and seeing the sights. Unfortunately, I can't do it quite as often as I'd like to. Even when I lived in nearby Rhode Island, I'd have to ration my visits to the Big Apple.
When I travel I love doing "it all" and that means SPENDING. Of all of the cities that I visit, NYC seems to take the biggest bite out of my wallet. Oh, I expect to drop a few dollars from Saks to Century 21, but the BIGGEST wallet drainer is usually food and drink.  I know that I'm a sucker for the latest review in New York magazine, but as I learned on my last visit, you don't have to spend a fortune to have a great time.
You just have to know where to go.
Enter the newest guidebook for eating and DRINKING on the cheap in the city: 365 Guide New York City!
No added fluff needed, this is a book that simply lists 365 of the best happy hours for eats and $2  and up drinks throughout the city. That's enough to hit a pub a day for a year, and keep some change in your wallet.
The most comprehensive guide to the best restaurant and bar deals anywhere in the city! Compiled by New York Food Host and Deals Expert, Monica DiNatale, you get the inside scoop on where to go at a fraction of the price. Inside 365 Guide there is a deal a day for every day of the year! This is the only New York City guide that tells you where you can find: free, yes, FREE food specials throughout the city, $2-$3 drinks any day of the week, the best happy hours where you can nosh to your stomach's content and more deals than any other guide on the planet! From five-star restaurants to the best dive bars, Monica DiNatale is your savings guru. Whether you live here, hope to live here, or are visiting, if you want to know all about New York City's restaurants and bars-at a discount-then 365 Guide is the book for you!
Imagine enjoying FREE appetizers and $4 Margaritas! 
El Cantinero, 86 University Place
Right off Union Square you will find a mexican restaurant and upstairs bar that will keep you coming back. The food is teriffic and the "happy hour" bar specials are amazing.  Upstairs Monday through Friday at 6pm, El Cantinero offers a FREE buffet that includes wings and chicken chimichangas. My favorite restaurant deal is that you get FREE chips and salsa with a drink order. $4 drinks include Frozen and Flaovored Margaritas, Sangria Pina Colodas and well drinks. They also offer 16 beer choices for $4. Stay for dinner and try the Guacamole or the Enchiladas Suizas. Hours for "Happy Hour": Sunday-Thursday 5pm-Close, Friday 5-8pm and Saturday 5-Midnight  www.elcantineronyc.com
A MUST HAVE for anyone wanting to drink and eat and still have enough money left over for dessert. Before you take off for the Big Apple, grab a copy of 365 Guide New York City: Drink. Eat. Save. Every Day of the Year – A Guide to New York City Restaurants and Bars
 and tuck it into your travel bag.