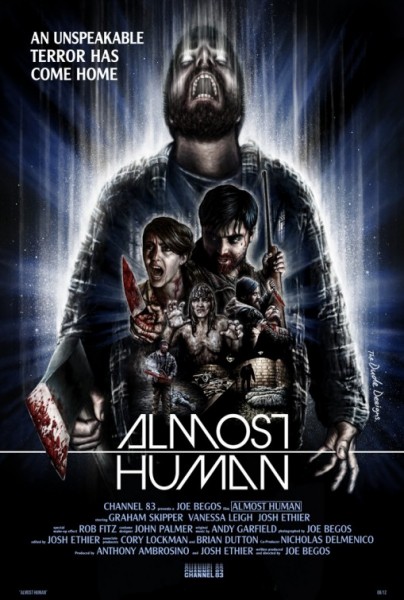 One of our favorite film-guys from The Review Broads spent a few days at the Toronto Film Festival and Fantastic Fest this year, as he was one of the crew of the movie Almost Human, that made it's debut at the festivals this year. We've decided that we didn't want the broads to have ALL of the movie fun, and have included Jonathan's Best of the Fest for you Gin Jointer's. He's declined to give us any of his opinions about the flick that he was involved in, but we do know that it's got a release date. So GO SEE IT…if you dare.
Here you go
Once again I find myself on the fence about my favorite movies of the year.  In fact I'm outright, stubbornly pushing back up any sort of finalized list making until I see the Coen Brothers new melancholy folk feature INSIDE LLEWYN DAVIS but I thought it unfair to any reader that may have missed my bizarre musings in the last half of the year to just kind of leave them waiting, desperate to know what movies came out on top so I'm doing something a little different.  I have a few lists of categories I plan to role out over the next few days in order to shorten the gap.  You'll see my favorite albums, favorite TV shows and since I went to a few festivals this year as well, I have a few selections to keep your eyes on for the upcoming year.
Let's continue with BEST OF THE FESTIVAL SCREENINGS in 2013! This year I had the pleasure of attending the Toronto International Film Festival and Fantastic Fest in Austin, TX and these are the best things I saw there.
THE BEST
The main thing I noticed about the festival circuit is the people; at least the people I was around for the majority of the time were some of the nicest, smartest bunch of film lovers I've ever had the pleasure of meeting.  Hours of conversations and drinks were had while surrounded by amazing films and I wouldn't trade it for the world.
THE MOVIES
WHY DON'T YOU PLAY IN HELL? – Dir. Shion Sono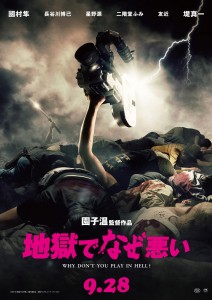 The craziest love letter to cinema and 35mm I've ever seen.  A young group of amateur filmmakers known as the "FUCK BOMBERS!" trying to make the greatest movie ever run into a gangster who wants to turn his rebellious daughter into a movie star while in the midst of a yakuza turf war.  Those elements sound completely separate (because they are) but Sono manages to blend them perfectly into a melting pot of insanity.  The blood flows freely as the movie ramps up to its wild climax that blew the roof off at TIFF's Midnight Madness and is certainly worthy of standing ovation.  At times both hilarious and beautiful, a film that sweeps you up and blows your mind.  Makes you want to pick up a camera and start filming, a MUST SEE FOR ANY FILM LOVER AND EVERYONE WITH EYES. WHY DON'T YOU PLAY IN HELL?  Was picked up by DRAFTHOUSE Films (who you're going to see a lot from in 2014) and should be released sometime this year.
BLUE RUIN – Dir. Jeremy Saulnier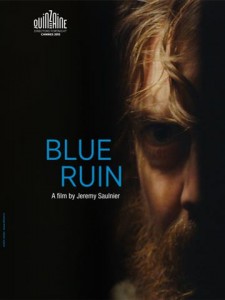 Blue Ruin is bloody, sweaty, southern revenge that spirals out of control.  A quiet, understated masterpiece, that after hearing the technical side of how it was funded/shot makes it all the more impressive. Saulnier's eye and control over his image really allows the story to flourish and makes this thriller truly stand out.  Macon Blair barely says a word the whole film and I couldn't take my eyes off his performance.  I would certainly keep an eye on it; Radius-TWC has picked up the North American distribution rights so hopefully there is a release date sometime in the near future.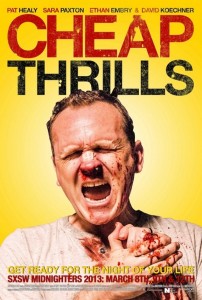 CHEAP THRILLS – Dir. E.L. Katz
A down on his luck man meets an old high school friend at a bar where they are roped into a game of dares by two wealthy strangers.  It's a simple set up that escalates, going further just when you think it can't, unflinching as it crosses every line in sight.  The game is terrifying and asks the simple question "how much is enough money?" while also being equally funny.  I found myself howling with laughter more than once and Pat Healy's transformation is exceptional.  Drafthouse Films will release on March 24, 2014 in the United States.
WE GOTTA GET OUT OF THIS PLACE – Dir. Simon & Zeke Hawkins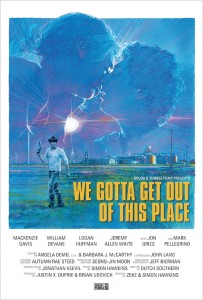 A gorgeously shot, sweaty, Texas noir movie.  Set in a small cotton gin town two youths, Bobby and Sue are working to head off to college when their friend B.J. steals from the safe of a local gangster and gets them all sucked up in a twisted tale of sleazy crime and love.  Written by mysterious pseudonym Dutch Southern, the script is sharp and the film has a deft handle on the material.  It's like a gritty little Coen brothers movie.  I am unsure on a release date but be on the lookout.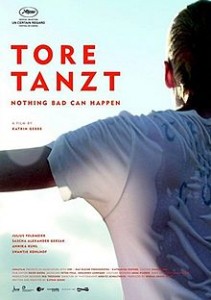 NOTHING BAD CAN HAPPEN – Dir. Katrin Gebbe
Spoiler, bad things happen.  A friend of mine had seen this earlier in the week and I was only given a slight heads up that it was an extremely depressing German movie.  That doesn't even scratch the surface of this brutally devastating examination of faith, love and the nature of evil.  A fair warning, do not eat during this movie if you are squeamish.  One of the most emotionally draining movies I have ever seen in my life.  It is a beautiful ordeal that I am hoping to sit through again.  Drafthouse Films will distribute in the US.
HORNS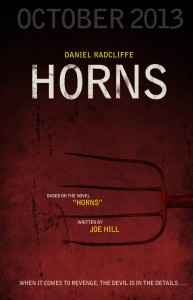 – Dir. Alexandre Aja
Thought I was going to miss this but lucked out and managed to see horror master Aja's latest and it's incredible.  A demonic revenge love story adapted from the book by Joe Hill.  I absolutely love the book and the adaptation definitely loses a lot of threads, especially concerning the villain who becomes more of a mystery then a tragedy.  However, what Aja has created is a very lean film that's punctuated by spurts of violence and dark humor.  Great effects work throughout and Radcliffe puts in an excellent performance that really helps to shed away the Harry Potter image.  Dimension and RADiUS-TWC have acquired the U.S. rights but there is still no release date.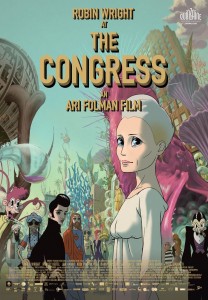 THE CONGRESS – Dir. Ari Folman
A really touching, existential look at the way we view actors as commodities, ourselves and the way we distract from what's going on in the world.  An alternate reality Robin Wright at the end of her career is convinced to sell her image to a movie studio that will copy and resell that image however they please.  About halfway through we enter a wacky, cartoon world but the movie starts going deeper down the rabbit hole until reality and what truly matters is brought into question.  The scene with Wright being copied as Harvey Keitel talks her through it is incredibly moving and tragic.  Drafthouse Films (again) has a theatrical and VOD/digital release planned for 2014.
GRAND PIANO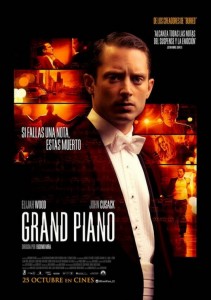 – Dir. Eugenio Mira
Elijah Wood sitting at a piano while being threatened by a sniper manages to be a tight thriller in the same vein of Hitchcock & DePalma movies but with its own style.  It's a clever, lean movie that shows impressive chops from Wood as a player and his acting, there's a lot of physicality from the role.  John Cusack brings some menace as the voice threatening over the phone and Alex Winters(!) wrings humor out of his small supporting role.  Excellent camera work and pacing make this one a real treat.  Magnet Releasing will be releasing as it opens theatrically on March 7th.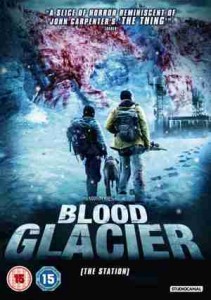 BLOOD GLACIER – Dir. Marvin Kren
Creature Feature from Austria!  Formally THE STATION (glad they went with the superior title) this movie is a blast!  Shot in the Alps we follow a research team much like in Carpenter's THE THING as they uncover some strange occurrence that's mutating the wildlife around them.  This is what that awful THE THING (2011) prequel should have been.  Great practical effects and Kren has an almost juvenile sense of fun as he punishes the actors.  Just when the movie starts to drag a bit we're introduced to Ministerin Bodicek, played by Kren's mother, who absolutely steals the movie and gets to perform a kill that'll be an all-time cult classic for sure. Still no release date from IFC Midnight.
THE SACRAMENT.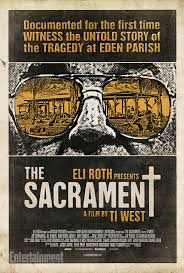 – Dir. Ti West.
Hypnotic faux-documentary that OOZES with tension, imagine if VICE reported on Jonestown.   Likeable characters behind the camera, propulsive, forward momentum on screen keeps you engaged through the entire runtime.  Questionable b-camera footage in the third act aside it plays with the format well and may be Ti West's best movie yet.  Tyler Bates' score is excellent and creates an interesting mood.  Truly devastating moments culminate from a slow burn that when it finally shows its hand, chills run down your spine.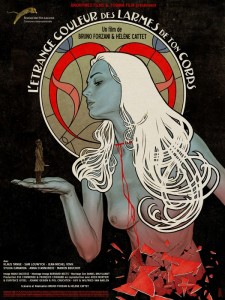 THE STRANGE COLOUR OF YOUR BODY'S TEARS – Dir. Hélène Cattet, Bruno Forzani
From the team that made Amer.  What. The. Fuck?!  Such a bizarre, beautiful, horrifically violent Giallo movie that may be one of the weirdest things you'll ever watch.  It doesn't care about its own plot and your best bet is to just let it wash over you.  It drew me in with incredible editing and insane strangeness.  The lighting, the tone, the orgasmic sound of leather that the movie takes so much pleasure in repeating all work to bombard your senses.  By the end you'll either be entertained or a pile of mush.  I liked it and found it riveting lot but fair warning going in, it's not for everyone.
OTHER STUFF
All the movies were solid, I don't think I sat through one movie I thought was "bad" all throughout the festivals.  Due to bias I can't write a review for ALMOST HUMAN the alien abduction, 80's horror throwback from Joe Begos but you should watch it around February 21st.
This marquee at a strip club in Toronto, hilarious.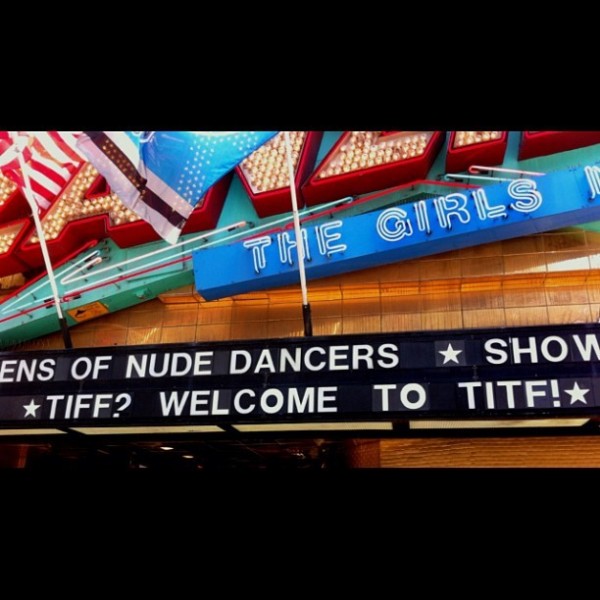 Whatever devils crossroad deal Banh Mi Boys is doing to make their fried chicken.  I don't care, a steamed bao of that stuff is so delicious and so damn inexpensive. I think I had one every day.
The BBQ in Texas, mainly Smitty's Meat Market (even with a bug or flu or whatever I caught that stuff was amazing!) where everything smelled of smoke and meat.  I've never had such awful meat sweats in my life.  Even the Salt Lick at the airport was mouthwatering.  Worth it.
Fantastic debate over Sylvester Stallone: greatest American action hero or watching Tim League, CEO and Founder of Drafthouse, fighting MAN OF TAI CHI  star Tiger Chen in the ring.
SLAP SHOTS (a.k.a. Milton Shots) the ALMOST HUMAN crew learned a drinking game up in Canada that has now become a tradition down in Austin, TX at Fantastic Fest.  Check out the video:
Basically you do a shot, get slapped in the face and then return the favor to your partner, then give each other a big old hug.  Director Joe Begos and Editor/Actor Josh Ethier pictured below.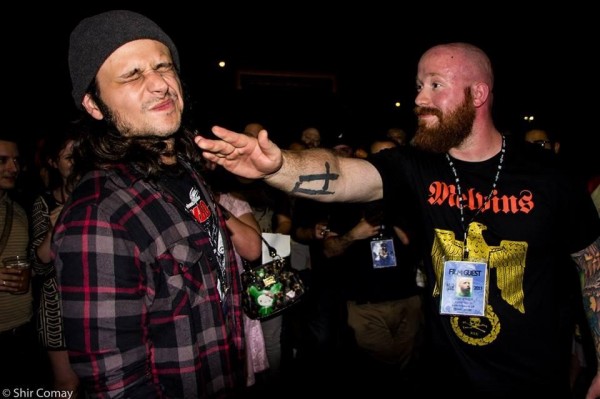 This trailer for COLD HEAT and the completely bonkers wire-work styled Kung Fu porn? (Here is a very VERY NSFW CLIP, after some searching I guess it's called A CHINESE TORTURE CHAMBER STORY) must be seen to be believed. "INVINCIBLE WHEEL!" These were part of Drafthouse Cinema's pre show that played before the movies and are all top notch weirdness or rare videos from all over.  Just the kind of thing to get you in the festival mood. The staff and volunteers at both festivals were amazing and so helpful and should be applauded for their hard work.
Thanks for joining and I should be all caught up on my screenings for 2013 and I'll finally have my favorite releases of the year along with some Classics I discovered for the first time.  Sorry it's taking so long but that's the price for living full time in Rhode Island.
Cheers,
Jonathan Killoran