This post includes products that are both gifted and that I receive a commission from. All opinions are strictly our own.
I'm a good liar
Just sayin'. After 41 years of marriage, I have mastered the art of
cooking
faking it in the kitchen. As long as YOU don't spill the beans to HIM, I'm good. He doesn't read this blog.
He thought that I was baking my own bread (cough, cough)
The truth is that I used to back when we lived in New England. But, with just the two of us now, I don't have the time to start from scratch…and that's my BIG SECRET. I've been popping a Wildgrain Sourdough bread into my oven and 25 minutes (or less) later, and voilà!, he thinks that I made bread to go with that pot of soup or stew that we are having for dinner.
Wildgrain offers the first bake-from-frozen box of sourdough bread, artisanal pastries, and freshly made pasta delivered right to your front door every month. So, not only are they absolutely delish, but you don't have to drive around looking for that perfect bakery break. I love that they support the best bakeries around the country. Because they are a sourdough bread company, you are getting food that is gut-biome friendly with that good lactic acid that assists your body to absorb those nutrients.
Founded by Johanna and Ismail, Wildgrain is a company on a mission to replace supermarket bread and pantry staples. Small-batch bakers and pasta makers across the country partner with Wildgrain to provide nutritious artisanal bread, pasta, and pastries in a monthly themed subscription box that's so delicious that you'll find yourself tailoring your meals around them.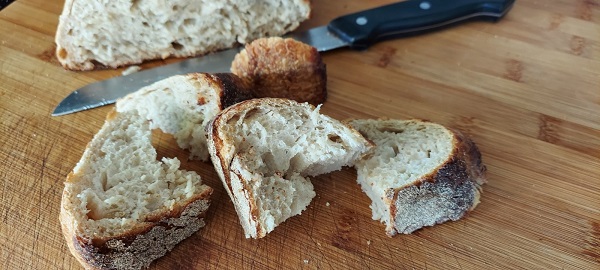 Because the bread takes under half an hour from start to finish, I pop one in the oven on a weekend morning and enjoy a tartine of a whole slice of bread with a good quality jam. In the evening you might find me DUNKING (yes, I'm a dunker) in an olive oil drenched roasted elephant garlic. The loaves of bread are so good that you don't need anything on them (but, OMG they make the best avocado toast). Did I mention that you pop them in the oven FROZEN? Yes, no more thinking "I should have taken one out for dinner" because it goes straight from freezer to oven.
There is NO COMMITTMENT – you can skip a box, cancel, reschedule, etc. any time you want
Wildgrain offers FREE SHIPPING on all of their boxes
Your box arrives via UPS with all of your breads, pastas and pastries packed in dry ice
For each membership sold, 6 meals are donated (gotta love a company that gives back)
Check them out and try a subscription for yourself (it also makes a GREAT Valentine's Day gift) at >> Wildgrain <<