Note: I am a Petcurean Ambassador, and this post is a part of their sponsorship. It's the only food that I feed Clem, and all opinions are strictly my own.
Last week Ben & Allyson, my son and daughter-in-law decided to foster a stray that a friend found. After a week of getting attached, trying to place her, and a series of problems with the newly adoptive parents, they decided that Betty White…a quirky, fun American Bulldog, really belonged in their family. They already have a Boston Terrier (Jack) and a Boston Mix (Fozzie Bear). These are my grand-dogs (that you'll probably see on their new blog HomeFoodFun.com).
As pet parents, we do whatever we can to keep our pets happy and healthy, but is their dental health as good as it could be? I was worried that Betty had not had the attention that she deserved when it came to her health, and just like we humans, dental health is crucial to the overall well-being of your pet and can have serious consequences if left unchecked.
Just like us, poor dental hygiene causes bad breath, plaque, tartar, gingivitis, periodontitis, and tooth root abscesses in dogs. At its worst, bad dental health can contribute to more serious health issues. Inflamed gums, for example, can cause bacterial infections that can affect organs such as the heart and kidneys with extreme cases resulting in death.
Good dental health is paramount for your pet. Healthy teeth aid in chewing which leads to proper digestion by allowing enzymes to break down their food. Some preventative measures you can take is teaching your pup at a young age to open their mouths and allowing you to look inside. This training will prepare them for getting their teeth brushed, which should start as early as possible. Be sure to use a toothbrush and toothpaste specifically designed for pets.
Did you know small dogs are more prone to dental issues? With their small mouths and even smaller teeth, keeping an eye on their dental health can be especially challenging. While manually brushing their teeth is the best option, you can also look for pet food that supports dental health such as the NOW FRESH Small Breed recipes from Petcurean. Jack and Fozzie BOTH  eat Petcurean NOW Fresh, and are as healthy as can be, right down to their shiny white choppers.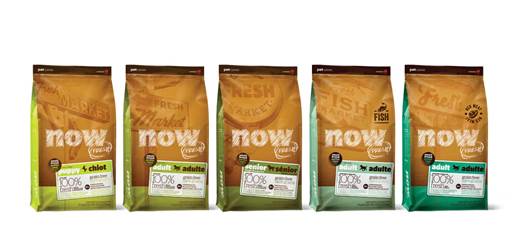 The NOW FRESH Small Breed recipes are formulated with ingredients that help support oral health and fresh breath, including sodium tripolyphosphate, which binds calcium to protect teeth from tartar formation. Peppermint and parsley are also included as natural ingredients to promote fresh breath. In addition, the small clover-shaped kibble is one of the smallest in the market, contributing to high palatability, easy chewing, and effective digestion.
Poor Clem had cracked his pre-molar last year after picking up a stick at the dog park. We got to the vet PRONTO and now we are more careful about what he plays with. If your dog is exhibiting a preference for soft food, is eating on one side, or yelps when chewing bones or toys, take them to a vet to identify the problem. There's no way better way to celebrate National Pet Dental Health Month than making sure Fido's bite is healthy and strong!


To make sure YOUR pooch is getting a great food that promotes oral health and fresh breath, check out Petcurean.
Get $5 off with coupon code: PAWSOME4 which can be redeemed at 

Petcurean

.com/pawsome.