What did I expect from the top boy band in the world who were promoting a popumentary about their rise to fame and what REALLY goes on behind the scenes of a tour?  I suppose it would have been that these four should have been full of themselves.  Instead I met five NORMAL guys, just out to have some fun, who appreciate everything that they've earned. I had the opportunity to have a chat with Zayn Malik, Harry Styles, Louis Tomlinson, Niall Horan, and Liam Payne and I found them to be…
REFRESHING – FUNNY – DOWN TO EARTH
As you can hear the comments as they walked into the room, serious is NOT on the agenda, although they do take their FANS quite seriously.
Rather than post a long interview, here are some of the wonderful things the boys had to say about their new movie One Direction: This is Us that opened to a $15.8 million dollar box office on opening weekend (a nice footing for a film with limited audience appeal) as well as what life for these five is REALLY like.
ADVICE from their parents
My mom used to say, just do your best, 'cause it's the best you can do.
I remember being at home and my mum saying 'You have a good voice.' but I never believed it because I thought that every mum has to say that to their kids.
I think  my mum just filled me with confidence. She just thought I was the best at everything.
FAVORITE places on their tour
I really liked Miami, because we got a few days off and went on a boat, and got to spend a few days on a boat and it was good fun…did a bit of fishing, chilling out…yeah, it was great.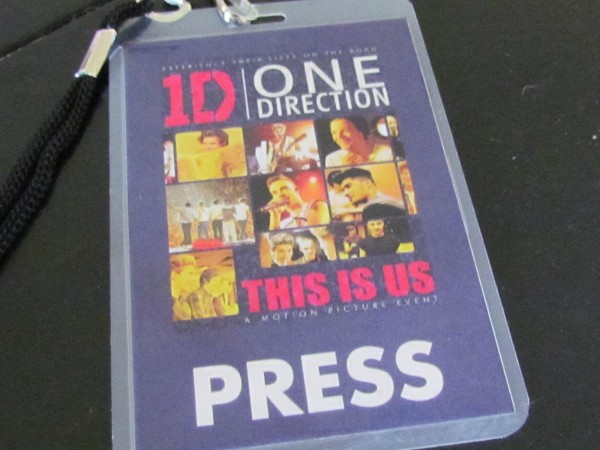 Seeing your parents on the film
It was kind of hard, to..to…you felt guilty actually, not really hard to watch. It was nice seeing that side of our parents talking about us being away from home.
How do you stay grounded, living a life in public
I think we try as hard as we can just to be ourselves, especially in terms of the message.  I think, especially with the way the world is right now, with so many things saying to be (act) a certain way. We just try to be who we are without being stupid. It's like social media, you don't rewrite a tweet 10 times, but you don't put stupid stuff on, especially if an audience is young, then they're impressionable.
Favorite things about your time off
I think the best thing about having time off is not setting the alarm. Like when I go home to my parents' house, I literally just fall asleep on the sofa for three hours.
I think it's nice to go home and do the kind of normal things that you really didn't appreciate much before. Like just sitting and having a meal with your family.
I like to do as many normal things as I can, 'cause I think that's the way we keep each other humble and stuff –  like go to gigs, and concerts and stuff. I love hanging out with friends and jamming on the guitar.
How much creative input did you have in the final cut of the movie?
A lot, because the producer of the movie Ben Winston is one of our very, very best friends and we've worked with him on a lot of things he did. He just did The Best Song Ever video, he did our One Way or Another video, and a couple more. When Morgan came in, we all collaborated together. We didn't really want to have TOO MUCH creative input, because the best way to make a good documentary is to give them access to all areas, and if you're worried about what people are shooting, it's not going to be a good movie I guess. So just be as normal as possible, and hope they're good in the edit…(laughter). 
 If you haven't seen
One Direction: This is Us – DO IT! It's playing NOW in a theater near you. Check out your local theater listings for times.
Thank you to Screen Gems for flying me in for some conversation with the boys and Mr. Spurlock.