"B" from I Pity the Blog (AKA – my son) has arrived. He's staying with us through the beginning of December, to look for a job here in South Florida (if anyone knows of a position open for a video editor or management down here – please contact him at bsandler32(at)gmail(dot) com), and save some money. In December, his fiancé "S" will arrive and they will begin their new life together down here. They are not planning to get married until April, but they plan on finding a place to live and will be starting from scratch.
I assume that they'll end up in an apartment complex, with white walls, off-white carpet and white appliances in the kitchen. While these places have little charm on their own, it shouldn't take much to create  a "home" by bringing in some color and touches that are uniquely them.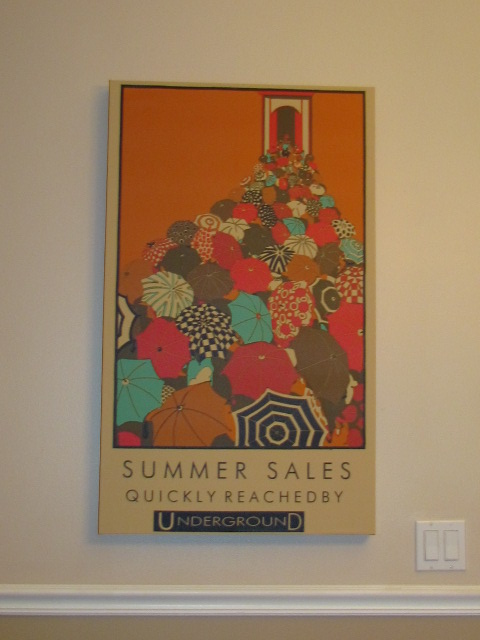 Because they'll be starting with NOTHING, they'll have FREE RANGE to really make the place their own. They've chosen to begin with a piece of artwork from Gallery Direct to design a room around. What a GREAT IDEA!! To find a print, painting or photograph that you absolutely LOVE and creating a room that reflects it.
They chose this colorful gallery wrap called London Underground, Summer Sales, Umbrellas as their inspiration. It's festive and one of those that both "B" and "S" can happily live with. I imagine a yellow sofa with red and black & white throw pillows. Hmmm….I have a yellow sofa – I wonder if they're planning on me offering it to them?
Already have a house full of furniture that you want to spruce up?  A piece of artwork and some well placed accessories can completely change a room. It's a great way to showcase your personal style and allow you to live with beautiful art day in and day out. By choosing art that complements your home, it will pull everything that you've got together. It can create a focal point, dress up bare walls, light a room up or make it feel more intimate.
It all  makes me wish that I were starting from scratch again (maybe they will get that yellow sofa after all).
If you're looking to pull your home together and create a space that's uniquely YOURS, Gallery Direct will have something that you'll love. Order through October 3rd and get 25% off and free shipping as well using the code: 25freeship
You can follow Gallery Direct on  Twitter and Facebook and keep updated on any specials they may be running.
I am a blogger ambassador for Gallery Direct, as such I receive artwork to facilitate my reviews. All opinions are strictly  my own.