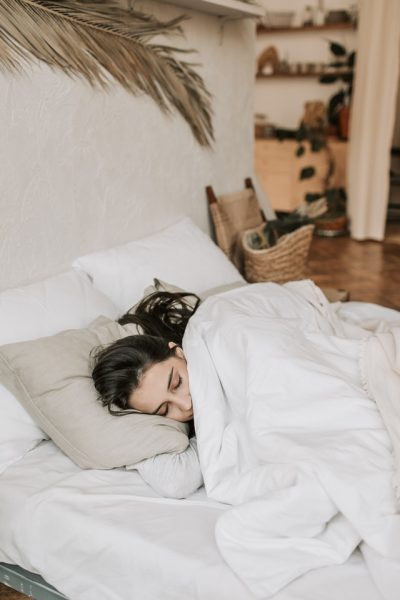 While some people may have no trouble drifting off to la-la land within minutes of their heads hitting their pillows, others need tips for getting a good night's sleep. Sleep can be elusive to many; some people even turn to their GP for pharmaceuticals to help them fall and stay asleep. While that may be necessary in some instances, the power of curating the perfect nighttime ritual can make a world of difference too. Let's look at how curating the ideal evening routine is conducive to better sleep and why it works. 
Ditch the Screens

 
We all know the adverse effects that too much screen time can have on our children. We even know that working all day staring at a screen can give us headaches from the blue light. In the same way, we want to limit our children's screen time; we need to ditch the screens several hours before bed too.

Screens aren't limited to laptops and televisions -this includes cell phones – so if your way of unwinding at the end of the evening is scrolling through your social media, consider indulging in a more relaxing habit that is better for your health. Pick up a book, meditate, pray, chat with loved ones in the home. Just make sure you put your screens away at least two hours before you plan to head to bed. 
Indulge Your Senses 
Take time before bed to indulge in your senses in a way that relaxes you. Utilizing aromatherapy throughout the home is great for different purposes. During the day, you may want uplifting scents like eucalyptus or ylang-ylang – at night time, keep it to calming scents like geranium or lavender. Indulge your sense of taste with herbal teas like chamomile, rose teas, or mint. Take a warming bath to calm your aching muscles from a hard day's work taking in deep breaths of the warm steam. Hot baths are also great at detoxing your body, so you're improving your health along with your chances of better sleep. 
Cleanliness Is Next To…
There is nothing like climbing into a freshly made bed with clean sheets, and it can significantly impact your level of comfort and ability to fall asleep. Ideally, you would be laundering your bed linens once a week, but if you notice that fresh sheets help you fall asleep faster, consider investing in a new set of them so you can easily change them a couple of times weekly without worrying about laundry. 
In addition to your bed's cleanliness, your body's cleanliness before bed affects your sleep quality too. Taking a nice bath, as mentioned above, is a great start, but take things further when you have the time. Relax in some Epsom salts, enjoy a detox face mask and then exfoliate your body. When you feel clean and refreshed, it's easier to drift into sweet dreams.
Journal 
Many instances evoke the advice of journaling. Whether you're going through life changes like grief or divorce. Journaling is also healthy when things are great. The idea of jotting down some thoughts before bedtime as part of your nighttime ritual is mainly behind gratitude. Sure, if you have negative thoughts you're contemplating, getting those out on paper may help you release them and fall asleep quicker. But, practicing gratitude through acknowledging and writing down the things we're grateful for can also put us in a positive place to find more restful sleep. 
Supplement as Necessary 
For some people, doing all of the above still won't be enough to fall asleep and stay asleep. The phrase "nightcap" wasn't coined out of nowhere, was it? While you can have a drink if you so choose, a healthier alternative may be supplements like CBD oil or melatonin – both of which have been shown to aid in better sleep. If you know you struggle every night to drift off easily, adding a supplement like melatonin to your evening routine is perfectly normal and helpful. 
Sleep is crucial for our physical bodies and our brains to restore and recharge. Not getting enough or quality sleep can affect our emotional and physical health. By curating a nighttime routine that lets you achieve optimal sleep, you're helping your health tremendously. By adding the above-mentioned items to your routine, you're setting yourself up for a successful night every night. Sweet Dreams!