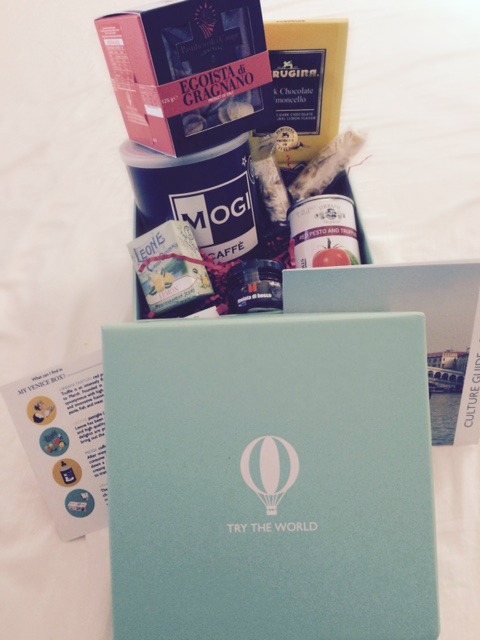 One of the highlights of travel is being able to dine on authentic local foods. I love nothing more than walking through the food markets, in and out of little specialty shops and then stopping for a bite to eat. Of course, when I'm home I want to keep those memories alive, and while I can't order take-out from my favorite pizzaria in Naples, I can re-create some of the dishes at home in the mansion.
I've written about Try the World once before, when I explored the culinary side of Rome, in my own kitchen, thanks to my subscription box. Today, I thought I'd take you down the canals of Venice….without leaving home as I unbox my newest Try the World box: VENICE (I'll be cooking Venice style this week).
Included in my Venice Box:
Urbani Tartufi – red pesto and truffles
Leone pastiglie – lemon pastille candies
Mogi coffee – a traditional coffee that's full bodied and delicious
Venchi torroncini – nougat candies
Perugina Limoncello chocolate – YUM…JUST YUM
Pastifico del Campi Pasta – made outside of Naples
a MYSTERY TREAT – mine was a local honey
Admission:
While I LOVE the flavor of truffles, I've never cooked with them, so I need your help.
Subscriptions available at
OR
You can order gift boxes and individual products from Try the World as well.
SPECIAL DISCOUNT
Champagne Living readers get 30% off with the coupon code: Champagne30