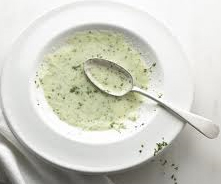 Cold Zucchini and Cucumber Soup
Recipe courtesy Golan Heights Winery Winemaker Victor Schoenfeld
Serves 4
Ingredients
1 lb Persian cucumbers, cut into chunks
1 lb fresh zucchini, cut into chunks
8 oz plain yogurt
2 cloves garlic, diced
1 large shallot
¼ cup white wine vinegar
Splash lime juice (to taste)
½ cup extra virgin olive oil
Pinch fresh cilantro and/or dill
Pinch freshly ground black pepper
Pinch sea salt
Jalapeno or other green hot chili pepper (optional)
Preparation
In a blender, combine the cucumber and zucchini chunks.
Add the yogurt, garlic, shallot, vinegar, lime juice and both the cilantro (or dill) and chili pepper (if using).
While blending at high speed, drizzle in the extra virgin olive oil. Continue to blend at high speed until creamy and smooth.
Taste and adjust with salt and pepper.
If too thick, you can thin with a bit of water or vegetable stock.
The region of Golan Heights is as famous for its wine as it is for farm-fresh produce. Yarden Winemaker Victor Schoenfeld, an avid cook, is as passionate about the produce of the region as he is about the fruit of the vines. One of Victor's signature summer dishes is Cold Zucchini and Cucumber Soup, which showcases some of the beautiful produce grown in the Golan Heights. Victor recommends Yarden white wines to pair with the soup. "This cold soup is a striking green color, delicious, refreshing and easy to make," explains Victor. "This is a great start to a summer lunch or dinner and goes perfectly with the Yarden Sauvignon Blanc or Yarden Gewurztraminer."
One of my favorite Chardonnays is from this winery – Gilgal Chardonnay! It's probably the most refreshing chardonnay that I've tried and as a result I drink it fairly often. You don't need to wait until the holidays to enjoy wine from Israel anymore!