This is a sponsored post written by me on behalf of Alumbre Coffee for IZEA. All opinions are 100% mine.
I tend to be a picky coffee drinker. If you read my last article about Alumbre Coffee, you know that I have a background in the coffee business. I worked my way up from barista to managing a number of coffee houses and I'd do special tastings for high priced fundraising dinners.
I guess you could call me a coffee snob
I generally give ONE chance and if I don't like the subtle nuances of a coffee….it's OUT!
Would Alumbre become a staple or…..
I figured that the best test to Discover Alumbre would be my favorite variety from Sumatra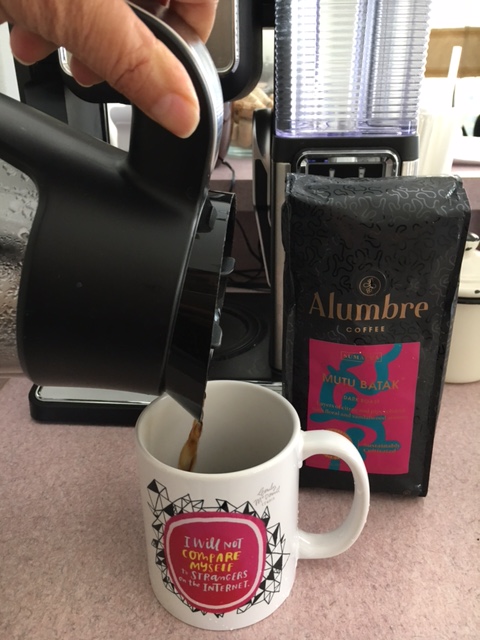 Mutu Batak
Earthy. I expect my Sumatra to be rich, dark with an earthiness to it. I want the slightest hint of sweetness (equivalent to the smell of a pipe tobacco). It shouldn't have too much acidity, but rather feel heavy and smooth. I have extremely high expectations, especially with my favorite coffee bean. As I ground the beans I could see that it was darker than the grocery store varieties and I could smell the truffle odor that I equate with a great Sumatran coffee. At first sip, I noticed the  deep flavor without the acidity of a Kenyan or the brightness of a Colombian coffee, it was love at first sip. I went back for seconds. This was a coffee that could become a staple in the "S" household. Mutu Batak is a great Indonesian coffee and Alumbre has really done the bean justice in its roasting process.
I knew my next coffee would be the Yirgacheffe
There are coffees that I love and coffees that I'll drink. Ethiopian coffee is one that I enjoy iced. Its got the brightness and acidity that I want when enjoying cold. I went back to the coffee maker and made a double strength pot. I put half in the refrigerator and filled an ice cube tray with the rest. I hate watered down iced coffee and since I use a little milk or cream only when I drink cold coffee, I wanted to be certain that the ice cubes would melt into more coffee (did I mention that I'm a coffee fanatic).
Alumbre's commitment to the environment
They have created an industry-wide standard of sustainable coffee production, investing in the people who play an important role in the production of their coffee through special projects and initiatives. You can taste the responsibly grown and artfully crafted coffee for you in every cup.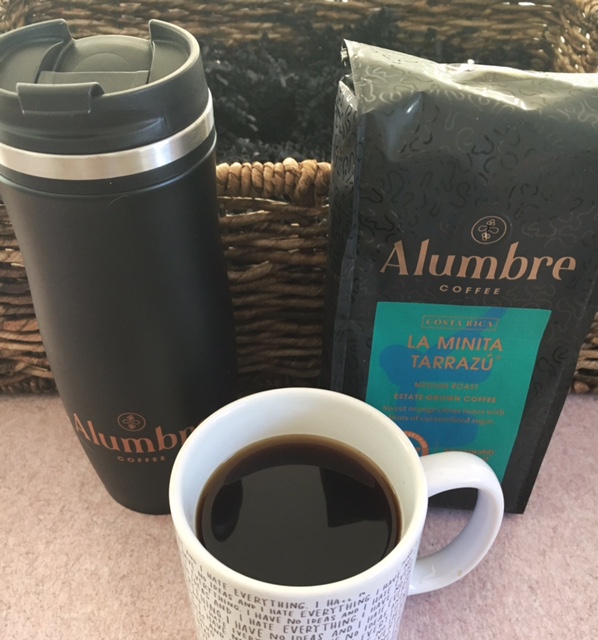 Craft Roasting
According to Alumbre
Each coffee bean has its own perfect degree of roast depending on how and where it was grown, the varietal, size and shape of the bean, processing, and storage. Our skilled roastmasters account for those variations in the amount of heat applied, or the flow of air through the small batch roaster. This ensures that each roast highlights the unique characteristics of each single origin or blended coffee.
Employing a state-of-the-art roasting and packaging operation, a green coffee warehouse, a distribution warehouse, and the Company's main headquarters. This roasting and packaging operation is designed to produce high quality coffees, while still incorporating the artisan's touch needed to produce premium specialty coffee.
Roasted with goodness, and a mission for their people
Alumbre operates no-cost dental and medical preventative care clinics and pays for private specialists for unique health care problems for its employees in Costa Rica.
20 years ago, more than 200-acre forest reserve of old growth woodlands was set aside as a nature refuge.
The company pays higher wages than other growers
Alumbre operates specially designed biomass furnaces of Beneficio Reo Tarrazu and Beneficio Reo Negro to dry the beans, which eliminates the need to cut wood for fuel.
The technical assistance provided to Alumbre's partners directly led to the introduction of greenhouse-type drying patios in Lintong, Sumatra.
Alumbre has investments of over $100,000 in renovating schools in Colombia.
Needless to say I give my Champagne Living seal of approval
With five different varieties, you'll find the coffee that you love be it medium and bright like the Colombian Alma Del Café De Jardin or the dark smokey French Roast (a blend of Latin American beans). Alumbre coffees are only available online, insuring their freshness (you never have to worry about those beans sitting on the grocery store shelves losing flavor)
Available varieties include
La MinitaTarrazu – Costa Rica: $22.00(12 oz. bag)
Alma Del Café De Jardin – Colombian: $17.00 (12 oz. bag)
Yirgacheffe – Ethiopia: $17.00(12 oz. bag)
MutuBatak – Sumatra: $17.00 (12 oz. bag)
French Roast – Blend: $12.50 (10 oz. bag)
Try Alumbre today and enjoy your coffee the Champagne Living way.


 Sign up to join the Alumbre newsletter for updates