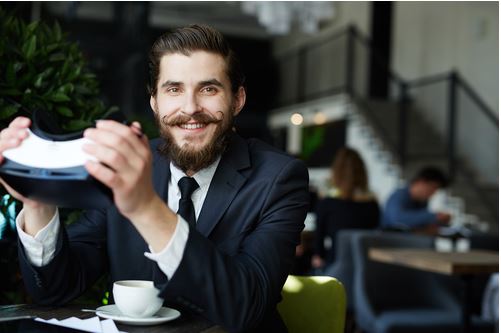 As an aspiring entrepreneur, you are excited to finally start your own business. You are ready to put in the long hours and are okay with giving up a lot of your free time, hobbies and full nights of rest to really get this new business off the ground.
But if you are being completely honest with yourself, you are just a wee bit worried that opening a brand new company off the ground will mean having to say goodbye to one of your main loves in life: new "toys." After all, if there's a fun new tech or other type of gadget coming out, you have always been the first in line to purchase it. Fortunately, with some determination and creativity, it is more than possible to launch a business without saying farewell to many of the nicer things in life. For example, check out the following ideas:
Use the "Toys" to Help Get Your Work Done
If you have been a fan of shiny new pickup trucks for as long as you can remember and you have always dreamed of buying one, your new business may give you the perfect chance to do so. For example, if you need to tote equipment around, haul things or simply need a large vehicle that can handle lots of road trips to visit potential new clients, a truck is the perfect vehicle for this type of heavy lifting. The Chevrolet Colorado is a great looking truck that offers plenty of luxurious bells and whistles and can still help you get the job done. While the Chevy Colorado can definitely handle anything you throw at it — it's 181 horsepower, 369-lb-ft 2.8-liter four-cylinder Duramax turbodiesel engine is super strong, along with its ability to tow and haul heavy loads — it drives more like a luxury car. In fact, the Colorado is praised quite often for being powerful, comfortable and easy to drive; and with its heated leather front seats, attractive gauges and controls, Bose sound system and other cushy features, you might just forget that you are in a pickup truck.
Base the Entire Business Around a Gadget
Another great way to launch a business while still enjoying your new toys is to base the entire company around what one of these gadgets can do. For example, if you have a knack for making videos and love virtual reality headsets, you might consider launching a business that creates virtual home tours for realtors. Buyers are clamoring to skip seeing homes in person and instead slip on a VR headset and go on an amazing 3D tour of available homes. Invest in some VR headsets, and advertise to realtors that you have the technology and the skill to create virtual tours for their clients.
Sacrifice Something Else to Free up Money in the Budget
When coming up with your budget for your new business, Fresh Books advises looking at your income as well as determining your fixed costs. These are the things that you pay for every month and can include renting an office building, employee wages and more. While you might have envisioned setting up your new company in a trendy building downtown, you may wish to, in the interest of still having money available for new gadgets, try running your company out of your garage or a shared space for a while. Or instead of hiring a huge team, grow your group of employees slowly. Be as frugal and practical as you can with some of the major business-related expenses, keep the fixed costs as low as possible without sacrificing quality products, and you might be pleasantly surprised to learn you still have some money in your budget to spring for the new toys you love.
Opening a new business definitely takes a lot of time and effort, but with some clever decision making you do not have to give up everything that you love, including your passion for toys. Good luck in your new venture!