Lately, it seems like my humans are going away without me. Each time I walk out the front door, I head straight to the car, because I WANT TO GO! Unfortunately, it seems like the only place they take me these past months has been to the veterinarian, but I'm ready to change all of that.
So, I'm dropping a little hint with some great dog-friendly destinations that I'd love to visit!
A Tuscan Pupcation
Renaissance Tuscany Il Ciocco Resort & Spa – Tuscany, Italy
I can smell the truffles from miles away as we make our way to Renaissance Tuscany Il Ciocco Resort & Spa, a 600-hectare estate tucked in the mountainous Serchio Valley, suited perfectly for Italian Greyhounds like me who dream of roaming on mountainous Tuscan hills with not a worry in sight. Upon arriving to the 180-room resort, my four-legged friends and I are greeted with smiles and endless outdoor adventures to choose from including the resort's secret Cinque Borghi (Five Villages) trail, where we'll get to hike through five enchanting medieval villages – thought to be of Roman origin and made almost entirely of stone — located on the upper part of the valley. Here, we'll catch glimpses of lush forested paths and get to know the local furry animals, while becoming one with nature. Worked up an appetite? Not to worry – A big bowl of spaghetti is waiting for us at the resort where we'll get to put our paws up and enjoy the stunning views of the ever-changing colors of the Serchio Valley.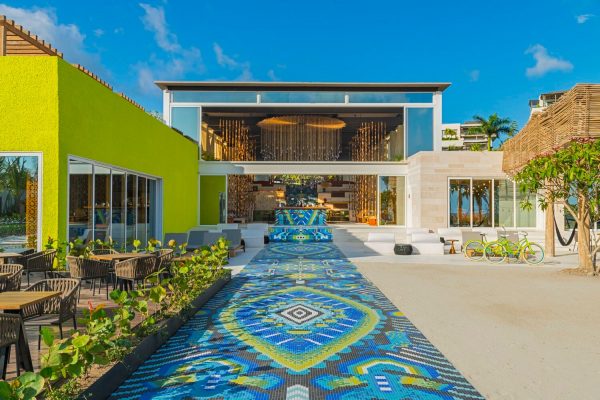 Pawsitively Perfect Beach Retreat 
W Punta de Mita – Riviera Nayarit
Boy oh boy what a weekend at W Punta de Mita. Upon arriving at this warm, sunny, palm tree filled paradise, we got to ride in a tuk-tuk decorated in funky Mexican designs to check into our room filled with surf-inspired décor and a big bed where I loved taking my afternoon snoozes. Next, we took a stroll on the beach and watched the surfers practice their hang ten. All that human-watching is lots of work, so we refueled at Chevycheria, a vintage Chevy truck turned beachside ceviche bar, before trying the resort's Mezcal Lab tasting experience, where my human sipped on a variety of local tequilas, mezcal, and signature cocktails…. lets just say I played my role as service dog really well that night! The next morning was perfect for poolside lounging, relaxing in cabanas and jamming out to the DJ's beats at the WET Deck. Our vacation closed out with the most amazing dinner at Mesa1, where we dined al fresco and enjoyed a private chef's dinner under the stars, bon ap-pet-treat! My human and I have been dreaming of our return to the tropical oasis ever since…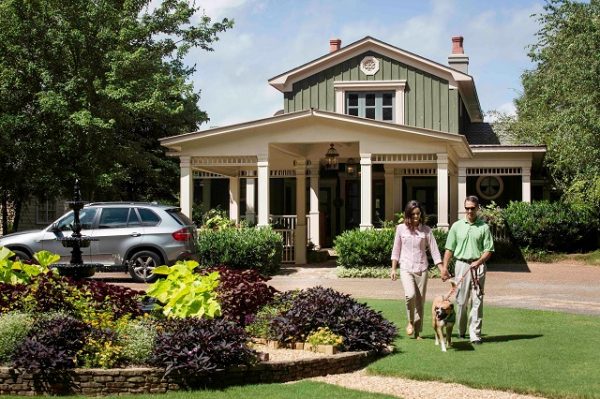 Running Wild & Free
South Barnsley Resort – Adairsville, Georgia
I love it when my parents bring me to Barnsley Resort in Georgia! As a Golden Retriever, I have tons of energy and can get it all out right when I jump out the car since there are 3,000 acres to run through without any cars getting in the way. In the mornings we start the day out with a hike through the foothills of the Blue Ridge Mountains, which I love since I can hear the birds chirping for miles and miles. After all that exercise, I'm glad I'm able to stroll through the gardens and layout on the Village Green. My parents play a few games and if I'm up for it I'll chase a few of the cornhole bags that they throw back and forth. Around this time mom and dad disappear for a bit to go to the spa, play golf, go for a horseback ride or learn how to clay shoot, but I'm not left alone since Barnsley has a pet sitter who's there just to spend time with me! Dinner's always one of my favorite parts of the day, but at Barnsley, it's even better! I get to tag along with my humans for dinner at The Woodlands Grill, and if I put my pouty face on mom will slide me some of her pimento cheese and Molasses Brined Pork Chop – yum! And when it's time to go to sleep, we head over to our cottage where the property's even given me my very own bed, water bowl, and food bowl. And the best part of the whole trip – if mom and dad book the Pampered Pets rate, the pet fee to have me there is waived and instead donated to PAWS Atlanta that helps pups in need. If you ask me, I give this resort four paws!
Ruff Life in Luxury 
W Fort Lauderdale –  Fort Lauderdale, Florida
This Frenchie knows how to pawty, so I love it when my humans treat me to a Pawfect Getaway at W Fort Lauderdale. Right when we roll up, I'm greeted with tons of love from the staff and head right to one of my favorite parts of the hotel – the room! It's like they know I'm coming. When we walk in, there's a plush doggie bed waiting for me, along with every dog's dream, a Bark Box! I can't control my little tail as I tear into the toys and treats waiting for me. I can even take them out on to our room's balcony where there's a Tinkle Turf pad waiting for me. Nothing's better than tearing into a new toy while being able to lay out in the sun and smell the ocean…except maybe dinner time, which is just as exciting here. Mom and Dad order some food up to the room, including some specialty dishes for me from my very own dog menu. My personal favorites are the hamburger patty with diced pineapple, and the banana and peanut butter coconut water smoothie. When we come here, I get a specialty W branded bandana that I like to wear and show off on the Living Room Terrace. The Living Room always has tons of people in it, and a few other friendly furry faces, but right past it on the Terrace is where I can enjoy some fun in the sun and strut my stuff. One of my doggie friends said she came here for a doggie brunch once, and word has it there's going to be a few more in the future!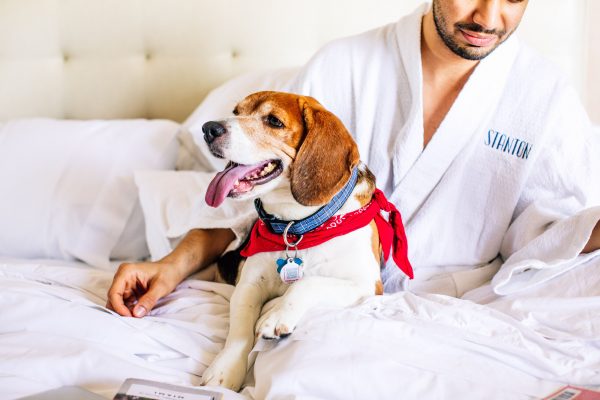 A South Beach Doggie Adventure
Stanton South Beach – Miami Beach, Florida
I can feel the ocean breeze and warm sun shining down on my fur as we head to the Marriott Stanton South Beach for the ultimate doggie adventure. As a Frenchie in Miami Beach, I love how the Stanton is one of the few pet-friendly hotels in the South Beach area and always welcomes my parents and me with open arms… and cozy, recently renovated accommodations. The Stanton proudly displays their love for dogs with an adorable french bulldog painting featured front and center in the lobby next to other artwork as part of the lobby's eclectic collection, so I always feel loved upon arrival. The hotel is also conveniently adjacent to a park perfect for a quick walk and when I'm in the mood for even more playtime South Pointe Park is just a short stroll away and offers stunning ocean and city views which always makes my tail wag! My favorite part of my stay is the doggie bag I receive upon check-in…a water bowl, a special treat and a pet look book full of toys my parents can buy me, what else can a pup like me ask for? For more information, visit www.stantonsobe.com.
My bowl, food and a leash are packed and ready to go.