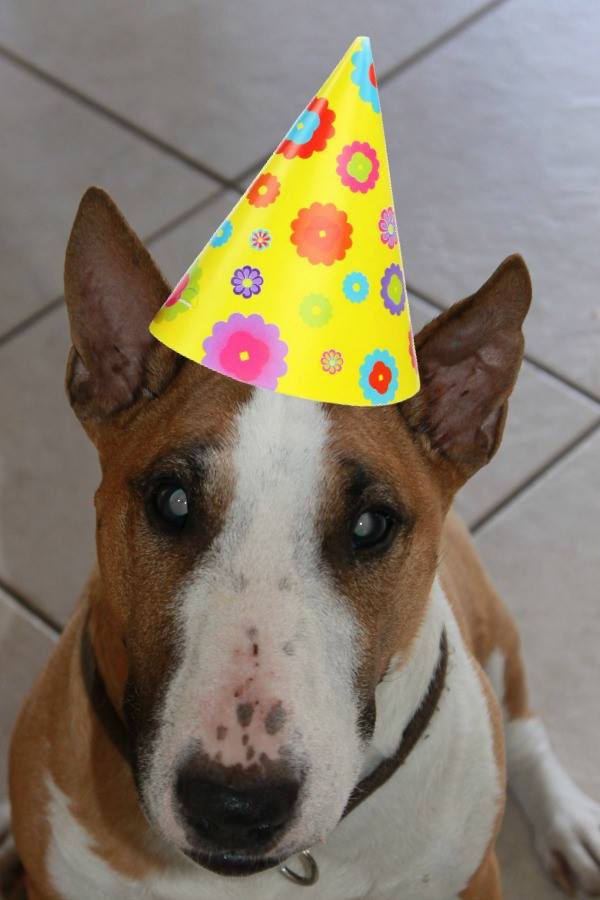 This week our canine child turned nine years old. In miniature bull-terrier years that's getting on in age. The poor guy has had a tough month, with his annual check-up followed by being boarded while Mr. S and I traipsed around the Caribbean. It was NO VACATION FOR CLEM.
His latest check-up was an interesting one. He's beginning to have some ocular issues (they're in his genes), but his veterinarian (who also breeds and shows bull-terriers) kept asking me what I'm feeding him, because he looks like a lean, mean, bullie machine.
Rather than the middle ached pooch pouch, Clem looks like a show dog ready for the ring since we've changed his food from raw to Petcurean NOW Fresh Senior.
I thought that the transition from what I considered REAL food to kibble would be a tough one, but since Petcurean products are all made of REAL, WHOLESOME FOOD that is balanced for my baby's needs, I shouldn't have worried. With ingredients like 100% market-fresh turkey, salmon and duck. 100% fresh Omega 3 and 6 oils from coconuts and canola, along with wholesome berries, fruits and veggies such as peas, spinach, cranberries, pumpkin, blackberries, alfalfa sprouts, kelp, lentils and carrots, I feel confident that when I fill his bowl that he's eating right. Since NOW Fresh has no grains,  rendered meats, by-product meals, or artificial preservatives, I think that he eats better than I do.
My readers know that I only align myself with products that I truly believe in, and before switching to Petcurean I spent time talking with their pet nutritionist as well as my bestie Ava from The Review Broads (whom I consider an authority on anything relating to dogs). I'm so happy that they convinced me to make the switch, and so is Clem.
DETAILS
Don't miss this contest!

Head over to the Petcurean Facebook page and enter to win a 6 month supply of food for your dog or cat PLUS $500 for you & your nominee.
Here's how
1. "Like" Petcurean's Facebook page
2. Click on the "Submit an entry" tab
3. Fill in the form (upload photo of the Mom you are nominating and write a caption describing why you are nominating her) & click "submit entry"
4. Check back on May 30 to see if you have won (we'll announce the winners in a post on our Facebook page on or before May 31 midnight)
The fine print
Prizes: 1 grand prize consisting of: A six-month supply of Petcurean pet food for both the Nominator and Nominee (Maximum 25lbs dog food per month OR 16lbs cat food per month per person) and $500.00 each. The approximate total value of the grand prize is Cdn $2,000.00/USD $1,820.00.