I have a true love/hate relationship with my delivery services. Don't get me wrong, I appreciate all that they do – making certain that I receive all of the products set for review here and on The Review Broads. BUT, as you well know I travel A LOT. This makes the process of receiving packages a little more difficult than it should be. Do I want my new scarf left out in the rain to soak through – NO! Since it's off-season, all of my snowbird neighbors have flown the coop, so I can't ask them to come get my packages for me….and there's NOTHING WORSE than having a product with a deadline RETURNED TO SENDER.
Thankfully, I discovered UPS My Choice – well, discovered isn't quite the word, it was more like my friend Lisa Samples asking me DAILY if I'd signed up yet (after listening to me complain about the packages sitting out front). After much cajoling, I finally listened to her and while I now have the premium UPS My Choice account, I was thrilled to pieces when I first started using the free version.
This is probably a review bloggers best friend, an eBayer's dream and an online shoppers concierge. YES, THAT'S HOW MUCH I LOVE IT.
Let me show you….on Friday afternoon I ordered a pair of New Balance sneakers from Zappos. I'm not the sneaker type, and wanted a pair that were more of a MaryJane style. I placed my order. Once the order was shipped from Zappos I received an email from UPS My Choice letting me know that my new sneakers were on their way. Worried that I wouldn't get them in time, the next day I went to the UPS MyChoice site and checked my calendar – YES, they were on their way, along with two review products that I knew were scheduled to arrive.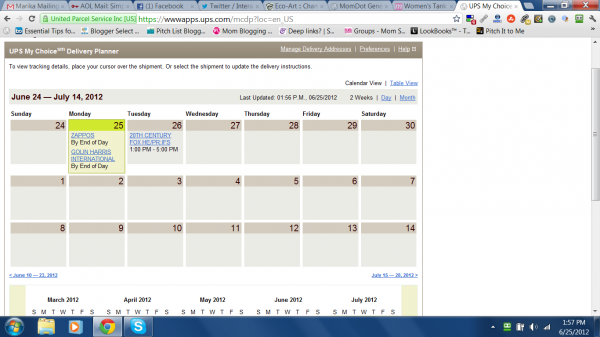 In addition to being able to track my packages EVERY step of the way,I have alerts set up to go to my mobile phone and e-mail.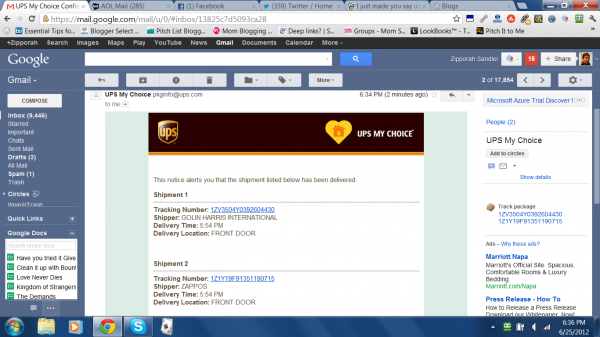 Here's where it all gets INTERESTING. Let's say that I'm in Dearborn, MI (like I am today) and I want to reschedule my delivery for when Mr. S is home – I can do that. Or, suppose I'm gone for a week, and want the packages placed on my back lanai, which is all enclosed – I can have them do that too! I can even reroute them to a more convenient location if I want. This time, I wanted those shoes and I wanted to be home to get them. So, I went shopping in the morning knowing that they were coming later and was home to take my new sneakers in and try them on.

The entire process is very simple, and convenient – watch this fun video of the process of ordering and receiving this LUCKY SCRUNCHY.
Would YOU like to order something from Zappos and use the UPS My Choice program to try it out? Enter below, UPS and Champagne Living are giving FOUR lucky readers a $25 Zappos gift card to do just that.
GIVEAWAY
Winners
Terri H. 

Pamela E.

Benjamin M.

Denise B. 
Extra Entries
Follow me on twitter @zipporahs and tweet about this giveaway
Comment below with your tweet
Subscribe to Champagne Living,  follow me on facebook or twitter – all found on the sidebar (each counts for 1 extra entry)
Tell your peeps on your blog, facebook page or twitter about this or any post (each counts for 1 extra entry) and link to us.
Share this giveaway on any contest/sweepstakes/giveaway site for 5 extra entries..
This giveaway is open to US residents, 21 and over and ends on July 11, 2012
No purchase is necessary.
Odds of winning are dependent upon the number of entries received.
Void where prohibited by law. Liquor may only be shipped to certain states.
I received compensation to facilitate this post. I actually USED UPS My Choice even before they asked me to do this….win-win! All opinions are strictly my own.