This post has been sponsored by Novica. All opinions are strictly my own. #WorldArtisanDay #Novica
If you've been watching my Facebook feed this week, you've been seeing a LOT of pictures of Rachel and I in Hong Kong. One of the things that we loved about being there was being able to shop at the Night Market and other Artisan markets. We found a hidden street of the most beautiful stores featuring local crafts as well as antiques. While this year our travel has been limited, we can ALL support the artists and artisans around the world right from home.
In celebration of World Artisan Day, I did a little shopping at one of my favorite online stores – NOVICA. They bring global artisans to a local marketplace so that you can support the arts and crafts that are being handmade from artisans around the world since 1999. I don't know about you, but I would much rather that the money I spend to support artisans working in regions around the world, including  Indonesia, West Africa, the Andes and more.
A few weeks ago I picked up a couple of things that I'd been looking at for a while (it's always nice to treat yourself). I love these Golden Maze earrings that make a statement and also make me smile. They go from day (with a t-shirt and jeans) to a night out beautifully.
I wear a lot of kurtas with my jeans (I told you that I love to shop internationally) and this stunning "Lucknow Lily" Long White Embroidered Caftan from India, made by Shalabh will be my beach coverup and poolside dress for the summer.
I may wear it out (thinking a belt making it a tad bit shorter) as well, as it's absolutely beautiful. Check out the embroidery.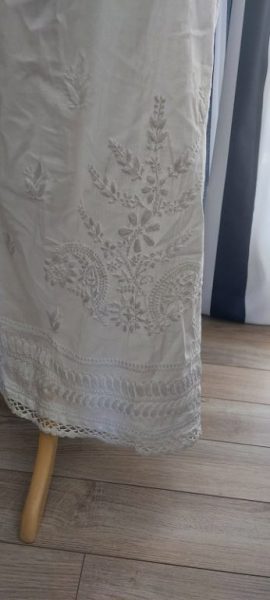 In celebration of World Artisan Day, Novica is going to give one lucky Champagne Living reader a $50 Gift Card.
NOVICA WORLD ARTISAN DAY GIVEAWAY
CONGRATULATIONS MARCIA PEAK for winning the $50 NOVICA gift card.
Visit: Novica.com
Fill out this form and tell me WHAT you'd buy with your $50
a Rafflecopter giveaway
Rules
Must be a US Citizen
Age 18+
Giveaway ends 4/25/2021 at midnight