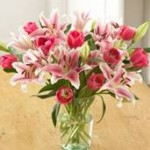 With Mother's Day just four days away, we know that there will be LOTS and LOTS of you getting flowers. I love the way they make the mansion look (and smell), so I like to keep them alive as long as possible. OrganicBouquet.com's CEO Robert McLaughlin has come to our rescue, with GREAT tips for keeping your Mother's Day blooms beautiful…
Follow these steps to maximize the vase life of your flower delivery:
Prepare a solution of warm water and a flower food packet, or mix 2 tbsp fresh lemon or lime juice and 1 tbsp sugar per quart of water
Fill a vase with the solution to within 1-2 inches of the rim
Remove any leaves and foliage that would fall under the water line
Cut each stem at about ½ inch from the bottom, at a 45 degree angle, with a sharp single blade knife or floral clippers
Display arrangement in a cool location between 65-72 degrees and away from direct sunlight and heat or dehumidifying sources
More great tips:
Roses have an outer layer called "guard petals" that keep the bloom tight and protect the flower during shipping. They may appear discolored or bruised – simply remove these petals and the rose will blossom over the next few days.
Lilies will bloom over the course of several days. Remove the pollen to avoid staining. Pollen dust can be removed from the flower petals by lightly brushing with a pipe cleaner. Cut off expired lily blooms as blooms closer to the tip continue to open.
Flowers need to be rehydrated after shipment. They will "perk up" after several hours of drinking when cared for according to the instructions above.
Top off the water level daily
Clean the vase, change the flower food solution and re-cut the stems every two days
CEO Robert McLaughlin is an expert on green business, the organic floral industry, using responsible growing practices and the benefits of buying organic, as well as the company's eco-conscious and mission-based initiatives on farms in Haiti, Ecuador and Colombia.
Haven't ordered your flowers yet? Organic Bouquet has beautiful eco-friendly florals.