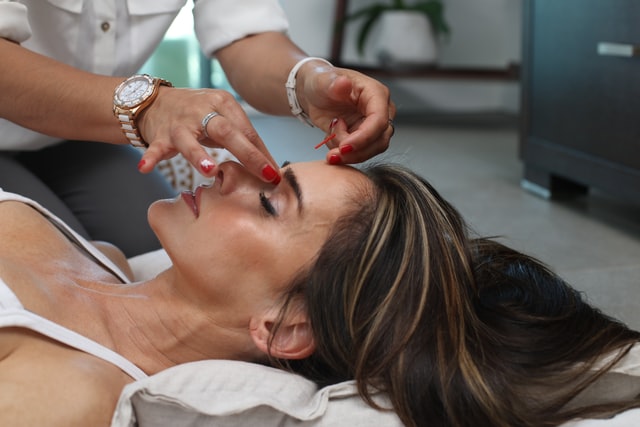 Acne is the most common skin problem in the U.S.,
affecting up to 50 million
people every year – as reported by the American Academy of Dermatology Association. It isn't just a teen problem, as it affects up to 15% of women and can affect someone at any stage of life (lasting into one's 30s or 40s in some cases). If you have been struggling against acne then you have probably tried more than one treatment. Currently, some of the most common approaches to severe acne include antibiotics plus topical medication, birth control or spironolactone (both for females only), and isotretinoin (a powerful medication that can nevertheless dry skin). Another option is laser treatment, which is pricier but highly effective at
stopping acne in its tracks
.
Fractional Skin Resurfacing
Fractional skin resurfacing is a type of laser that can be used both on active cystic acne and on acne scarring. While this treatment is best known for lending skin a tighter, smoother look, it can also reduce skin irregularities and stop breakouts. This technique is based on bipolar radiofrequency technology. It can be used to
reduce the size of pores
but also to boost collagen production in the deeper layers of skin. It can be used on all skin types and it does not cause any pigmentation post-treatment. It can be used on adolescents from the age of around 14 though you should consult first with your plastic surgeon or dermatologist to see if this treatment is ideal for you. The side-effects of this treatment are minimal; some experience a little tightness or redness, but this fades in a few days. In the days after treatment, it is best to avoid the sun to avoid sunburn.
What about Laser Hair Removal?
Laser hair removal
is a highly popular treatment for those wishing to target stubborn hair in the legs, bikini line, abdomen, and other areas in which a smooth, hair-free look is desired. On the one hand, removing hair from areas with acne can help keep the area free of sweat. On the other hand, after a first laser hair removal treatment, you may notice a small breakout. Don't worry about this too much as this will clear up in a couple of sessions. To keep skin in good condition, use a clean, sharp razor to shave hair prior to treatment, apply aloe vera right after the treatment, and exfoliate the skin around three days
after laser hair removal
to promote hair shedding. Ultimately, laser hair removal should have little effect on acne.
Laser for Acne Scarring
Lasers can also be used to tackle acne scarring. If you no longer have active acne, you can choose between fractional skin resurfacing and skin resurfacing (also called Fraxel). The latter is an FDA approved treatment. It uses a non-invasive, microscopic laser to penetrate the skin to induce collagen and elastin growth. Old, scarred, hyperpigmented layers of skin are replaced by smooth, even skin that bears a youthful glow.
If you have acne, see your dermatologist about the best approach for your skin type. You have a choice of medication or laser. For active acne, a radiofrequency laser can be used to stop breakouts. For acne scars, both radiofrequency and skin resurfacing can make a beautiful difference to your complexion.