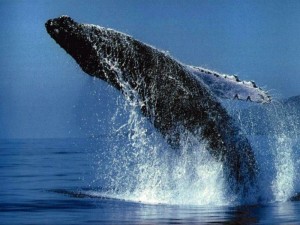 We all have bucket lists. No matter HOW much we get to travel, what we get to experience…there's always more…LOTS more. My bucket list is LONG, which means that I have SO much to look forward to.
While I've been whale watching once in my life (back in New England), it was not a great day and we saw more dolphins than whales. Because of this it's still on my list. I also MISSED going to San Diego for BlogHer this past year, so again…another opportunity missed (never been there either). For my readers who have upcoming travel to the area, or those who live a simple drive away, December through April is whale watching season in San Diego. If you'd like to see the California Gray Whales who've made their way from Alaska on the way to Baja, here are a few whale watching excursions in the area.
The Birch Aquarium With an outdoor tide-pool plaza, overlooking La Jolla's shoreline and the Pacific Ocean, this aquarium offers the perfect for viewing the gray whale's epic journey.
Big Bay Whale Days celebration on January 22, 2012 offers family fun and entertainment along San Diego Bay's downtown waterfront Embarcadero.
Cabrillo National Monument, San Diego's picturesque national park on the panoramic Point Loma peninsula, offers a glass enclosed observatory for whale watching.
Hornblower Cruises and Events  For a deluxe whale watching adventure cruise that partners with the San Diego Natural History Museum, these run from December 10, 2011 through April 2012. Passengers receive a professional narration on the whales' migration and other marine life, plus you can get snacks, binocular rentals, climate-controlled indoor seating and a museum-curated whale exhibit with fossils and video
H&M Landing is the cruise for 3-hours of whale watching. These cruises include informative narrations on the California gray whale and other marine wildlife seen on the cruises.
San Diego Whale Watch runs year-round whale watching excursions leaving from Seaforth Landing aboard The Privateer, this interesting boat was built specifically for whale watching.
Sail San Diego offers daily whale watching excursions aboard sleek 40-ft. Catalina boats. Visitors can take the helm of the boat or sit back and enjoy the sights.
OEX Dive & Kayak Centers offers a 2.5-hour whale watching kayak tour for those who'd rather paddle while they view.
Hike Bike Kayak includes a 3-hour whale watching tours through the La Jolla Ecological Reserve near La Jolla Shores. A trained naturalist teaches visitors about gray whales and the fascinating sea life that lives in the Reserve; the tour ends with complimentary tea and hot chocolate at the Hike Bike Kayak shop.
For more information on these and other Whale Watching tours in San Diego go to SanDiego.org