This post was written by our roving travel reporter, Kathy Chin Leong who once again makes me wish I was a stow-away with her. Soon….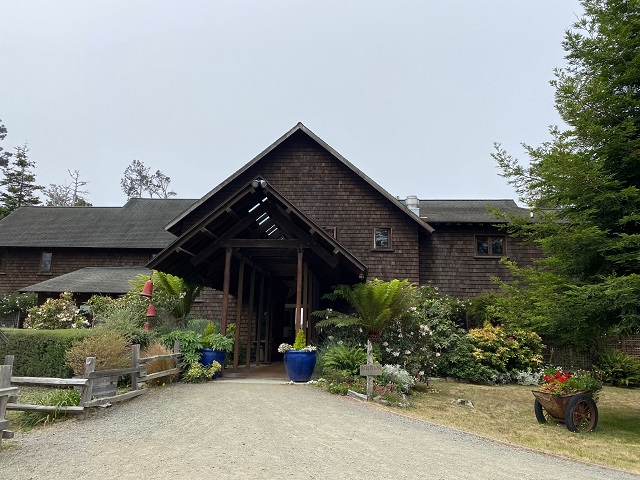 Mid-afternoon. Sun fixed at three o'clock. Cue the flapping seagulls. I am perched on the patio of the Brewery Gulch Inn, nestled off Highway One on the Mendocino coastline. Dumbfounded by the vastness of the Pacific, I recall lines of an ancient hymn:  "When peace like a river attendeth my way, when sorrows like sea billows roll, whatever my lot, Thou hast taught me to say, It is well, it is well with my  soul." 
A night at the Brewery Gulch Inn in Northern California would sit well with anyone's soul. The three-acre parcel owned by innkeeper Guy Pacurar crowns a lush hilltop. The main selling point is the unobstructed view of waves pummeling age-old rock formations.  When the former executive of a San Diego non-profit changed careers and purchased the lodge over 15 years ago, Pacurar screened more than 25 properties all over the country. However, there was nothing quite like this lodge that held such a magical combination of both old forest and ocean.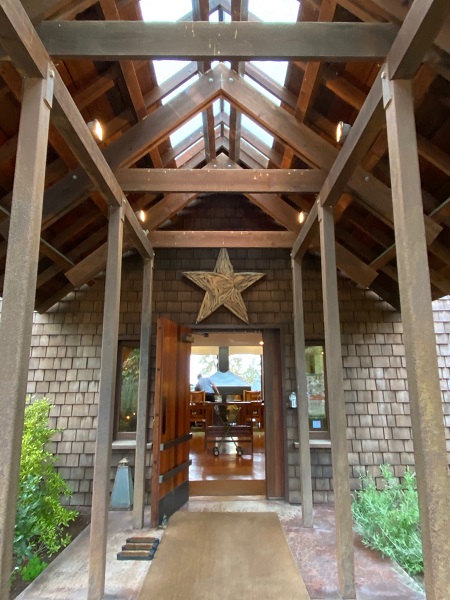 Once acquiring the keys to his kingdom enterprise, he transformed the digs with modern furnishings, paint, and carpeting, artwork, plants, and flowers.  Today, you cannot spy the building from the highway, but you automatically know to turn on the side path, following the old water tower emblazoned with the inn's name.  By the way, you will find relic water towers all over Mendocino which were used heavily in the 19th century.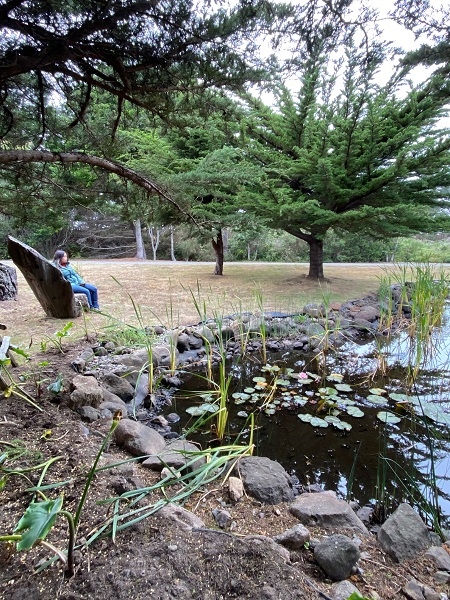 The Arts & Crafts-style, the ten-room abode is shingled with rescued local redwood, blending with nature's surroundings.  In keeping with the ecological ethos is an electric car recharging station.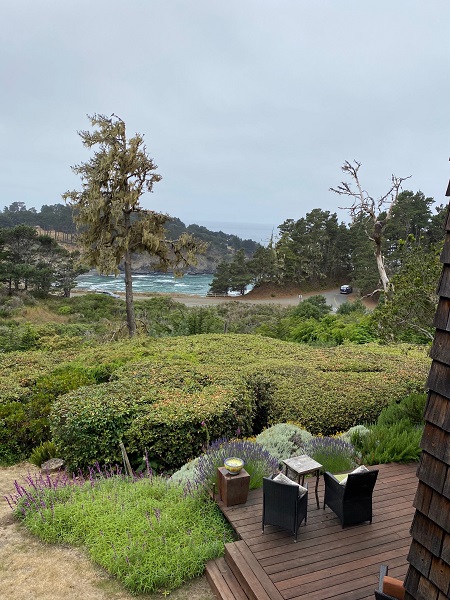 To be a guest is to be in for a treat with surprises around every corner.  The private hiking path features water lily ponds and wild gardens.  In the front is a massage tent, a large fire pit circled by Adirondack chairs, another bucolic Eden. A driftwood star is fastened above the front door welcoming all to make a wish.
As you step inside the Great Room (the lobby/living/dining room) you know in your gut this place is welcoming, kind, and gentle. You immediately encounter the heart of the lodge, the floor-to-ceiling, wood-burning fireplace keeping everything cozy.  The generous space starts with a check-in counter on the right, a gift nook to the left, and a computer niche, also on the left.  You can't miss the tall bookcase for board games, books, magazines. Craftsman-style wood dining tables with high-backed chairs hug the walls. Toward the back, a grouping of a chestnut leather couch, oak coffee table, and matching leather chairs invite conversation.
Long, vertical windows and giant glass doors draw your eyes outwards to pine trees, ocean vistas, and feathered companions.  The light moss-colored walls and soft-hued modern artwork fulfill a simple and warm, contemporary design. You suddenly yawn and want to take a nap.  You did come to rest, right?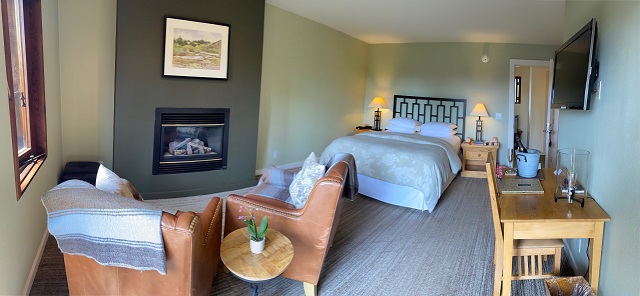 Rooms carry names of local places like Smuggler's Cove and birds such as Osprey and Heron. This is a bird lover's region, and it is very common for inns such as this one to keep binoculars on hand for guests.
My daughter Gwen and I are assigned to Heron on the second floor.  A pair of soft leather chairs grace the fireplace. The bed's dangerously comfortable, pillow-top mattress lulls me into a deep slumber.  In fact, I sleep so well that I don't even want to get out of bed the next day.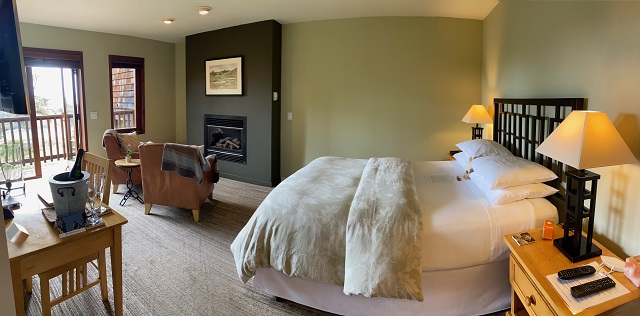 The moss green walls mimic the hues of the bearded lichen draping the tree branches.  Each room boasts an ocean or forest panorama so no one gets jealous.  Wood window blinds keep away the brightness of the morning.   My bathroom with tile floor and stone countertops is simple. I am delighted to see loving touches such as the decorative book with a pair of elephants on the front cover called "Friends Forever."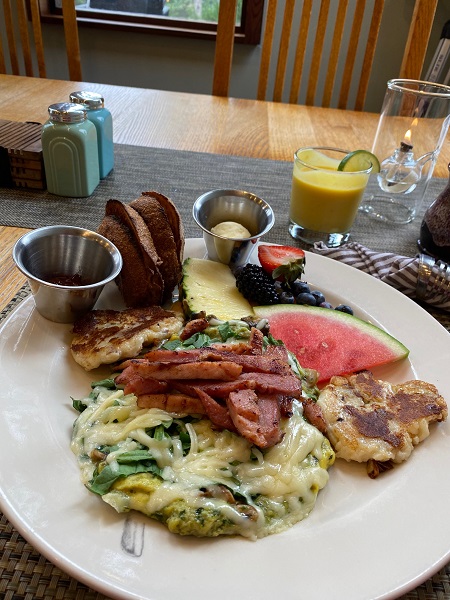 In the morning, a gourmet breakfast awaits. While other B&Bs may offer a single entrée, guests can pick from a menu curated by its in-house chef Stephen Smith. We drool over the listed dishes such as "Green Eggs and Ham," biscuits and gravy, flapjacks, and others. Fresh-squeezed orange juice, grapefruit juice, and a mango-lime lassi are options that make it difficult to choose. On the buffet sideboard, a treat of banana bread one morning and cranberry almond the next tempts all who possess a sweet tooth. (That's me, I admit!)
Also complimentary is the wine hour at 5:30 p.m. that features wines from Fathers and Daughters Cellars, (his winery), beer, and non-alcoholic beverages.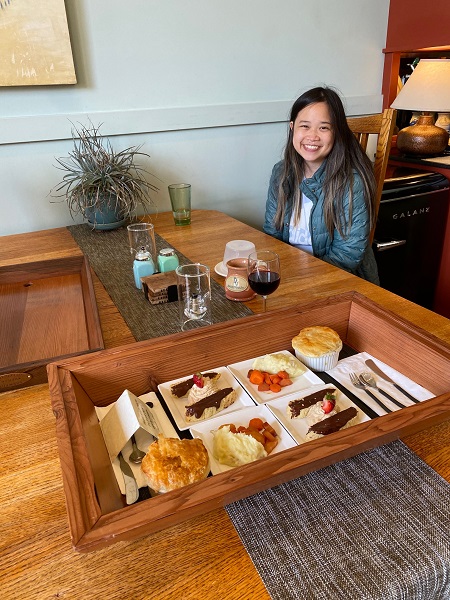 And get this: the inn offers a light supper spread, too.  Prior to the pandemic, it was a buffet, but now, guests pick up their own tray of gourmet deliciousness with a hot dish, vegetable, and dessert. Each night features a different offering.
My daughter and I inhale the buffalo meat pot pie, carrots, and mashed potatoes, and chocolate mousse one night.  The second night we dive into polenta topped with sausage, a salad, and homemade tiramisu.
All-day beverages such as sparkling water, hot tea, iced tea, and coffees ensure a well-hydrated stay. The great room features a vast collection of DVDs, and you can check out two at a time. Also available are board games and books and magazines.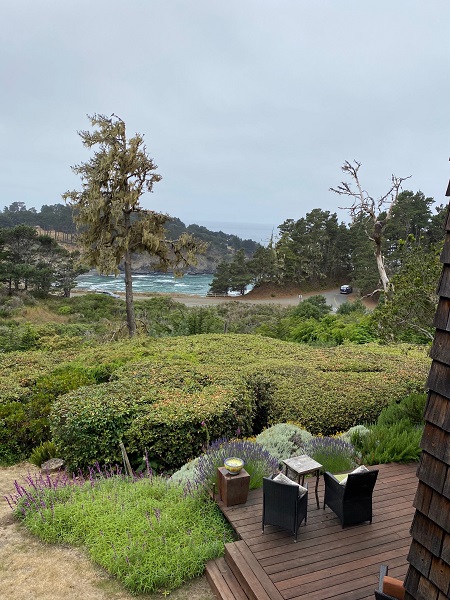 Sitting on the patio facing the sea literally expands my horizons. Bird feeders dangling off the trees allure woodpeckers and songbirds.   I polish off a novel while listening to the tweeters, and I slowly sip (not gulp as I normally would) my raspberry iced tea before our early evening hike. Just as I had enjoyed the indoor joys of the meals and movies, I now relish my outside time among the lavender, daisies, and rhododendron that thrive organically in a rainbow of colors.
On our second day, we partake in a wine tasting with Guy and his wife Sarah who tell us more about the inn and mountain lifestyle.  We find out the small community is so close that absolute strangers will drop off meals upon hearing that you are in a bind.  We find out that Fathers & Daughters Cellars wines pays homage to Guy, his father-in-law, and their girls. The logo features a silhouette of Guy holding the youngest one's hand.   His wines consist of whites and reds (notably pinots, Gewurztraminer, rose, and sparkling white chardonnay).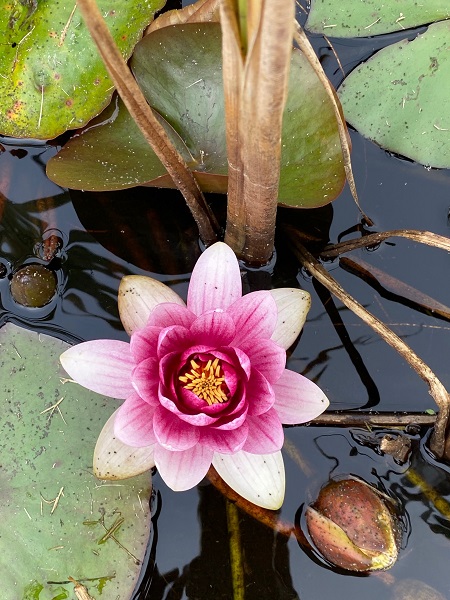 Service is impeccable, the knowledge base reliable.  Where to go for a hot tub soak?  Sweetwater Inn and Spa, stresses Guy.  Where to find beach glass? The Little River beach, says Sarah. What about a forest hike? Across the street, adds the night manager.
If you are seeking just a little R&R, you will get that, plus food, wine, movies, and an abundance of luxuries at the Brewery Gulch Inn.  Just make sure you wake up in the morning to experience everything.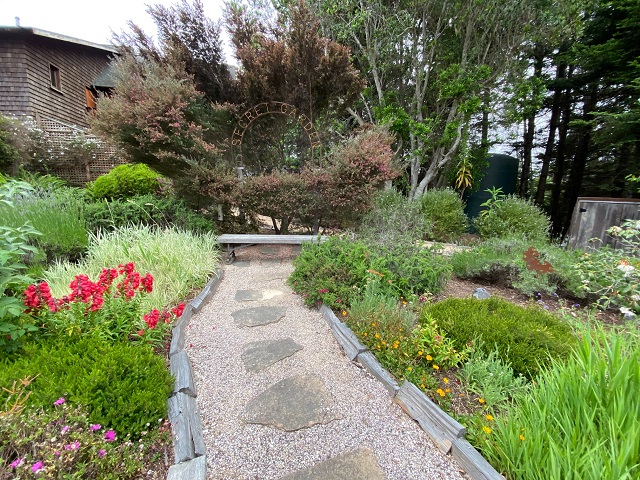 When You Go: