Please note that this post includes affiliate links to purchase these books.
Patagonia Presents:  Audrey Sutherland
A Remarkable Life (nonfiction)
When the sun sets, no matter the season, I lie in bed pondering "what ifs…" – what if I had been adventuresome instead of bookish…what if I didn't own a dog and could travel…what if I was rich?
Although I am quiet and bookish, I am also a nature freak, an outdoor person, one who survives best on meandering mountain trails with the rush of a river and a silky breeze, the view distorting all reality into one maelstrom of sight and sound.  My happiest moments are in the brush and on the escarpments.
I often camp in the mountains in a safe and homey camper with little to no danger, and the only physical exercise setting up the camp grill and eating the wild raspberries.
So, when I read Audrey Sutherland's memoirs on paddling the deep dark places, the coastlines of Hawaii and Alaska, in an inflatable canoe, solo, by herself, at an advanced age, I could not escape the words from the page.  And as I read, dazzled by true courage and the desire to live utterly and to the utmost, I realized the sheer beauty of Audrey Sutherland's life.  After raising four children by herself, she took to the seas to fulfill her dreams.
Like May Sarton's classic, A Year of Solitude, Audrey captures the inventiveness and creativity that conquered the New World.  Her creed: Go simple, go solo, go now," is the way she lived.
Paddle My Own Canoe (A Solo Adventure of the Coast of Moloka'i, Hawaii) thrusts us against this extraordinary woman, the independent spirit who paddles and swam the rough, pristine and remote shores and cliffs of North Moloka'i many summers, spending seven days hiking cliffs straight up and down, facing huge incoming breakers and choppy, fatal seas.  A love story and an adventure of unparalleled fascination.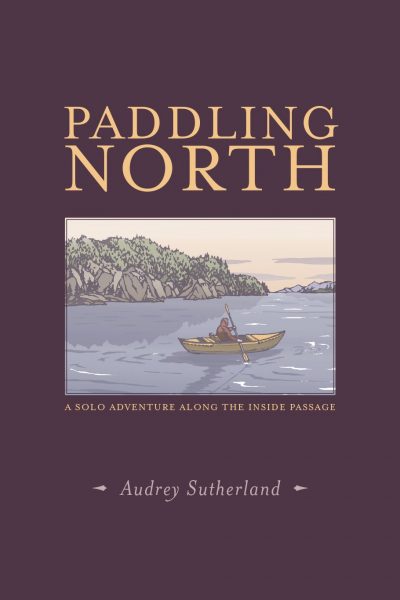 In her second book, Paddling North:  Adventures Along the Inside Passage, Audrey gives her soul, her philosophies and her spirit of true wildness in an astonishing paddling trip up the wild Alaska coastline.  Through vast territory littered with old cabins, bears, whales, wolves and gourmet meals that she packs and prepares along the way Audrey write of her first two summers, starting in her sixties, of 20 trips made in another larger inflatable kayak through the Alaskan wilderness, traveling 8,000 solo miles.  Going solo gave Audrey the reality of true independence, ingenuity and courage as she never questions her ability to thrive versus survive, in some of the wildest areas known too man.  Her only real security- "the ability to build your own fires and find your own peace."
The best reading, I found, and I discovered wisdom, strength joy and beauty that appear on every page.  You must read these.  It's a must!