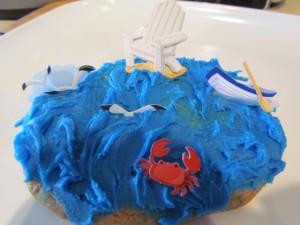 Apparently I haven't learned my lesson when it comes to baking contests. When my bestie Sean asked me to bake a Rhode Island Cookie in the BH+G Facebook State Cookie contest, I couldn't say NO. Why? Because I'm a glutton for punishment (and I consider Sean to be one of my dear friends).
Of course, I used my FAVORITE cookie sheet from the Better Homes & Gardens collection at Walmart. You've seen me bake with them before and I use them constantly. They're the easiest cleaning pans that I've ever owned PLUS they bake evenly. The only issue that I had is that my blue icing looked like it vomited all over the kitchen at the mansion.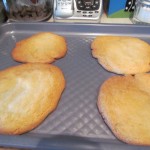 So, I guess this was a huge #FAIL for me, but still a lot of fun (sort of like trying to give myself a pedicure – better left for the professionals). While I usually do very well baking, sometimes things just don't go as planned (or in this case as winged).
The cookie voting is going strong, and I'd take a pity vote if you'd like to help  me out. By the way – the cookie tasted MUCH better than it looks…really.
Thanks to BH&G for providing me with the cookie sheet for my baking disaster. All opinions are my own.