Disclosure: I was a guest of Jet Blue on their inaugural flight from Fort Lauderdale to Aruba. This was my 3rd trip to what has become one of my favorite vacation spots. All opinions are strictly those of Champagne Living Media.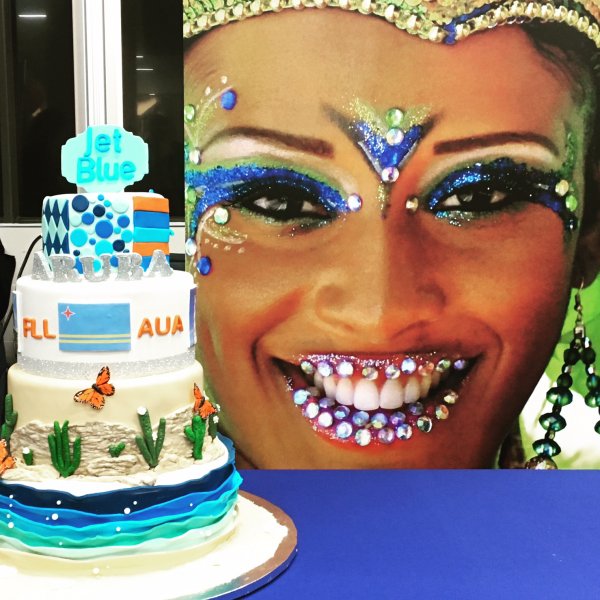 For those of us in South Florida who absolutely HATE flying out of Miami but want to DiscoverAruba
For those who look forward to getting Terra Chips on a flight and not just 3 pretzels in a tiny bag
For those who find a GREAT flight into Fort Lauderdale on their way to Aruba
For those who want the comfort of an airline that actually has comfortable seats and great snacks
For those who hate paying for movies and wifi on a plane
For those who understand the difference between going someplace that's warm and someplace that's warm, friendly with lots to do
For those like Mr. S who at 6'1″ hates to fly because he's cramped and need more legroom
For those who think that flying should be as much fun as getting to the destination
For those who think that fares have gotten so high and in-flight amenities are no longer an option
For those who hate to stand in line for a seat when they've already paid for their ticket
Take it from one who seems to be in Aruba twice a year. While it seems like the flights from South Florida to that #OneHappyIsland is a quick trip, it's actually almost as long as from my house up to New England. Add to that the fact that Aruba is so far East that it's in the Atlantic Time Zone, so you want to make sure that you're getting there the BEST way possible so that you can start having some fun once you arrive. There's nothing worse than blowing your first and last days on travel.
I had the honor to fly on the inaugural flight out of Fort Lauderdale to Aruba. In all honesty, I hadn't flown Jet Blue in quite a while, so I was BLOWN AWAY not only by the comfort and leg room (I may only be 5'1″, but I saw a couple of guys who were over 6′ stretch out across the aisle from me), but the amenities that Jet Blue offers compared to all of the others that I fly are astounding.
Yes, I was thrilled to get to my happy place (Oranjestad) in under 3 hours of travel time, and yes when I saw what they charge per flight I thought to myself "How can they do that? (I found flights for $125)," and I was happy to grab some of my favorite Terra Chips from the flight attendant's basket of goodies, but most of all I love that Jet Blue doesn't upcharge you to watch your favorite TV shows, movies, Sirius XM channels, or even to access the Internet.
Plus, Jet Blue knows JUST how to throw a party, and party we did…both in Fort Lauderdale and when we landed in Aruba. I'll be filling you in on ALL of the best spots to visit when you fly down next week. In the meantime, as you start to plan your family's spring break, that long awaited second honeymoon, or the girlfriend's getaway that you've put off, you can book your flights and start making your plans now.
Because in a week you could be HERE:
Or eating
Or on board a beautiful 43′ Columbia
Or making new friends as you


Book your trip to Aruba from Ft Lauderdale TODAY on Jet Blue
One flight daily in each direction…yes, even the WEEKEND!
Come back next week for the best places to STAY, EAT, LAZE, EXPLORE, and ENJOY on Aruba during your stay (see above photos for a sneak peek)