This post was written by our roving travel reporter, Kathy Chin Leong who makes me wish I had stowed away in her travel bag.
Unsure about going to Italy? At least for now? It was recently my 35th wedding anniversary, and with the COVID-19 weirdness all over the map, going international was out of the question.  And flipping through my mind's database, I recalled a favorite European retreat which was so close I only needed a few gallons of gas to get there.  It was and is, Bernardus Lodge and Spa, Carmel Valley, Calif.  The destination not only a sanctuary but a romantic hideaway.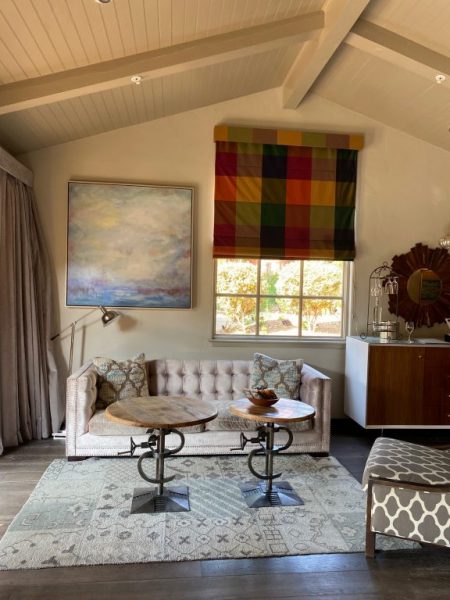 Just so you don't get lost, note that Carmel Valley is not the same town as touristy Carmel-by-the-Sea.  Carmel-by-the-Sea is famous for its quaint downtown jammed with Hobbit-like cottages, art galleries, coffee haunts, unique restaurants, boutiques, and so many flowers in window boxes that your eyegate cannot contain so much vibrancy.
Carmel Valley is south of the tourist Mecca. The country vibe is serene with verdant valleys and rolling hills reminiscent of an ancient Italian landscape. The region is backed by the wide Santa Lucia mountain range.  Art galleries, coffee haunts, unique restaurants, and wineries must be sought out on side roads, hidden behind thickets.  They are a tad more rustic but true to their forms.
The Bernardus Lodge and Spa is a four-and-five star wonder, and while it stands out in luxury, it is by no means gaudy. Before you even see the lodge from West Carmel Valley Road, the property's vineyard and lavender gardens woo you in like a crooked finger that beckons.  A short, private road to the lodge meanders to the left, and attendants greet guests as they aid with your car and luggage.  Upon check-in, the hotel staff offers a glass of its Bernardus white or red wine or a glass of refreshing lemonade.  Unlike other places I have evaluated, the entry and welcome is seamless.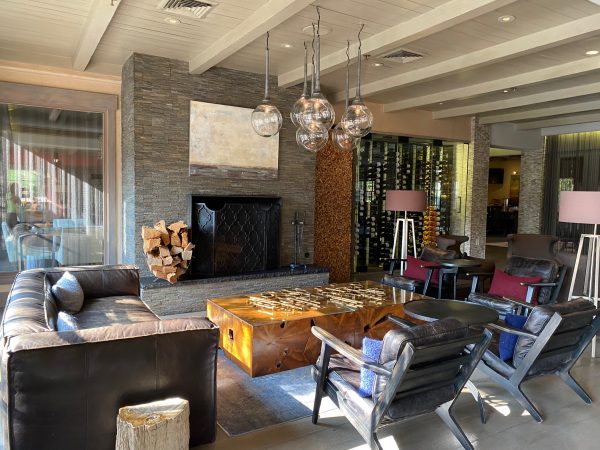 I have stayed three times over the course of a decade, each for a different purpose.  The first time I arrived with my husband Frank for a parents' getaway when the children were small.  A few years later, I returned with my sister and mother for a spa weekend.  So the Bernardus has a special place in my heart for being a memory maker for precious times in life where I bring only my most favorite people.
Even though it has been bragged about in Travel + Leisure and Conde Nast Traveler magazines as among the world's top resorts, I still consider this treasure is a hidden gem.   Even when the resort is completely booked, you don't feel like you are elbow-to-elbow with other vacationers. You have space.   You are never waiting in a restaurant line like one of the millions cueing up for a Disneyland ride line that goes on forever, ebbing your life's essence away.  Service is swift and kind.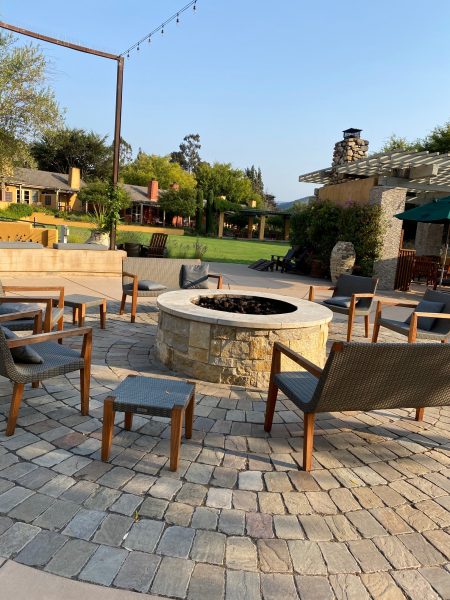 The property is set on 28 acres; seclusion and privacy are paramount.  Clusters of mustard-colored buildings are set generously apart, for a total of 73 upstairs and downstairs guestrooms, suites, and villas.  Tall box hedges and gurgling fountains divide the spaces so that you feel enveloped by the sound of water and greenery and mountain vistas. And guests just seem to know that to whisper in public is the appropriate thing to do around here.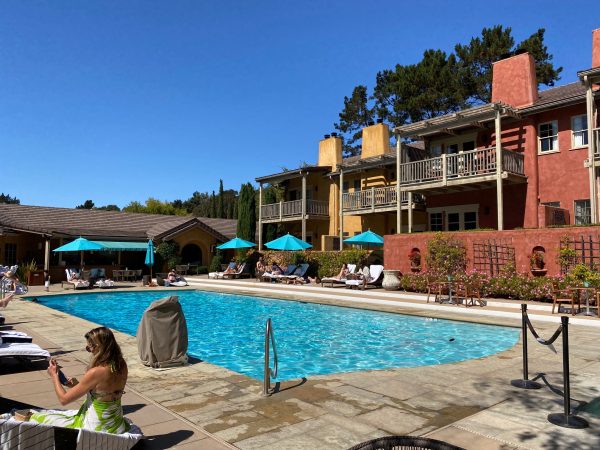 The resort was renovated in 2015 with new villas, up to 2,000 square feet, plus a refresh of everything else even though I didn't think it was even needed.  Today, the resort offers croquet,  a bocce court, tennis courts, a full-service spa, the Lucia Restaurant & Bar, a swimming pool with cabanas, and a hilltop infinity hot tub for adults only.  Firepits and plenty of seating areas make for relaxing spots for contemplation.  And yet, there is so much to do, you do not need to leave the premises to find action.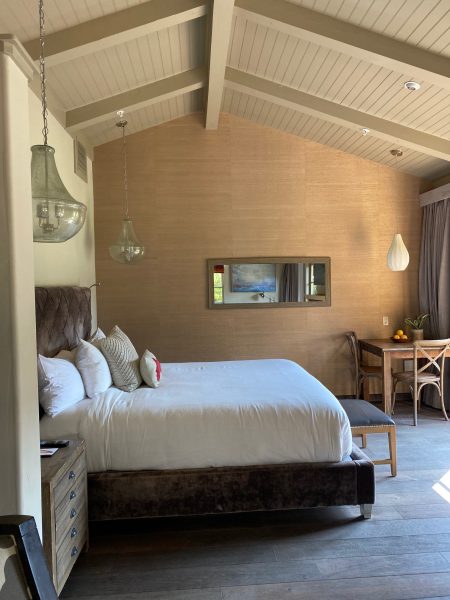 The soft gray, white, brown, and taupe palette in the rooms remain elegant and simple as are the furnishings. Upon entering our suite, I grinned as I looked up at the celestial beamed ceilings and the French doors that opened up to our patio facing the mountains in the distance. I tucked my feet into the complimentary Bernardus Lodge & Spa slippers as I padded around on the plank hardwood floors. I giddily inspect the details of every hotel room I write about.  Here I loved the ready-to-light fireplace, and I noticed the flat-screen television above it did not overpower the area.  Every room comes with a small refrigerator and a first found of snacks, a bowl of fresh fruit, and a bottle of wine. No complaints, here.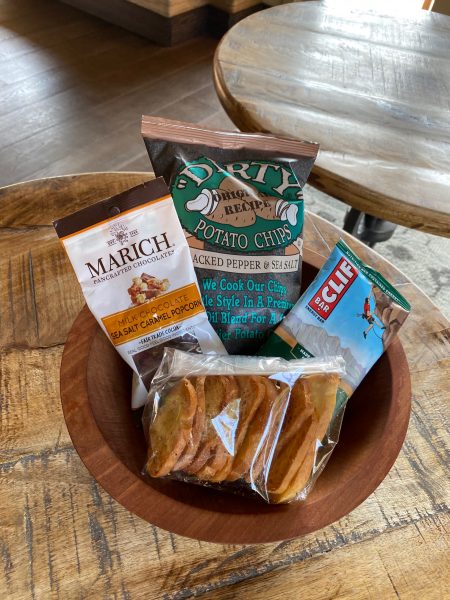 I immediately plopped myself on the couch and stuffed a macaron into my face as I gazed at the paintings and admired the pair of pendant lamps suspended by our king bed, one on each side.  I was hoping I would be able to sit at the wood writing table and write in my journal sometime during our one-night stay.
After a short nap, we were ready for dinner just steps away at the Lucia Restaurant & Bar, led by Chef Cal Stamenov.   I was hungry; Frank was hungry.  Our no-calories-barred attitude gave us permission to indulge in seared sea scallops with roasted vegetables and a medium-rare rib-eye steak.   Both entrees were shared, of course, because when you are married 35 years, you share everything.  We enjoyed scanning the menu of California comfort cuisine, and we did not mind the outdoor seating as heat lamps kept us warm.  At the time, only outdoor dining was allowed.
The restaurant surprised with a "Happy 35th Anniversary" note scripted in dark chocolate resting on a plate of chocolate-covered strawberries, a scoop of vanilla ice cream, and a slice of chocolate torte.
The next morning, we burned off a few calories with a tennis game where I had a chance to unstiffen these old joints and relearn how to serve.  Actually, I was hankering for a massage, but due to Covid, the spa was closed.  However, we lingered poolside under a covered cabana, reminiscing over 35 short years where we were amazed we managed a lifetime of bliss without going bonkers.
But there's more. The meticulous gardens with veggies, fruit, herbs, flowers, and a children's garden have to be explored and experienced for their beauty, inspiration, and breathtaking hues.  And if you are a non-gardener like I am, you will be appreciative of those on staff who are able to sustain such a slide of Eden.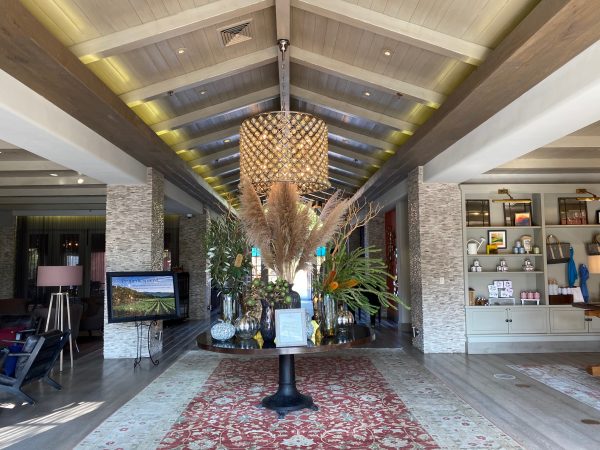 So, if you want a taste of Italy, even if it is for one night, Bernardus Lodge & Spa will whisk you there among the lavender and vines.  And if you go for an anniversary, well, you'll know what to do.