Want to start a career as a hair loss expert? Maybe you're already working at a salon and want to uplevel your career in the beauty industry. Regardless of how you got here, if conquering hair loss appeals to you then do stick around!
We'll explore what it's like behind the scenes in this field, estimate salaries and even provide tips on getting those skills locked down. Ready for launch? Let's go!
What will you do as a Hair Loss Practitioner?
As a hair loss practitioner, you'll play detective and use your trichology skills to identify culprits behind hair and scalp issues such as thinning hair or flaking. Not only will you take the lead in finding solutions for those suffering from these problems – but you will also have an impact on preventing further damage.
The first step a trichologist takes when working with a client is to conduct an in-depth consultation, in order to find out the root cause of the problem. By discussing the client lifestyle, diet and medical history, trichologists can create a tailored treatment plan that is specific to their individual needs.
As the client's liaison with the ordering physician, you will recommend appropriate medical tests, such as a comprehensive blood analysis, and interpret the test results. This is important to ensure that any underlying medical condition is ruled out and that the appropriate treatment is provided. It also helps to provide clarity on any potential health risks and to ensure that the client's medical history is up-to-date.
Identifying the underlying cause of hair and scalp issues is important in order to create an effective treatment plan. Factors such as hormones, stress, diet, and genetics can all be contributing factors that need to be addressed. A hair loss expert can then provide personalized treatment and recommend products and lifestyle changes to help manage the issue. If the hair follicles are still viable, they can also recommend treatments that can stop hair loss and help regrow hair.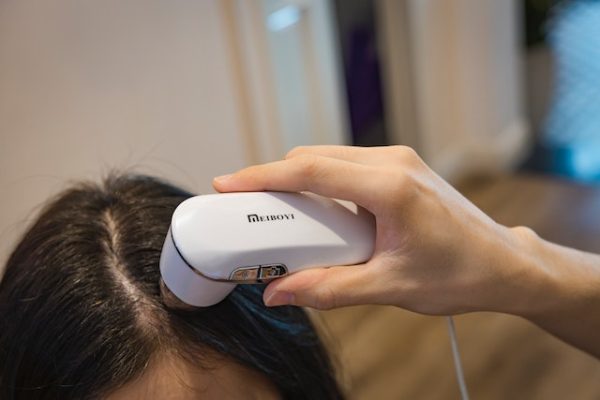 What skills do you need to be a hair loss practitioner?
Many people experience hair loss, but few know what to do about it. Unfortunately, after years spent searching for a solution and trying every quick fix available, hope begins fading like their disappearing follicles. Building a relationship of trust and understanding with your clients can be key to gaining their confidence and allowing them to benefit from your expertise in treating hair loss. But how can you achieve that?
To secure your spot as an expert in the hair loss field, backing from a reliable source is vital. You can achieve Certified Trichologist status by enrolling with The American Academy of Hair and Scalp Diseases.
As a licensed Cosmetologist or Barber, you can enroll in the Certified Trichologist program with the American Academy of Hair and Scalp Diseases. The program covers a wide range of topics related to hair and scalp health, including anatomy and physiology, hair loss, scalp disorders, trichology treatments, and more. By earning the certificate, you will be able to provide the highest quality of care to your clients and build your reputation as a knowledgeable and trusted professional.
What is the salary range of a Hair loss practitioner?
Hair loss practitioners have a bright future ahead of them – according to the U.S.'s top job website, Ziprecruiter, they can make an average income of $63K per year.
The majority of our former students report that once they become Certified Trichologists, they can offer additional services to their existing clientele, so they do not have to look for new markets or invest in marketing campaigns. And are able to add an additional $118k annually from just three consultations each week. That's double your yearly salary while maintaining a work-life balance; talk about taking control of your career prospects!
How to start a hair loss practice?
Have you ever dreamed of becoming a hair loss genius? It's time to make your dream a reality! Start by getting certified as an expert in the field- become a licensed Cosmetologist or Barber and enroll in the Certified Trichologist program. With this certification, you will be able to provide your clients with the tools they need to regain their self-confidence and make a lasting impact in their lives.
After 18 months, you will be well equipped with all kinds of unique skills that can help existing clients immediately.
Obtaining certification as a specialist in hair loss
If you're stuck in your career, it's time for a transformation. As an expert hair loss consultant, you'll have the knowledge and power to help people reclaim their confidence by conquering this universal problem that affects millions worldwide – men, women and children alike. Don't miss out on being part of something bigger: join us as we fight back against hair loss. It's your chance to give yourself a brand new future today!