New bedding √
TV set √
alarm clock √
towels √
computer √
…..
It's a long list, and to tell you the truth we've gotten pretty good at getting it done. Ben went for his first degree on the 7-year plan, so I guess you could say I'm a pro at this back to school rush. The first year that we shopped and gathered for back-to-college was a little overwhelming. After year three, I had it down to a science. With the economy as it is, it's a great time for him to go back for more education…so, again we find ourselves stocking up for back-to-school (only this time it's in his own apartment rather than the dorm).
Not only is running all over the place shopping EXPENSIVE (like tuition, room & board, and books aren't costly enough), but the time it takes gathering everything that he needs seems to take FOREVER. I've learned to make it easier by heading to Sam's Club for the bulk items, and this semester Sam's Club has made the process that much easier. Sam's allows you to pick up just what you need in BULK sizes (that will make it through semester after semester). My time is precious, and the last thing I want to do is run around shopping when I don't have to.
As a parent who's been there – done that with my son, I can tell you that walking into a dorm room that reeks of dirty laundry and stale beer is DISGUSTING. At the VERY least you've armed your child with the tools to clean it up BEFORE  you visit. I still have visions of crusty socks, wading through mountains of pizza boxes, and trash barrels that have overflowed onto the floor.
I've learned to use the phone more often, to avoid the shock, and to order  ONLINE (and have the products sent directly to your child at school – less to schlep).  I've included the cleaning products that I think are ESSENTIAL (note: buy extra Lysol, trust me on this one).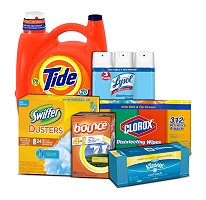 Tide HE with Acti-Lift Liquid Laundry Detergent – Original – 170 oz. – 110 loads
Bounce Renewing Freshness Fabric Softener Sheets – 250 ct.
Clorox Disinfecting Wipes Variety Pack – 4 pk. – 78 ct. each
Lysol Disinfectant Spray – Crisp Linen Scent – 19 oz. – 3 pk.
Swiffer Duster Handle + 24 Refills
Kleenex Cool Touch Tissues – 3 boxes – 50 ct. each
Buying in BULK sizes, will cut down on those "hey mom, can you send me some….." calls (with the exception of money, which always seems to be tagged on to either the beginning or the end of each call).
From one who's had 7 years of experience with this, I'm just offering this bit of advice. Make it easier on yourself and get it done in ONE swoop by ordering these great packaged back-to-college packages at Sam's Club.
For more information on these and other Sam's Club products, check out their facebook page.
I'm going to  make it even EASIER for one of you, by giving away a package just like the one that I'm sending Ben back to school with.
GIVEAWAY
Extra Entries
Follow me on twitter @zipporahs and tweet about this giveaway using the hashtag #ChampagneLiving
Comment below with your tweet
Subscribe to Champagne Living,  follow me on facebook or twitter – all found on the sidebar (each counts for 1 extra entry)
Tell your peeps on your blog, facebook page or twitter about this or any post (each counts for 1 extra entry) and link to us.
Share this giveaway on any contest/sweepstakes/giveaway site for 5 extra entries..
This giveaway is open to US residents, 18 and over and ends on September 13, 2012
No purchase is necessary.
Odds of winning are dependent upon the number of entries received.
Void where prohibited by law.
I wrote this review while participating in a blog tour by Mom Central Consulting on behalf of Sam's Club and received product samples to thank me for taking the time to participate.