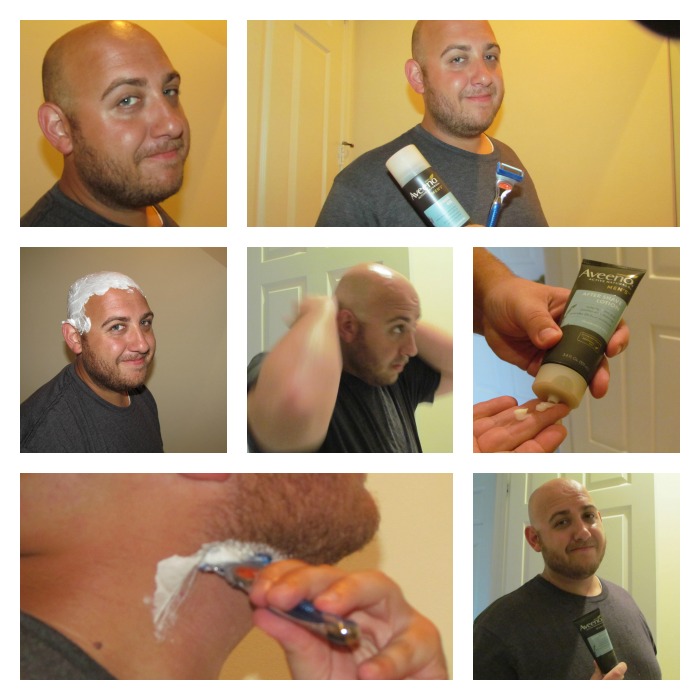 I'm going bald…
I've always been kinda OK with that.  No shame in that.  I've been losing my hair since I was in high school.  I had one last hurrah when I grew my hair out down to my shoulders but time was catching up with me.  I kept my hair at a medium length to cover up my receding hairline for the next decade.  Recently I realized I my hair was in transition. It was either time to take the next step.
One night after a few cocktails I took a pair of clippers and buzzed my head. 
It made me look kind of insane. So, how do you fix a bad hair cut?  A real man would say, "Just shave it." So a couple days later I set out to do so.
I'm not much of the shaving type of guy. 
I've always had facial hair and I love my beard.  However I do shave my neck a few times a week so I don't get itchy, but shaving my head was a completely new endeavor.  I've always used generic shaving creams and my neck would always get razor burned (making me self conscious through the day).
I used Aveeno Men's Shave Gel to shave my neck and face and it came out amazing.  A very close shave that didn't leave me nicked or with razor burn.  The Oat formula really felt like it had helped give me a closer shave.  The aloe in the formula helped my skin feel cleaner and more hydrated.
Aveeno Men's After-Shave Lotion is amazing
The parts of my skin that were irritated were nearly instantly soothed.  My skin felt well hydrated and it kind of made my head shiny and glow a bit (not in a radioactive way).
The final product I use in my skin care routine is the Aveeno Men's Face Wash.  Now, I'd never had been much of a facial scrub type of guy.  I have a beard and so much of my face is covered in hair it just doesn't make sense to use it.   I've been using it before going out lately.  After using it my skin feels great.   I have definitely gotten complements on my skin lately.
Overall, I think that the Aveeno Men's products are amazing.  I use them all the time now. My head always looks clean and cut free after a shave.  This is enough to impress the ladies and make me feel more confident with a great shave and clean hydrated skin.
I participated in a campaign on behalf of Mom Central Consulting for AVEENO. I received product samples and a promotional item as a thank you for participating.
For more information on the Aveeno Men's line of skin care products: