Asparagus Tomato & Goat Cheese Tart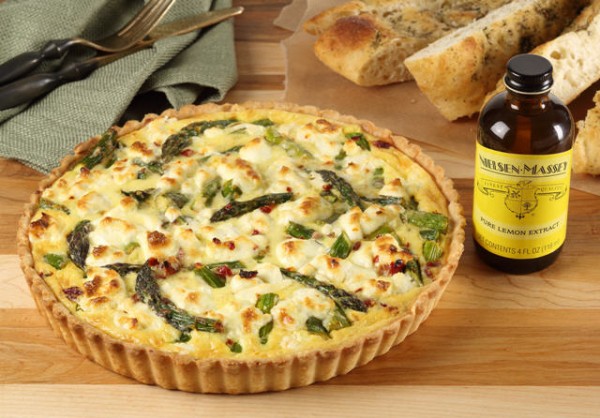 (Serves 6)
Ingredients
Pastry Dough
1¼ cups unbleached all-purpose flour
½ teaspoon salt
1 teaspoon sugar
½ cup (1-stick) cold unsalted butter, cut into 8 pieces
½ teaspoon Nielsen-Massey Pure Lemon Extract
3-4 tablespoons cold water
Tart Filling 
1 tablespoon extra-virgin olive oil
1 shallot, finely chopped
⅓ cup diced sun-dried tomato halves
½ teaspoon Nielsen-Massey Pure Lemon Extract
½ pound asparagus, trimmed, cut into 1-inch pieces
2 eggs, beaten
½ cup heavy cream
1½ teaspoons Dijon mustard
¼ teaspoon salt
¼ teaspoon ground white pepper
¼ cup freshly grated Romano cheese
1 (6-ounce) log goat cheese, broken into 1-inch pieces
Directions 
1. Add flour, salt and sugar to a food processor bowl, pulse. Add butter pieces and pulse until pea-size crumbles form. Add lemon extract and water, 1 tablespoon at a time until dough comes together. Shape dough into a disk; cover with plastic wrap and refrigerate for at least 1 hour.
2. Preheat oven to 400°F. Roll pastry on a lightly floured surface and place into a 9-inch tart pan that has removable sides. Press dough into tart pan and roll the pin over the pan to trim off the excess dough. Line the pastry shell with a piece of parchment paper and evenly fill with pie weights; dried beans are a good substitute if pie weights are not available.
3. Place tart pan on a rimmed baking sheet and bake for 20 minutes. Remove from oven and carefully remove parchment and pie weights. Prick bottom of tart shell with a fork and place back into the oven for about 10 minutes. Remove from oven; set aside.
4. In a medium sauté pan, add olive oil, heat over medium-high heat. Add shallot, sun dried tomatoes and lemon extract sauté, for 1-2 minutes. Add asparagus pieces and sauté an additional minute, remove from heat; set aside.
5. In a small bowl, whisk eggs. Add cream, mustard, salt and pepper, whisk to combine; set aside. Evenly place asparagus-mixture in tart shell bottom, sprinkle with Romano and place goat cheese pieces on top. Evenly pour cream-egg mixture over top. Place tart in rimmed baking sheet and bake until done, about 25-30 minutes. Cool before serving.
This savory summer tart is made with seasonal vegetables and the bright lemon flavor of Nielsen-Massey Lemon Extract. The tart is filling enough to stand on its own, or be served alongside a summer salad or grilled chicken breast. This dish is perfect for summer entertaining; make it before your party begins, and allow it to cool as you greet your guests.