I was a guest of the Aruba Tourism board to experience all that Aruba has to offer for weddings. All opinions are strictly my own.
Destination Weddings
You've finally decided that you'll be having a destination wedding. You've talked to enough venues and caterers to want to take an easier route to saying "I Do," and your friends and family are gung-ho on celebrating with you AND enjoying a vacation of their own. The dream of an oceanfront, toes-in-the-sand ceremony has been one that you just can't shake, and Aruba, with its perfect year round weather (temperatures seem to hover in the 80's), miles of white sand beaches, and happy Dutch flair might just be the PERFECT local for that dream come true.
The BACHELORETTE Party
Let me preface this by saying, that the House of Mosaic is not only perfect for your bachelorette, but also your rehearsal dinner, and wedding.. The venue is eclectic with lots of options for your get together. Fernando Mansur, the owner and decor artist extraordinaire can create everything from romantic tablescapes to that fantasy theme you've always dreamed of.
Whether you're looking for an ethereal outdoor setting, or would prefer to be whisked away to another era in one of the venue rooms, House of Mosaic is a gallery of pure enchantment that your guests will be talking about for years to come.
The REHEARSAL Dinner/Luncheon
I am so tired of rehearsal dinners in an overly lit meeting room. Thankfully, you're in Aruba, so having a rehearsal luncheon on the beach is KEY, and there's no place like being surrounded by the beautiful Divi trees on Aruba's beautiful Baby Beach with a luncheon catered by nuts nuts. Offering healthy options all made from scratch, nuts nuts offers only organic certified, non GMO, artisan  fresh made gourmet dishes, snacks and drinks. With vegetarian, vegan, gluten free, sugar free offerings on their menu, you don't have to EVER worry about your guests missing out because of dietary restrictions. 
The big day
You're in luck if you're staying at the Hyatt Regency Aruba Resort Spa and Casino with its beachfront location. The hotel has a "romance planner" who can provide everything to make destination weddings easier than you could possibly imagine. From seating on the beach, to the officient (I witnessed the relaxed fun wedding above) they can arrange for everything from the guests stay through a goodbye brunch at Padu as you say goodbye to your friends before they leave.
There's a truly romantic hidden spot among the wildlife in Aruba's Arikok National Park. With staging set up for your band and baubles hung from the branches, there's something sublime about having your wedding under a canopy of trees. You might want to contact Fernando from House of Mosaic to set your tablescapes (as he did for ours, pictured above).
Trash the Dress
I have to admit that back in my day we didn't do this (I still have my wedding gown in tact 36 years later). Whether you want to trash the dress or just have a fun celebration out on the water the day after your wedding, I can't think of anything better than a catamaran sail and snorkle with Red Sail Sports. Your guests can swim as the bride and groom jump in to TRASH the wedding dress in a day of fun and sun.
Once your guest have left
Your honeymoon continues on this One Happy Island as you enjoy a romantic dinner in bed experience at the Screaming Eagle Restaurant. Yes, with private beds for two you'll be served dinner in this unusual restaurant setting…perfect for a little alone time.
Do NOT miss a jeep tour through beautiful Arikok National Park. Ride through the natural beauty of this park that encompasses 20% of the island. Make sure to wear your bathing suit under your clothes, because you'll want to jump in and swim in the Conchi Natural Pool surrounded by gorgeous rock cliffs where the park meets the ocean.
Take the stress out of wedding planning
Isn't it time to plan your Aruba destination wedding?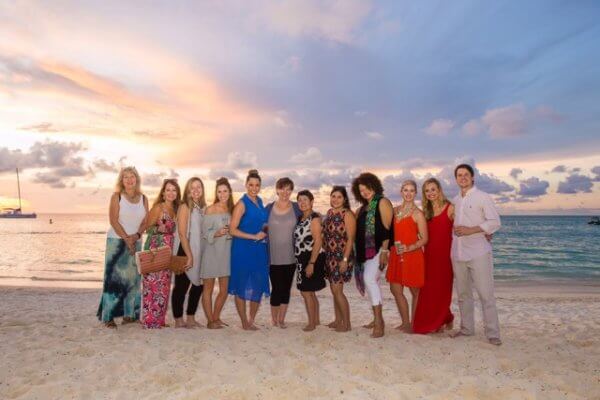 Need a little more wedding inspiration?
The Aruba Tourism Department recently launched a website and blog for those planning to wed in Aruba.