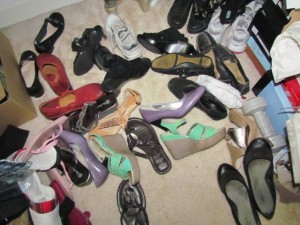 On another subject the Mall vomited on my closet. Between running around, traveling and all of the wonderful events that I get to go to – I've become MESSY. That's right. The result is that the clothes in my closet are in NO order AND when I look down at the floor, there's no carpet to be seen. It seems like I've been opening the door and kicking my shoes off rather than putting them back into the boxes or on a shoe rack.
I NEED TO TAKE A DEEP BREATH, WALK IN AND START CLEANING IT UP.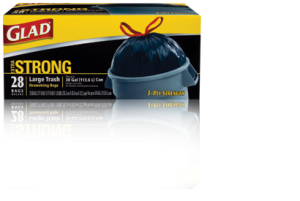 The good part about cleaning the closet is it only requires ONE tool – a big box of those Glad Black Bags. One marked donate, one marked trash. These big tough bags can handle those old stiletto's with ease. There will be no heels popping out trying to escape like when I use the "cheap bags." I like keeping an extra box of them for jobs like this, or when I send Mr. S outside to clean up the branches after a good storm (we had plenty of rain and wind this weekend).
From yard work to daily household cleanup, Glad Black Bag can handle the toughest jobs.  The bags are large, tough and dependable, and feature convenient easy-to-seal closures, so what goes in stays in.
• Glad® ForceFlex® Black Bags can handle whatever life throws your way.
o Glad® ForceFlex® bag's Diamond Texture stretches to prevent rips and tears
o Large sizes can handle big trash loads
o Strong drawstring make closing easy and dependable
o Available in Drawstring and Quick-Tie closures
o Available in 30-gallon and 33-gallon sizes
• Glad® OdorShield® Black Bag helps neutralize odors on your toughest trash.
o Neutralizes odors and leaves behind a fresh, clean scent
o 3-ply strength to avoid messy trash disasters
o Large sizes can handle big trash loads
o Strong drawstring make closing easy and dependable
o Available in Fresh Clean Scent
o Available in Drawstring closure
o Available in 30-gallon size
What I hadn't considered was using the Glad Black Bags for ARTS and CRAFTS projects. I recently learned that Glad Black Bag has teamed up with Keep America Beautiful to find cool new ways to re-use trash from Great American Clean-Ups across the country. How cool is that? It got me to thinking just how long it's been since I sat down and made jewelry, sewed a dress or knitted a scarf. We toss or recycle our old stuff every day! Old milk cartons, glass bottles, CD disks, bottle caps and toys…stiletto heels and silk dresses that no longer work for us can become pices of art with a little imagination.
To help jumpstart this effort, Glad Black Bag partnered with the Picker Sisters –interior designers Tracy Hutson and Tanya McQueen – to celebrate and clean-up life's wild moments.  They're taking "remnants" from life's biggest celebrations or everyday happenings and repurposing them in artful, stylish ways. Plus, celebrated mosaic artist Jason Mecier will be working with Glad Black Bag to create four works of art with people's trash or "wild life remnants." He'll create art out of items collected during the clean-up events, as well as items donated by some great celebs.
The artwork will later  be auctioned off during the Glad Black Bag art auction on eBay (where you can even bid on pieces by famed mosaic artist Jason Mecier who's work hangs in the homes of celebs like Amy Smart, Megan Mullally, and Jesse Eisenberg) with proceeds benefiting the Great American Cleanup. The Art Auction lasts from April 16th through April 26th – so head over to eBay and BID to help raise money for this great cause.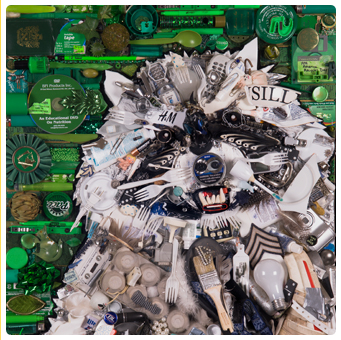 By the way, do you think that bell bottom jeans with frayed edged will come back in style any time soon? Okay, I'd better throw those in the donate bag -hey, someone might be going to a 70's party and be looking for a pair 😉
I wrote this review while participating in a blog tour campaign by Mom Central Consulting on behalf of Glad Black Bag and received a Glad Black Bag product and a promotional item to thank me for taking the time to participate. I was also asked to "pin" one (1) Glad Black Bag Art Auction photo on Pinterest.