Note: This post has been sponsored by Dannon. I received product and compensation to facilitate this post. All opinions are strictly my own.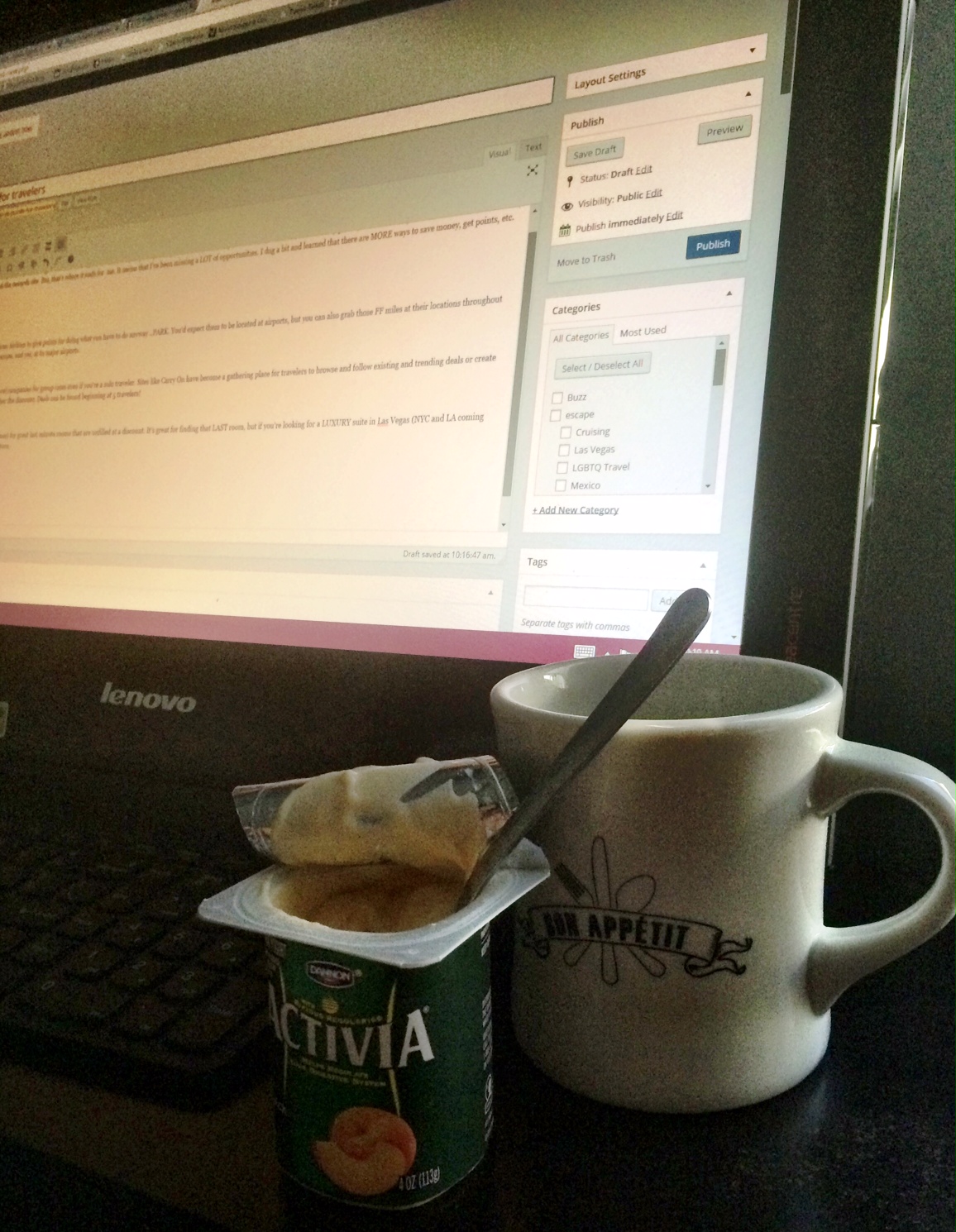 I am a creature of habit.
For over 25 years I have eaten the exact same thing each morning….coffee and yogurt. There are times that I might mix things up, add the yogurt to a bowl of granola, or have a piece of toast with it, but I always (even on vacations and press trips) begin my day this way. I think one of the reasons is that my life is so unpredictable, that this habit keeps me grounded. More importantly…
I  need a bit of protein to start the day
I need to  protect myself against the bloated, gassy, uncomfortable, and annoying rumbling in my gut, especially when I'm on the road.
I get my DAIRY each day
As a travel blogger, I never know just WHAT type of food the rest of the day will bring. I'm constantly running from hotel room to historical sites, to the countryside, and presentations. Each day is different, and there's no going back to my hotel room until the day is done. So, making sure that my tummy has the optimal probiotics each day is ESSENTIAL. Minor tummy upsets can be MAJOR when you're someplace where you don't speak the language.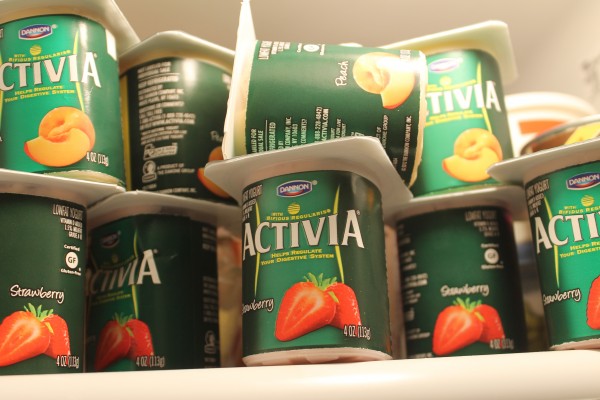 Was I doing it all wrong?
I recently learned that eating Activia TWICE a day for four weeks, as part of a balanced diet and healthy lifestyle, may help reduce the frequency of minor digestive issues like bloating, gas, discomfort and rumbling. I'd always eaten in for breakfast, and I enjoy having a treat at the end of each day. For the past few weeks I've taken the Activia Challenge and enjoyed a yogurt in the morning and another while reading at the end of each day (told you I was a creature of habit – I complete each day by reading).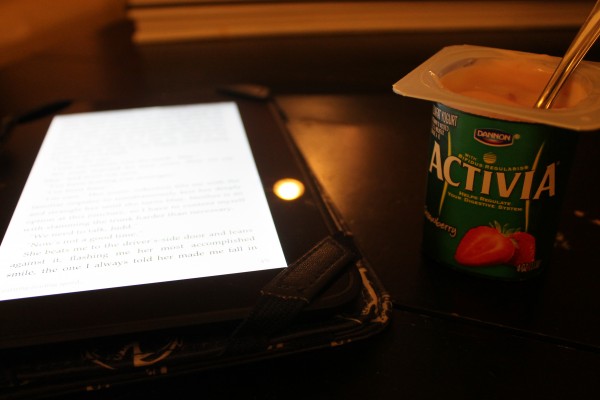 MY FAVORITE
Activia Greek Light (fave flavor is peach), although I mix it up just to keep my mornings (and evenings) a bit more interesting.  The good thing is that with varieties like Activia Yogurt, Activia Greek, and Activia Greek Light, Activia Light Yogurt, Activia Fiber Yogurt and even Activia Smoothies you can mix it up according to your whim. I even toss it over a bowl of fruit, or mix it in with my granola.
There's nothing worse than not feeling yourself
Activia makes delicious, creamy, probiotic yogurts that not only taste good; when eaten regularly, they may help you feel good too. With many great options and a vast variety of flavors, Activia makes it easy to complete the challenge with options to enjoy at any point of the day, whether you're on-the-go, at your desk, or enjoying breakfast at home with your family.
Mr. S  & Clem
Mr. S was one of those "once in a while" Activia eaters, so my goal for this month was to get him to take the Activia Challenge along with me. You see, he has some MAJOR tummy problems, and I know that the added protection from enjoying a container of Activia twice a day can only help him! BTW, Clem's job is to lick the yogurt container clean after we finish.
Join Me
Take the Activia Challenge along with me. I'll be updating you right here on Champagne Living as I see how I feel, and you can let me know just how YOU are doing as well.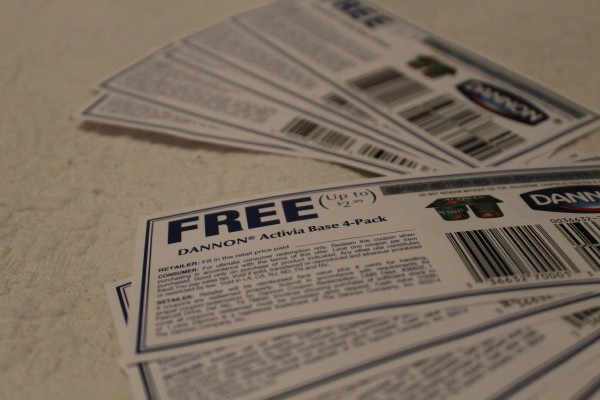 WIN 
Enter to win TEN (10) coupons for Activia Yogurt
You may enter this giveaway TWICE. Once by sharing the pre-scripted Facebook post and once by sharing the tweet.
You may only enter via ONE of the blog sites offering this giveaway.
a Rafflecopter giveaway

Giveaway Terms
August 25, 2014 – September 28, 2014.
Administrator: Mom It Forward
Sponsor: Legend PR. The Dannon Company, Inc. is included in rights granted hereunder.
No purchase necessary to enter.
No more than one entry per person via each of the methods listed in the Giveaway details. 
The odds of winning a Giveaway depend on the number of eligible entries. 
Winners will be selected randomly by Mom It Forward using http://random.org as a selection tool. All decisions of Mom It Forward are final. 
Employees of Mom It Forward and the Giveaway sponsor are not eligible to participate.
All entries received after the Giveaway closing date and time will not be considered.
Entries that do not follow all of the entry requirements will not be considered. Winners will be notified via email and will have 24 hours to confirm receipt of the e-mail.
If the winner does not reply within 24 hours, another winner will be selected.
Open to participants in the US (excluding the following states: NJ, CA, TN, NV, ND and LA)  and Canada who are 18 years and older.
Void where prohibited. Taxes on Giveaways are solely the responsibility of the winner. 
Winner agrees to permit Mom It Forward and the Giveaway Sponsor to use her or his name, voice, photo, or likeness for reasonable promotional and marketing purposes for up to 90 days after the end of the Giveaway. 
Mom It Forward and Sponsor are not liable for late or misdirected entries, entry errors, or transmission problems.
Mom It Forward reserves the right to terminate the Giveaway in the event of technical problems, or to correct typographical or technical errors, or to amend these rules. 
All participants should review the Mom It Forward disclosure and privacy policies.
By entering, participants agree to release and hold harmless Mom It Forward, Sponsor, The Dannon Company, Inc., and their respective parents, subsidiaries, affiliates, directors, officers, employees, and agents from any and all liability or any injuries, loss, or damage of any kind arising from or in connection with a Giveaway. 
Mom It Forward will provide the name of the winner for any Giveaway, upon request via email to Mom It Forward, for 90 days after that Giveaway's entry period ends. 
Unless otherwise provided by the Sponsor, no substitution, transfer, or assignment of prizes is permitted. 
Non-winning entries from one Giveaway are not carried forward to future Giveaways