This post was sponsored on behalf of Receutics. All opinions stated are my own.
At 35 your skin has elasticity.
You think that those morning puffy eyes and dark circles after too many prosecco's are the worst. All of that happiness means that your face has expression….not wrinkles.
Then you turn 62
At this point you begin scrambling. You look in the mirror and see someone older, those puffy eyes have become bags, your jawline has slack (and don't even get me started about that turkey neck), and the lines are now deep creases. You wish you looked as bad as you thought you did at 35.
So you jump at the chance
to review anything with the words "anti-aging' on label. Of course you know the drill, but that doesn't stop you from hoping fantasizing about looking 35 again.
I was offered an opportunity to review my choice of
Receutics Active Skin Repair Acne Clearing System
Receutics Active Skin Repair Therapeutic Intense Hydration & Repair Treatment
Receutics Active Skin Repair Anti-Aging
Receutics Active Skin Repair Sun Care
Receutics Active Skin Repair is a dermatologist-strength skincare solution that goes straight to your skin cells, giving them a high concentration of the nutrients they need most.
You know which one I chose
I agreed to use the active skin repair anti-aging formula for a FULL 3 MONTHS. That's a huge commitment for an anti-aging junkie like me. But a deal is a deal.
Day 1
I took my before photo at the ULTIMATELY WORST TIME…I figured that if the product even marginally works, that you'd see an improvement. Too much time in the sun, WAY too many glasses of champagne, and a life that has been a see-saw of great fun mixed with incredible stress has taken its toll on my face.
I begin my Receutics journey.
Each morning and evening I wash with the Gentle Hydrating Cleanser. This is hands down the BEST cleanser that I've ever used. It is gentle and it feels as though it's hydrating my skin while cleaning it. I may have used too much of it, because I had to go out and buy more before my trial for this post was over. Since it's available at Rite Aid, and there was a 25% off with a card this week, I felt like I got a real bargain. I usually use a more expensive cleanser, so finding one that is priced under $10 that works this well is a real SCORE.
After drying my face I apply the Rapid Wrinkle Corrector followed by the Rapid Dark Spot and Tone Corrector. This is how I was instructed, although I kept feeling as though the spot and tone corrector should have been the first layer before the wrinkle one, since as you can see…I have MORE issues with spots. But, I'm a good girl and I follow directions…at least for the purpose of this test.
Neither of the correctors are emollient enough for my older skin. I still felt dry and would have liked a heavy moisturizer to add to the mix.
Therapeutic formula
According to the information Receutics Active Skin Repair is a dermatologist-strength skincare solution that goes straight to your skin cells, giving them a high concentration of the nutrients they need most. The claim is that it is a therapeutic formula that is available without a prescription exclusively at Rite Aid stores and online. 
When I see the word therapeutic it sets my expectations too high.
Receutics heals skin from the inside out.
You are supposed to be able to slow the aging process of your skin with Receutics Active Skin Repair Anti-Aging treatments. The fast acting anti-aging treatments contains clinically-proven ingredients with potent antioxidants to help reduce and prevent the signs of aging. According to clinical trial participants (88%) saw an improvement in just a week. I'm guessing that they were 30 years old, because….
Half way through the trial
At the halfway point I was feeling like nothing had changed. Then I looked closely and saw that my upper lip lines had softened as had the smaller of my smile lines. The deep one is still there. My age spots don't look much different. I'm still thinking that I should be putting the dark spot and tone corrector on first…because it is my REAL problem. But, I'll continue to do the routine that they've laid out.
At less than $30 for the rapid wrinkle corrector I'm thinking that it might be a good buy if you have small wrinkles (and not gouges like mine).
My final photo
In the end, there was a lot of softening to the smaller lines around the mouth, and my deep smile lines around my eye remains (because I still do a lot of smiling and laughing). I'm okay with that, I like having expressions.
I do think that this test on a 35 year old me would have had very different results. At 62 it's impossible for any product to fully correct the signs of aging in only 3 months. To see more dramatic results, I'd have to have given this product at LEAST 6 – 12 months.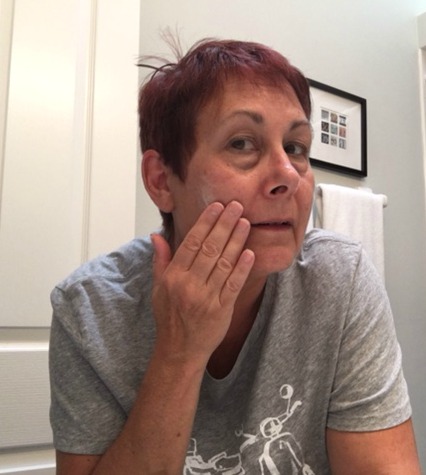 I still love the cleanser and will continue to purchase it, and now that the trial is over I'm reversing the products and using the dark spot and tone corrector first. I believe in going with your gut and seeing what happens.